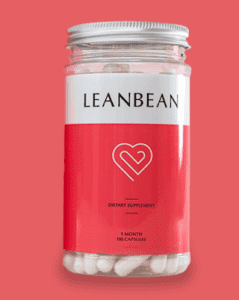 Click Here to go to the Official Lean Bean website

Effectiveness
90%
Ingredients
88%
Value
79%
Pros
Cons
Contains proven ingredients
No proprietary blends
Good dosage of ingredients
Serving size is 6 capsules per day
Not cheap
In this Leanbean review we examined this fat burner which is designed for women.
It's no secret that many women struggle with losing weight.
Turns out hundreds of women are now using leanbean to shed off those extra pounds of fat successfully.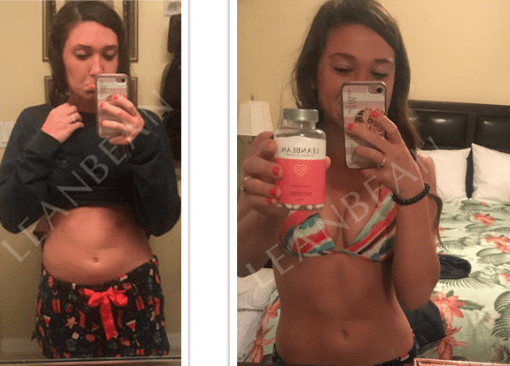 Leanbean has become one of the most popular fat burner even though it's quite new to the market.
In this review we will cover the ingredients, how this fat burner works, the side effects and check out some before after photos.
Let's get started
LeanBean recently changed the formula of their product, we have updated this review with the new and improved formula.
Table Of Contents
How does Leanbean work?
Right, let's get down to brass taxes. Guys who train want to get ripped. For girls who train the objective is simple – create a body to make even a Victoria Secret model jealous.
This Leanbean review reveals it uses natural fat burners to help you look literally smoking in your favorite lingerie. This includes extracts from some of the following ingredients; Garcinia Cambogia, Konjac Fibre,Turmeric, Raspberry Keytones and several more.
Some of specific benefits of Leanbean;
Creates a tighter physique – lowers overall fat percentage
Increased appetite suppression – helps you stop cheating on your progress
Estro Blocking fat burners – Ingredients to lower the fat storing form of Estrogen.
Maintain athletic performance – Keep high energy high whilst working out on less calories
With the help of high quality ingredients lean bean simply makes the fat loss a more enjoyable process.
It helps you achieve your weight loss goals faster and gives you that edge.
Leanbean Ingredients
Leanbean contains all of the top 8 fat burning ingredients according to Supplement Nerd.
What's interesting is that Leanbean contains even more than only the 8 best.
| | | |
| --- | --- | --- |
| Vitamin B6 | 3.72mg | RI* 240% |
| Vitamin B12 | 6.4μg | RI* 256% |
| Chromium | 120μg | RI* 300% |
| Green Coffee | 6000mg | ** |
| Acai Berry | 800mg | ** |
| Green Tea Extract(Maltodextrin) | 200mg | ** |
| Turmeric Powder | 200mg | ** |
| Glucomannan | 500mg | ** |
| Garcinia Cambogia | 400mg | ** |
| Cayenne Powder | 60mg | ** |
| Black Pepper | 20mg | ** |
| Rasberry Ketones | 8mg | ** |
When looking at any supplement the most important factor is definitely the ingredient section.
What I check right away when reviewing any supplement are the ingredients and how they are dosed.
Lean bean contains an impressive 12 ingredient formula with scientifically proven ingredients.
I was quite pleased when looking at the ingredients listed in leanbean because it contains no proprietary blends, the ingredients are high quality and dosed correctly.
Now Im going to tell you how the ingredients really work, I could spend hours writing this section because there is so much to talk about.
However Im not going to do that Im going to give you the short basic version on how these ingredients really help for weight loss.
How the ingredients work:
Vitamin b12 and b6: Help the body get energy from food, these vitamins can help you lose weight if you are deficient in them.
Chromium: Slows the rate of sugar released into the body
Green Coffee: Reduce the absorption of fat, lower blood sugar and support the fat burning hormone adiponectin.
Acai berry: Can reduce cholesterol, glucose and insulin levels.
Green Tea Extract: Increases the resting metabolism, amps up breakdown of fat and increases your energy.
Turmeric powder: Raises the internal temperature in the body which helps to burn off fat faster.
Glucomannan: Reduces blood sugar after a meal which helps when it comes down to losing fat.
Garcinina Cambogia: blocks fat producing enzymes
Black pepper: Helps to absorb the ingredients
Rasberry ketones: Increases the breakdown of fat.
This is the short version on how they ingredients work, you can get more details on the official leanbean website.
Lean Bean Side Effects
Lean Bean is a side effect friendly fat burner, since it does not contain a lot of caffeine it is considered very safe.
Some women have a hard time swallowing 4 pills per day and that could potentially upset the stomach slightly.
Other than that there are no major side effects of using this fat burner to be aware of.
However we always suggest to be cautious about using any new supplement and if you have some concerns you should ask your doctor about it.
Erin's Leanbean review
So we've given you a bit of a lowdown on the benefits of the product, now for a more personal review. Unlike other supplements it made no sense for me to try this out myself, fortunately my girlfriend Erin was on hand to put Leanbean to the test. She's been hitting the gym for a while now, mixing up the cardio with some weight training. And luckily for me busting out the squats : ).
Erin took Leanbean for 4 months and here's what she found;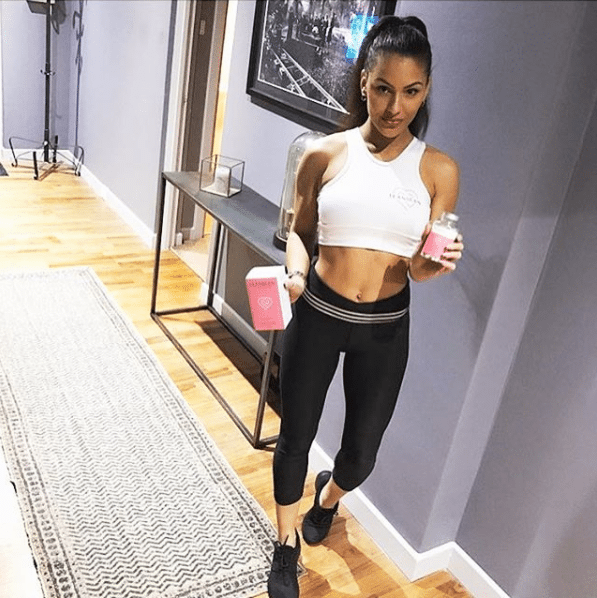 I've used a couple of fat burners before but always given up on them because of the stimulants. Leanbean had a lower Caffeine content than the other products I'd used so I thought I'd make an exception and try it. To begin with my expectations were quite low but I ended up being really taken aback by the results.
Starting weight 135 lbs
First 30 days
So, I received my Leanbean and my first reaction was really positive –luxurious packaging, vegan friendly capsules, It all seemed quite organic and not what I was expecting at all – very different to the supplements my boyfriend has in the cupboard.
I'd read a little about the ingredients in advance and knew that one major factor was the appetite suppressants.
And after using this female fat burner for the first couple of weeks this was the thing that I found so much easier, I was managing to actually stick to my diet much more regularly, I'd still have the odd naughty snack but on the whole I was being good much more of the time.
I was still working out, as always I was doing quite a bit of Hiit and some fasted cardio in the morning. Leanbean recommend taking four capsules, one with every meal. However, I was skipping breakfast at this stage and having my first Leanbean capsule without food before my morning training session. The remainder of the capsules I would take individually with a meal and at separate intervals. By the end of the first month I'd lost just under 5 lbs.
Second Month
So I figured if I was going to give up it would be somewhere around month two. Previously I've been a bit patchy with my training. As other girls had mentioned online the main challenge with this female fat burner is keeping consistent and taking it 4 times a day.
Fortunately, I was really starting to see the benefits – one thing that surprised me was that I still felt great whilst doing things like sprints or battle ropes. I guess this was most likely down the Green Tea in the supplement, I was still eating less but wasn't feeling any unpleasant effects. Obviously I can't guarantee that my energy boost was solely down to Leanbean but I'm sure it made the difference. The mix of eating better and the natural stimulants meant that I was starting to tighten up around the middle and I was more toned than ever before through my hips and legs.
Third month
During the second month I'd made some really good progress. I'd trimmed down a lot and lost another 6 lbs. For the third month my focus shifted a little in the gym to really trying to create some more shape, my main goal was to create some more lift through my butt and really try and take my body to the next level.
This meant I focussed a bit more on the weights and doing a lot more squats. I'd never been worried about getting bulky as I'd read this is almost impossible for girls, but I knew I wanted to improve my overall muscle tone and not look overly thin either.
Fourth Month
In total whilst using this fat burner I went down from 135 lbs to a little over 119 lbs. I wouldn't put this improvement completely down to the Leanbean but it's a fact that it transformed my training.
Whilst the overall weight loss was nice the changes in physical appearance were the most rewarding. I'd literally never looked so good!
In terms of the product, the appetite suppressants definitely worked pretty much from the get go and this meant that my diet was definitely better month on month. The energy boosters helped me stay motivated and lift weights whilst I was eating less calories.
I'm not going to hide the fact that I worked really hard in the gym during this time, however the thermogenic ingredients in Leanbean unquestionably gave my body that added push it needed to burn off more calories than before.
To see exactly how it works visit Leanbean's official website here.
Leanbean Before and After: Leanbean Results
There are countless of testimonials and impressive before after pictures from women who used lean bean.
Here are a few of them:
Vicky dropped 8 lbs in one month, amazing results.
Charity lost a lot of fat after using Leanbean for one month
Rebeccas amazing progress after using one bottle of leanbean
Bree Kleintop Ex Pro Surfer and Model Uses Leanbean to stay fit
Margarita's testimonial
You can see more testimonials on their website here.
As you can probably tell our Leanbean review proved that a well formulated supplement can definitely speed up weight loss. If you're up for more science then we go into the detail on the best fat burning ingredients in our best fat burners for women article.
Drawbacks
Remembering to take the capsules frequently each day is one small negative. That being said at least this way you know your body's burning fat all day long.
You can also only get hold of Leanbean straight from the company's online shop. The shipping is fast though and worldwide, although we did see a very small amount of countries where the product is not available.
In terms of price, Leanbean is probably going to be a bit more of a stretch if you've got tight purse strings. One month for $59 means that Leanbean is without question a premium fat burner. However if you go with a longer course like we did then you'll be able to score yourself a discount.
Leanbean negative reviews
So where are all the Leanbean negative reviews?
Seems like the internet is only filled with positive reviews of this product.
Surely, there must be some negative reviews right?
Well, yes of course. There's not a single product in the world that can only have positive reviews.
Let's face it many people give products a 1 star or 2 star rating for many reasons.
Often because of shipping delays but also when products don't work as expected.
We have found that the Leanbean negative reviews are usually along these lines:
"I ordered Leanbean and it took 3 weeks to arrive in the mail and when I asked customer support about it they said it was stuck in customs (I'm from Australia) and asked me to patient. By now I've already dieted so I probably won't even use the product!"
We found also one Leanbean negative review:
"I tried Leanbean for 1 month and didn't lose any weight. Will not order again"
Here's the thing: Leanbean is NOT a magic solution. In fact if you don't diet and exercise you will not lose weight.
Leanbean is just an addition to diet and exercise. To get a little bit faster results. Diet and exercise is 90%, a female fat burner like Leanbean is the final 10%.
Hope this helps.
Leanbean Prices
1 month: $59/£35
2 months: $118/£70
Bikini Body bundle | 3 months + 4th month free – $185/£110
*Also includes a free workout guide
Where to buy Leanbean
Leanbean female fat burner can NOT be bought from Amazon or GNC.
You can only buy Lean bean dietary supplement from their official website.
There website is: LeanbeanOffical
Conclusion on Lean bean dietary supplement
This concludes our Leanbean review.
We've done reviews on hundreds of different fat burners, Leanbean is our best fat burner for women no question.
The science is on the money with this supplement, the lower stimulant quantity and all the appetite suppressants mean it's more effective for girls.
Assuming you're taking it with the right diet and exercise plan there's no reason why you can't expect to see similar results to Erin and some of the other Leanbean customers.
Wanting to enjoy the benefits of being leaner and stronger than ever before? Not to mention the extra sass to wear whatever clothes you feel like? We can personally vouch for the effectiveness of this weight loss supplement.
To find out more visit: Leanbean's official website
FAQ
Q: I skimmed this Leanbean female fat burner review. How capsules should I take?
A: For the best outcome you need to take 1 capsule four times a day. Some fat burners can be taken less frequently but we're pretty clear that regular servings is the way to go. After all you want your body to be fighting fat without taking a break.
Q: Is there a Leanbean coupon I can get for a discount?
A: There are no coupons available for Leanbean, this is a premium product with premium high quality ingredients, already priced at the lowest possible price.
You can save money and get a discount by going for any of their package deals.
Q: How quick does this Lean bean dietary supplement work?
A: Like all the best fat burners this is going to vary depending on what your training schedule looks like. Assuming that's all on point you can expect to see quick results.
Erin lost nearly 2kg in the first month and maintained a similar level of weight loss throughout her course.
Q: Can I take Leanbean I'm pregnant?
A: If you're pregnant then we'd have to recommend that you get the opinion of your doctor first. From what we've seen plenty of people have taken Leanbean in the lead up to getting pregnant.
Q: Can I use it without putting any work in?
A: From this this Leanbean review we wouldn't advise taking it (or any female fat burner) and then letting yourself fall off the wagon. That said, the appetite suppressants should mean you're eating less anyway and the Thermogenic effect will help you burn extra calories even whilst you're asleep. However for proper results make sure to keep up the work in the gym.
Q: Can I take this with other supplements?
A: Yes, it works well with most other gym supplements.
Q: Is Leanbean better than Instant Knockout?
A: Instant Knockout is our #1 choice for men so it's only natural to assume it's also the best one for women. Instant Knockout would be super effective for women as well, however there are a few key ingredients designed for women in Leanbean that are not in Instant Knockout. Which is why I believe Leanbean is the better choice for women.
Q: Are there side effects?
A: This Leanbean review should have told you that it includes caffeine through certain ingredients like Green Coffee and Green Tea. You're unlikely to see any side effects though as it doesn't include Caffeine Anhydrous.
Q: Where to buy?
A: You can only purchase it at their official website here.
References:
Recommended