Burn HD did not make it to the top list of fat burners: See top list of fat burners here

Effectiveness
62%
Ingredients
60%
Value
54%
Pros
Cons
Contains some good ingredients
May be effective for weight loss
Missing many key ingredients
Some users experience side effects
Low dosage & few ingredients
There's a lot of talk about this product, so what better time for a Burn HD review?
Why's there so much talk?
Funny, you should ask!
It's produced and marketed by a weight loss resource and supplement review company – Dietspotlight.
Imagine:
A reliable source of information that provides you with all the information to reach your weight loss goals now has a supplement too.
I know what you're thinking.
If it comes from such a reliable source, then it has to be one that works.
Am I right?
News flash:
This Burn HD review is going to uncover the truth and discover if it does work. Or if it's just more hype to make us throw away our hard-earned dollars on an ineffective supplement!
Stick with me as I take a look at Burn HD before and after results, side effects, and where to buy Burn HD.
That's not all:
Keep reading to find out what I discovered.
Check out what my research of Burn HD reviews Amazon and Burn HD reviews 2018 had to offer. See what people are saying.
Let's get down to business:
Burn HD Review – Does It Work?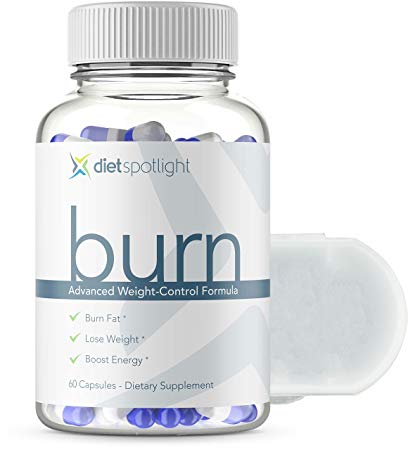 Is this fat burner going to give you that perfect beach body you dream of?
A body that allows you to step out oozing confidence and turning heads.
But what about Burn HD?
The company claims that the ingredients in the product will:
Boost energy
Increase metabolism
Promote fat loss
But isn't that what all companies who make fat burners claim?
So we need to see what makes this one different from all the rest.
We need to break it down and see exactly how it claims to give us these results and exactly what we're getting for our bucks.
Am I right?
The company claims it backed by clinical research, but when trying to find evidence of this, I was unable to locate any for the product.
To discover the truth, I need to take this Burn HD review further and start to dig a little deeper.
Let's start with:
Who Is It For?
Is it for those who want to lose weight while continuing to gorge on junk food and lounge around on the couch?
Sadly, no.
You have to be committed to eating healthily and exercising daily for at least 30 minutes.
The supplement instructions suggests you should avoid highly processed food, refined carbs and sugary beverages.
It also recommends 30 minutes per day of exercise, which can include walking.
If you have a medical condition or are already taking medications, they advise you to consult your physician before taking it. Plus, if you want to combine this with taking other supplements, their advice again is to consult your physician first.
From what I see, it appears that it is suitable for both men and women.
Warning:
If you have issues with caffeine, you probably need to steer clear as this is part of the ingredients.
You also need to avoid taking it late in the evening as it could potentially affect your sleep.
Plus:
You're advised not to take it with caffeinated drinks such as tea or coffee.
On a positive side, it is gluten-free non-GMO and free of fillers and binders.
What else do we want to know?
How Does It Work?
We know Burn HD if a fat burner, but how does it work to help us lose weight?
If we buy it, are we going to step out and start turning heads?
Let's dig a little deeper and see:
It claims that it is made from natural safe ingredients which are backed by science.
That's great news, right?
So, what do these ingredients do?
Burn HD claims that this formula along with a proper nutrition and exercise plan will help:
Boost energy
Boost metabolism
Suppress appetite
It contains two proprietary blends ChromeMate and Meratrim.
Meratrim being its main active ingredient.
The company claims three clinical studies back Meratrim.
They claim it will help you lose up to 11 pounds in eight weeks and is four times more effective than diet and exercise alone.
Some big claims there, am I right?
I mentioned above that I was unable to find any clinical studies to back these claims up, but what about the ingredients?
Is there any scientific evidence out there that supports the claims of how it works to give us these results?
Let's have a closer look at the ingredients and see.
Ingredients
Burn HD contains very few ingredients compared to some top-selling fat burners.
Burn HD has only four core ingredients and we think that is far too little to offer real benefits.
The ingredients label is lacking information too.
Due to the fact it contains proprietary blends, we were unable to find precise doses of each ingredient on their website.
Here's what we found out for ourselves about the ingredients and the benefits of each one:
Metatrim
This is the main active ingredient in Burn HD, and it is a supplement made by a company called InterHealth Nutraceuticals.
It's made up of two botanical ingredients:
Sphaeranthus Indicus
Also known as East Indians Globe Thistle, it is a herb commonly used in Ayurvedic medicine. It has many uses but is also known for its properties in helping reduce glucose levels and prevent the change of lipid levels in the body. This is why it is considered an excellent aid to weight loss when used alongside a proper diet and exercise program. 1
Garcinia Mangostana
Also known as mangosteen and often seen as juice or tea, it has many popular uses, and weight loss has become one of them. It's low in calories and high in fiber, which helps to regulate bowel movements and keep you feeling fuller for longer.
There is some good evidence that sphaeranthus indicus can be an excellent aid to weight loss. But, with regards to Meratrim, there are not enough conclusive studies to show the effectiveness of its ingredients.
Green Tea
This is a functional ingredient that we like to see in a fat burner. However, the Burn HD website offers us no information on the dose.
Green tea is a popular ingredient found in many weight loss supplements. There have been many studies conducted around its benefits in aiding weight loss. 2
Caffeine
Another popular ingredient seen in many weight loss supplements, but again the website does not give information on the dose. For those sensitive to caffeine, this could be quite risky.
Many studies have backed the use of caffeine to aid weight loss. It helps raise metabolism and increase fat burning as well as boosting energy spurring you on to complete more exercise. 3
Chromium
Chromium is another excellent ingredient that we like. It is one often seen in weight loss supplements. Combined with an exercise program, this could help with your weight loss. It will help keep your blood sugar in check and decrease your appetite.
Burn HD has taken this a step further by adding chromium as a proprietary blend called ChromeMate. This blend has niacin added to it, which is used to help the chromium absorb more easily. 4
As you can see, there are very few ingredients that makeup Burn HD.
As two of those are proprietary blends, we are unsure of the exact dosages of each ingredient. So it is hard to judge how effective it will be.
So, let's break it down to understand a little more.
Ingredients Breakdown
Is Burn HD going to give you the perfect body you're looking for?
Compared to other top fat burners on the market, it has very few ingredients.
So how can it possibly live up to them?
Well:
It does have a couple of good ingredients like green tea and chromium which have been proven to be effective in helping with weight loss.
But, it is missing some popular ones which are found in the most effective fat burners such as:
Glucomannan
Garcinia cambogia
Cayenne
Turmeric
But, before we make any final judgment let's see what the users are saying about it.
Burn HD Dietspotlight – What Do the Amazon Reviews Say?
I looked at hundreds of customer reviews to see what Burn HD before and after the results customers using it were seeing.
Here's what I found:
"Not sure yet on how it works as far as weight loss. I'll update when I am done with the first bottle. Definitely suppresses my appetite. I recommend eating something small 10-15 minutes after taking, like a string cheese or a few crackers. Otherwise, I feel bloated/upset tummy like mentioned in other reviews. I don't notice a surge in energy, but I also don't feel a crash either so that is good. I still drink coffee with mine."
-Janthina Talbot
"Have been taking it for 2 weeks. I don't feel any different it never gave me more energy, and I was still as hungry. It hasn't done a thing for me and the stupid auto ship has cost me $60 for what!!!! Pills that don't work. Don't waste your money."
-L. Jacobs
"Check out this amazing diet product! Helped me lose 15lbs, without starving. Just eat healthy, do some walking & the pounds come off! 4 Stars because it is pricey! But it does work!"
-Jeanette Ramos
"I really tried to give this a shot for a week, but the heartburn it gave me was some of the worst in my life. I had to take several zantac throughout the day just to deal with the heartburn this product gave me. I gave it a second star because it didn't make me jittery like Hydroxycut. But it didn't do anything for me (did only take it for one week) except give me horrible heartburn. Anyone wants my bottle??"
-Shannon Hensley
"I found this product to be totally worthless. Did not lose weight or feel more energized."
-Glynn
"This made me jittery, and I don't get jittery very often. This didn't really work to suppress appetite or cravings in the long run, it only made me feel strung out."
-Rene Hessle
They're just a few of the many customer reviews, and as you can see, some are good and some not so good.
If you look at the Burn HD reviews, Amazon has, you will see that only 62% of users rate it as five stars.
So what are our final thoughts on Burn HD?
Does it Work?
Bottom line?
Burn HD did not make our list of the top 3 fat burners on the market for women.
What are the reasons why?
Well, it does have a couple of good ingredients that we like to see in a fat burner like green tea and chromium.
But there are also so many of the important ones missing which are in the top fat burners on the market.
What more?
It does have some excellent customer feedback, as well as some negative. What was interesting in the feedback is those customers who were reporting Burn HD side effects.
Burn HD from Dietspotlight states that no side effects are reported for this product.
But I saw quite a few people reporting them such as heartburn, bloating, and stomach upset.
I think Burn HD needs to take a closer look at their customer feedback, don't you?
There is a free Burn HD sample available from the website; all you pay is shipping costs.
Be warned:
By taking advantage of the free sample, some people found themselves tied up in an auto subscription. They also had problems getting their money refunded.
If you decide to go ahead and give it a try, you have a couple of choices where to buy it from. If you choose to buy it from the website, you will see there are options to purchase Burn HD UK and other countries as well as the US.
Whereas if you buy it from Amazon, it does not appear to ship to the UK and other countries.
So for us, it's not one of the tops that we will be recommending.
But, ultimately, the decision is yours.
You have all the information you need.
FAQ
"Are There Any Burn HD Side Effects?"
The company states that there are no reported side effects, but I found numerous side effects reported by customers. These being stomach upset, bloating, and heartburn. Other reported side effects such as jitters/tremors and heart palpitations were probably caffeine-related side effects.
"Where to Buy Burn HD?"
You can buy it from the Burn HD website, or it is also available from Amazon.
"How Do I Take Burn HD?"
Take one capsule in the morning and another in the afternoon around 30 minutes before meals.
"What's Better Than Burn HD?"
Check out our top 3 fat burners on the market for women.
References
Recommended