He's considered by many people to be the largest bodybuilder ever to walk the planet—yet in many ways, Victor Richards remains an enigma.
With his immense frame and astounding muscle mass—it was assumed winning Mr. Olympia was a mere formality.
Best Testosterone Booster For Men
However, he never once entered the competition.
Join me, as I finally reveal the shocking truth behind this mysterious figure.
Victor Richards Wiki
Before I expose the crazy life of this behemoth, take a quick look at the Victor Richards bodybuilder wiki:
Best Testo Boosters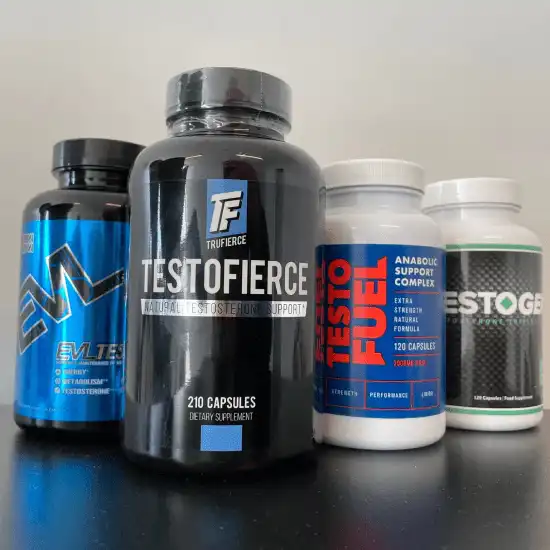 Age: 56.
Date of birth: 15th September 1964.
Height: 5 feet 10 inches (177.8 cm).
Weight: 330 pounds (149.6 kg).
Profession: Bodybuilder.
Nationality: Nigerian and American dual citizenship.
Nickname: Minister of Mass, Mr. Big and the Poo-Bah of Power.
About Victor Richards
It's currently believed that Victor Lheanyi Richards was born in San Diego in 1964.
However, in interviews, he sometimes claims he was born in Nigeria—in 1966 or 1967. This mystery and incongruence are typical of this enigmatic bodybuilder.
Best Testosterone Booster For Men
His father was Nigerian and his mother, Bahamian. Both encouraged the athletic Victor Richards to take up bodybuilding from an early age—with him hitting the gym for the first time when he was 15 years old.
Two more years—and he'd piled on some impressive muscle mass. Knowing this sport was his calling, he began training at Gold's Gym, Venice Beach. Here, he drew on the knowledge of the more experienced lifters—beginning to incorporate some powerlifting techniques into his training.
One year later, he was ready for his first competition—the 1982 The American Cup. He finished in second place in the teenage section, behind the legendary Rich Gaspari. It wasn't long before he took his first title, winning the 1983 Teen Los Angeles.
However, Victor Richards was soon to have an experience that would affect his entire outlook on bodybuilding.
Two weeks after winning in LA, he entered a nondescript contest—The Orange County Muscle Classic. He was beaten—by a guy who placed fourth in the Teen Los Angeles competition.
Victor learned that the bodybuilding world wasn't as honest and fair as he once thought—and seeds of disillusionment and doubt began to creep into his mind.
He achieved international fame in 1987 when he appeared in Muscle and Fitness—the article claiming he was the world's largest bodybuilder (at over 300 pounds). This exposure led to pressure on him to turn pro—and challenge the current superstars for a major title.
So, feeling he had no choice, he entered the Nigerian National Championship, beat everyone, and earned his Pro Card.
Yet—he never competed again.
Rumors have circulated over the years why this was the case. Some say it was because he found it difficult to cut—and wouldn't be able to beat the most shredded competitors. Others suggest it was due to the fact Wayne DeMilia (the then head of the IFBB) didn't like him.
However, Victor Richards put the record straight a few years ago:
"To let a panel of judges determine my worth when I wasn't doing this for anyone other than myself seemed crazy to me. I also knew that if I was competing and taking endorsements that my voice would try to be silenced."
Bodybuilding had become more than competition for Victor Richards, it was his religion.
"My calling in this sport was NOT to win titles and compete. I had an experience with bodybuilding, unlike many other people who train. I took it beyond the physical and mental…to a spiritual experience. Just as the synagogue is to the Rabbi, the Vatican to the Pope; the gym was my spiritual ground."
Today, Victor Richards lives in California. He keeps a low-profile, only occasionally making appearances to promote his VRRI (Victor Richards Research Institute)—an organization that encourages healthy bodybuilding and eating.
Currently, there's no active Victor Richards Instagram account—he steers away from social media.
Here's an informative video detailing the bodybuilding career of Victor Richards:
Victor Richards Net Worth
It's estimated that the current Victor Richards net worth is $1 million.
Victor Richards Bodybuilding Accomplishments
Many people believe that Victor Richards could have become one of the most successful bodybuilders of all time—if only he'd had the willingness to compete at the top table.
Here are his few bodybuilding placings:
1982 2nd place American Cup
1983 1st place Mr. Teen Los Angeles
1984 1st place California Gold Cup Classic
1989 1st place Mr. Barbados
1992 Overall Nigerian Championships (earning his Pro card)
Victor Richards Workout Program
Like much of Victor Richard's life, little is known about his training program.
He obviously lifted some seriously heavy iron and was an advocate of compound exercises. He said,
"I can do 200 pounds on a dumbbell press. I've done shoulder presses in the range of 450 pounds; squatted nearly 900 pounds, and I've done barbell curls up to 315 pounds. And I never liked using a belt or knee wraps."
From his interviews, we can conclude that he followed a training plan similar to this:
Monday—Triceps, Biceps and Calves
Barbell curl 3 sets 12-8 reps
Hammer curls 3 sets 12-8 reps
Biceps cable curl (standing) 7 sets 12-8 reps
Barbell bench press (close grip) 3 sets 12-8 reps
Triceps press (seated) 3 sets 12-8 reps (3-4 sets)
Cable rope overhead extension 7 sets 12-8 reps
Calf raise (seated) 3 sets 12-8 reps
Calf raise (standing) 7 sets 12-8 reps
Here's Victor Richards working out and talking about his training routine:
Tuesday—Legs
Barbell squat 3 sets 12-8 reps
Leg press 3 sets 12-8 reps
Leg extensions 7 sets 12-8 reps
Hamstring curls 3 sets 12-8 reps
Calf raise (standing) 3 sets 12-8 reps
Witness Victor Richards guest posing in Germany in 1994—illustrating what a workout like this can achieve:
Wednesday—Rest Day
Thursday—Chest and Triceps
Bench press with dumbbells 3 sets 12-8 reps
Incline dumbbell press 3 sets 12-8 reps
Cable crossover 7 sets 12-8 reps
Barbell bench press (close grip) 3 sets 12-8 reps
Seated triceps press 3 sets 12-8 reps
Cable rope overhead extension 7 sets 12-8 reps
An incredible video of Victor Richards pushing his training to the max:
Friday—Back and Calves
Bent over barbell row 3 sets 12-8 reps
Lat pulldown (wide grip) 3 sets 12-8 reps
Seated cable rows 7 sets 12-8 reps
Calf raise (standing) 3 sets 12-8 reps
Calf raise (seated) 7 sets 12-8 reps
Saturday—Shoulders and Biceps
Shoulder press with dumbbells 3 sets 12-8 reps
Front dumbbell raise 3 sets 12-8 reps
Side lateral raise 7 sets 12-8 reps
Barbell curl 3 sets 12-8 reps
Incline dumbbell curl 3 sets 12-8 reps
Biceps cable curl (standing) 7 sets 12-8 reps
Sunday—Adaptive Day
On the final day of the week, Victor Richards concentrates on an area of his physique, which he feels needs more attention.

Victor Richards Diet
The rumors are that Victor Richards would consume an immense 30k of calories per day. This is, however, untrue.
"I have never said that I consume 30,000 calories daily. My statement was taken out of context by a major magazine's quack editor who wanted to make a name for himself by creating a controversy. His question was, 'What is the most calories you've ever consumed in a day?' I answered that I had once consumed close to 30,000 calories when I ate Caribbean and African cuisine…I have never claimed to eat 30,000 calories on a daily basis."
However, it's true that he did consume massive amounts of food—often in the region of 7-10k calories per day.
But, he would only consume his meals after he worked out believing that,
"A hungry man is an angry man. Anger helps fuel my workout."
After training, and then eating his first two meals of the day, Victor Richards would then, unusually, go back to sleep for an hour.
Here's an example of his daily diet:
Meal #1
A bowl of raisin bran with a pint of milk
Ten ounces of freshly squeezed orange juice.
Meal #2 (followed by a nap)
Two donuts.
A croissant filled with grated cheddar cheese.
Four eggs.
Eight rashers of bacon.
Twenty ounces of full-fat milk.
Meal #3
Eight ounces of steak.
Mixed green salad.
Sixteen ounces of full-fat milk.
One large baked potato.
Sour cream.
Meal #4
Two cheeseburgers.
Six mozzarella sticks.
A slice of apple and cherry pie.
Sixteen ounces of whole milk.
Meal #5
Meal #6
One can of tuna.
Four tablespoons of mayonnaise.
One Greek yogurt.
One large banana.
A protein bar.
Eight ounces of fruit juice.
Meal #7
Protein shake.
One large banana.
Meal #8
Two slices of pizza with extra cheese.
Eight ounces of fruit juice.
Here's Victor Richards posing off against Dorian Yates—showing the physique that this diet creates.
Was Victor Richards on Steroids?
Victor Richards always claimed that he was natural.
One of the reasons he cited for not entering Olympia (among others), was that to compete on a level playing field, he would have to begin juicing.
He felt that steroids were dangerous and against his ethos of building a completely natty body—and all the current pros at Olympia were using them.
Victor Richards did carry an immense build—one which he'd had since his teens—so there were no massive or fast gains.
However, he always appeared as if he was in off-season mode—hardly ever cutting down.
While Victor Richards had enormous muscles—equally, he was carrying a heck of a lot of fat most of the time.
It's possible, therefore, that he was telling the truth—and didn't utilize synthetics.
Victor Richards Before and After
As he was lifting from the age of 15, Viktor Richards has always been muscular. When he started competing in 1982, he weighed 230 pounds. By 1990, he was over 270 pounds.
Here are some images of his transformation:
Victor Richards Now
Today, the Victor Richards 2020 character works towards restoring the sport of bodybuilding to its natural roots—not the over-inflated business that he believes it has become.
In his words,
"I want to return bodybuilding to what is was originally intended to be—the mind, the body and the spirit. When people talk about anti-aging—that is bodybuilding. When people talk about sexual health, beating depression, preventing diabetes—that is what bodybuilding is truly about."
As such, he founded the VRRI (Victor Richards Research Institute). It aims to educate budding bodybuilders to follow the natural route—and to source supplements that are effective, not snake oil.
Victor Richards Supplements
To the present day, Victor Richards campaigns for effective and natural supplementation—declaring that many of the products on the market are trash.
In interviews, he states that he uses whey protein powders, multivitamins and glutamine.
He used to be a brand ambassador for the supplement company Rebel Nutrition, but it appears that the relationship has now ceased.
Victor Richards Quotes: Motivation and Inspiration
Here are a few of Victor Richards' thoughts:
"My calling in this sport was NOT to win titles and compete—it was to mentor people and give a voice to people that didn't feel they could speak up."

"Bodybuilding today is like a beautiful car that people have taken and sold for parts."

"Bodybuilding is a philosophy of life, and if young lifters are not properly guided, they can very easily lose track of where they're going and what's truly important to the process."

"Arnold Schwarzenegger is the bodybuilder I most admire. He's stubborn to a point where he doesn't care what people think of him. He believed in himself and didn't just sit there waiting to be accepted by the public. He set the pace, and people danced at his feet. Like me, he didn't just believe he was good, he believed he was great."
Victor Richards Frequently Asked Questions
"Where Can I Find Victor Richards on Social Media?"
He steers away from social media. There's no YouTube Victor Richards channel, and the Victor Richards website is rarely updated.
"Is It True Victor Richards Beat Mr. Olympia Dorian Yates?"
No.
In 1994, an uninvited Victor Richards stepped onto a stage at the Essen FIBO while Dorian Yates was guest posing.1
He stood alongside Dorian and attempted to outperform him—claiming to be The Natural Uncrowned Mr. Olympia.
Afterward, Victor Richards passive-aggressively apologized to Dorian Yates—saying he was sorry to have made the champion look inferior against his own mighty frame. Dorian simply responded,
"Oh, alright mate. Funny old world innit?"
Victor Richards Summary
For some, Victor Richards remains the best bodybuilder never to have won Olympia.
Unlike many bodybuilders, he wasn't chasing fame, fortune, titles and endorsements. Instead, he lifted for himself—considering his own self-improvement the ultimate prize.
This has to be respected—and should inspire us all to have our personal development as the primary focus—anything else is a bonus.
Sources
Legal SARMs Alternatives