Known as the Quadfather—many people believe that Tom Platz possessed the greatest legs in bodybuilding.
A regular on the Olympia stage—he battled against Schwarzenegger during the Austrian Oak's 1980 comeback.
Here's the whole incredible story of Tom Platz—including the shocking event that curtailed his career.
Tom Platz Wiki
Age:                           64.
Date of birth:            26 June 1955.
Height:                      5 feet 7 inches (170 cm).
Weight:                      225-235 pounds (102-106.5 kg).
Profession:              Bodybuilder, entrepreneur, author and actor.
Nationality:               American.
About Tom Platz
Thomas Steven Platz was born in Fort Sill (an army base), Oklahoma, in 1955.1
When just nine years old, he saw a photo of Mr. Universe winner, Dave Draper, on the beach with Betty Weider. He recalls,
"I knew that at the time, I was dead set on becoming Mr. Universe. I was just totally moved by that; it was like becoming a priest, having a calling from God at that young age."
That Christmas, his father bought him the popular Joe Weider Weight Set, complete with a training manual. The Tom Platz bodybuilding journey had begun.
His father would take him and his brother and sister down to the basement. While his father read instructions from the Weider manual, Tom would work out. His siblings, too young at the time to train, learned to count by speaking aloud his reps.
Ironically though, he never trained his legs at that time—even though the Tom Platz squat was to become legendary. He explains,
"I had a back problem when I was a child—I was born with a deformity in my lower back where something wasn't fused together. Squats bothered it, so I didn't squat."
In 1970 the whole family moved to Kansas City. Tom had been training for the past five years and was now a muscular 165 pounds. He wanted to put his physique and fitness knowledge to use.
Impressing the owner of the nearby gym, the European Health Spa, he gained employment as a trainer after school—despite being too young to work. While there, a fellow lifter took him through the proper form in squatting. He found the previous pain he encountered was absent—and he'd discovered his trademark exercise.
In 12th grade, the family relocated to Detroit, where Tom Platz attended Armento's gym. Here, he trained with Olympic weightlifters—particularly under the tutelage of the gold-medal winning Norb Schemansky.
Tom Platz then began competing in powerlifting competitions—finally transitioning to bodybuilding in the late 1970s—appearing at Mr. Olympia eight times.
In addition to his characteristic legs—he became known for his slow and elegant posturing. Many movements involved him running his fingers through his blonde hair before tensing.
After the 1981 Mr. Olympia, he injured his right bicep during training. Unfortunately, he failed to have it examined immediately afterward. This led to intense pain during future workouts, finally leading to Tom Platz's retirement from the sport in 1987.
Outside of the bodybuilding sphere, he became an author and began appearing on the silver screen. The Tom Platz Twins (1998) role alongside Schwarzenegger was received with popular acclaim.
Today, he lives in Scottsdale, Arizona, with his wife, Cha Nikito Platz.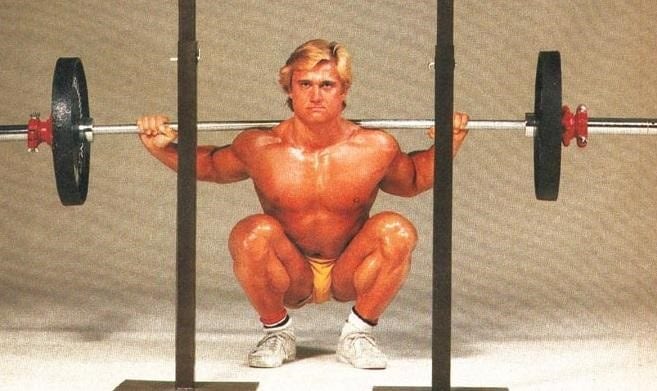 Tom Platz Net Worth
The Tom Platz net worth is estimated to be $14 million.
Tom Platz Workout Program
Throughout his career, Tom Platz put in some seriously hardcore sessions. He would work out six days a week, attending the gym in the morning and evenings on Mondays and Thursdays.
However, it wasn't all just physical determination—he concentrated on the mental aspect too.
Tom would employ various tricks to enable him to push his body, especially his legs, even further. He recalls,
"If I wore high socks, I would look shorter in the mirror. And if you're real short, you don't have that far down to go. At least that's what the mind perceives. So I developed these little mental strategies to really train myself to handle bigger weights."
Here's a typical weekly workout for Tom Platz from the late 1970s:
Monday and Thursday—Morning
Dumbbell bench press                   12 sets                       5-15 reps
Bench press                                     5 sets                          5-10 reps (superset)
Dumbbell flyes                                 5 sets                          5-10 reps (superset)
Upright row                                       6 sets                          8-15 reps
Side laterals                                      6 sets                          15-20 reps
Side cable raise                               3 sets                          To failure
Standing calf raise                          4 sets                          50 reps
Seated calf raise                              3 sets                          To failure
Take a look at the insane training method of Tom Platz:
Monday and Thursday—Evening
Chin up                                             6 sets                          15-20 reps
Bent over row                                   6 sets                          10-15 reps
Cable rows                                        6 sets                          20-25 reps
Dumbbell pullover                           4 sets                          10 -12 reps
Behind neck press                          10 sets                       8-10 reps
Bent over laterals                             4 sets                          10 reps
Tuesday and Friday—Morning
Dumbbell curls                                 6 sets                          8-12 reps
Bench press (close-grip)                6 sets                          6-10 reps
Barbell curl                                        4 sets                          6-10 reps
Pulley pushdown                            4 sets                          10-15 reps
Bench wrist curl                               4 sets                          15-20 reps
Roman chair sit-up                          4 sets                          To failure
Twisting                                             1 set                            10 mins
Crunches (each side individually) 2 sets                                    100 reps
Standing calf raise                          4 sets                          50 reps
Seated calf raise                              3 sets                          To failure
Here's Tom Platz taking chest work to the extreme:
Wednesday and Saturday—Morning
Standing calf raise                          4 sets                          50 reps
Seated calf raises                            3 sets                          To failure
Roman chair sit-up                          4 sets                          To failure
Twisting                                             1 set                            10 mins
Crunches (each side individually) 2 sets                                    100 reps
Squats                                               2 sets                          25-50 reps
Hack lifts                                            4 sets                          20 reps
Leg extension                                   4 sets                          20 reps
Leg curls                                            6 sets                          15 reps
Sunday—Rest Day
Light cardio, if required.
Tom Platz Leg Training
In the early 1980s, Tom Platz upped his leg workouts—leading to his legendary quads and calves. Here's a typical program that he followed two to three times per week in addition to the other muscle groups.
Squats                                               8-10 sets                    20-8 reps (635 lbs max)
Hack squats                                      5 sets                          10-15 reps (500 lbs max)
Leg extension                                   5-8 sets                      10-15 reps (350 lbs max)
Lying leg curl                                                6-10 sets                    10-15 reps (240 lbs max)
Standing calf raise                          3-4 sets                      10-15 reps (500 lbs max)
Seated calf raise                              3-4 sets                      10-15 reps (225 lbs max)
Hack machine calf raise                 3-4 sets                      10-15 reps (400 lbs max)
Here's an insight into the mighty leg training of Tom Platz:
Tom Platz Diet
The Tom Platz meal plan was typically old-school—centering on copious amounts of eggs, chicken and beef.
Unlike the "skinless chicken breast" seen in many of today's bodybuilding diets—his poultry intake was from meat off-the-bone with the skin still in place. He said,
"We ate the skin. We considered the skin immensely important. The meat closest to the bone has more nutrition. The turkey legs, chicken legs, oxtail stew, and rib-eye."
Furthermore, he followed the mastication plan of Eugen Sandow, believing that the more you chew, the better. Tom Platz said,
"Digestion is important, and digestion begins in the mouth by chewing your food slowly."
Here's a typical day of bulking nutrition:
Meal #1
Twelve egg whites.
Three whole eggs.
Four slices of toast.
Two cups of oatmeal.
Fifty grams of protein powder.
Meal #2
Twelve ounces of beef steak.
Two large baked potatoes.
Eight ounces of fibrous vegetables.
Meal #3
One cup of almonds.
Fifty grams of protein powder.
One pint of ice cream.
Meal #4
Twelve ounces of chicken off-the-bone.
Two large baked potatoes.
Eight ounces of fibrous vegetables.
Meal #5
Twelve ounces of turkey off-the-bone.
Two servings of fruit.
Eight ounces of fibrous vegetables.
One pint of ice-cream.
Additionally, Tom Platz would ensure that he consumed one gallon of whole milk during the course of the day.
Listen to Tom Platz talking about dieting and training in this video:
Tom Platz Bodybuilding Career

The Tom Platz powerlifting and bodybuilding competitive career spanned 14 years (1973-1987).
During this time, he became Mr. Universe in 1978 and competed in Mr. Olympia eight times.
One of the more memorable Olympias was in 1980—when he faced the mighty Schwarzenegger who was returning from a five-year hiatus from the sport. The Austrian (controversially) won the title—with Tom Platz in eighth place.
However, it's at this time that the Tom Platz legs started to become legendary. He may have lacked Arnold's upper bulk—but he definitely outshone him in the leg department.
This 1980 competition is shown in the documentary, The Comeback (1980).2
His highest placing at Olympia was third in 1981. Many attendees and experts believed it should have been his title. However, Joe Weider explained that despite his phenomenal legs—they were disproportionately large in relation to the rest of his body.
Here are Tom Platz's most notable achievements:
1973               Mr. Adonis
1973               Mr. Ironman
1974               Junior State Powerlifting Champion
1975               Mr. Michigan
1977               Mr. Southeastern USA
1978               IFBB Amateur Mr. Universe (amateur)
1980               IFBB Pro Mr. Universe (second)
1981               IFBB Mr. Olympia (third)
Here's Tom Platz posing at the 1985 Mr. Olympia—where he finished in seventh place:
Was Tom Platz On Steroids?
Yes—100 percent.
In an article in Flex Magazine, titled Coming Clean, Tom Platz admits to using steroids.
He explains that when he came second in Teenage Mr. America (1974), he was completely natural. Yet, within three years, he was using synthetics.
Tom Platz believes that bodybuilders should be more honest about their steroid use. He feels that the natty facade is dishonest to younger lifters. He also thinks that there should be more education about the dangers and safety of anabolics.
Tom Platz Before and After
As he was training since the age of nine years—the Tom Platz physique has been consistently muscular.
However, the images below reveal the massive transformation from a 180-pound athlete in 1975—through to the third-placed, 225-pound, Mr. Olympia.
And, to bring you up to date with the Tom Platz 2019 figure, here's a Tom Platz then and now comparison.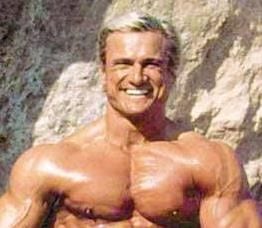 Tom Platz Supplements
Tom explains that the choice of training supplements in the 1970s was limited, with only three main suppliers:
"Back then, there was Bob Hoffman, Dan Lurie, and Joe Weider. We didn't have sports supplements, not like today. We would get brewer's yeast, desiccated liver, other food extracts. There were one-a-day-vitamins, things like that. But that was it."
The only products he used on a regular basis were protein powders and liver tablets. The latter are high in iron and B-vitamins, and he would take 75 of these pills per day.
Generally, he felt supplements shouldn't replace whole foods:
"Food should be your main source of nutrients. Supplements are supposed to supplement your food intake. That's it."
Tom Platz Quotes: Motivation and Inspiration
Tom Platz is both intelligent and eloquent. Here are some of his wise words:
"Some people like to live without too much risk. This attitude of caution infiltrates into their goals. Every successful athlete – or businessperson – enjoys taking calculated risks. You have to."

"When you promise yourself something, make a commitment, you can't give up. Because, when you're in the gym, you have to fulfill the promise you made to yourself. The people who can self-motivate – in any field – are usually the ones who win. Regardless of talent."

"After being taught sets and reps and working at it for a length of time, you can't paint by numbers anymore. It must come from within. Any artist has an emotional contact with their work. A true bodybuilder doesn't just build muscle—he creates muscle. You can't be a robot."
Tom Platz Frequently Asked Questions
"How Tall Is Tom Platz?"
The Tom Platz height is five feet seven inches (170 cm).
"What Are Tom Platz Shoes?"
The Tom Platz 2018 shoes are squatting footwear bearing an embossed signature of the bodybuilder.
"What Was the Tom Platz Nickname?"
During his career, Tom Platz was known as The Quadfather, Quadzilla, Tom "The Legs" Platz and The Golden Eagle.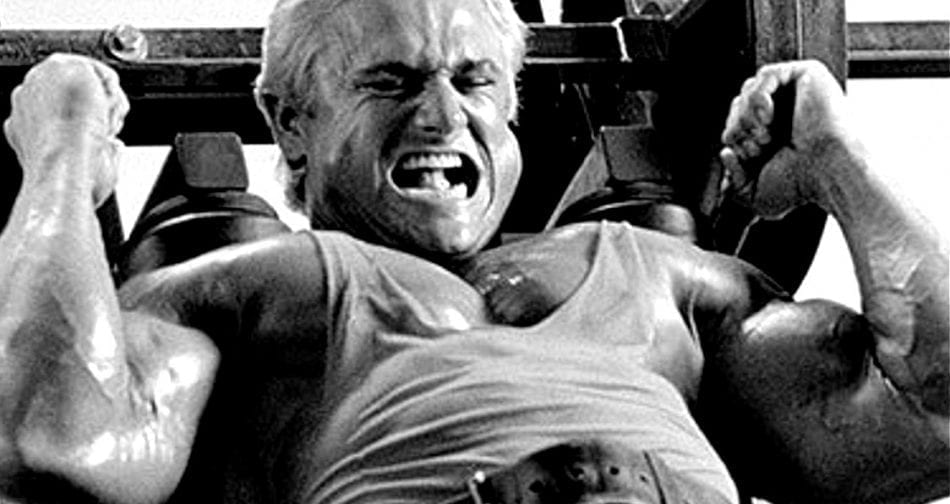 Summary
Tom Platz may never have become Mr. Olympia—but his leg definition alone was worthy of the title.
Despite being beset by bodybuilding obstacles—such as a deformed back and short stature—he never became disheartened and worked consistently to achieve his dream.
Tom Platz illustrates that as long as we remain committed and hold onto our dreams—we can achieve incredible success.
Sources
Recommended For You
Best Testosterone Boosters
After spending three months researching the market this is what actually works.
---
Top 5 Pre-Workout Supplements
These pre-workout supplements give you raw POWER and supercharged energy to last through tough workouts.
---
Best Fat Burners For Men
These are the top fat burner supplements on the market right now.