The Curse ranks in 102nd place out of 125 pre-workouts see full list here

Pros
Contains a few proven ingredients
50 servings per bottle
Cons
Ingredients low dosed
Only 5-gram serving size
Not very effective
With bold claims, it's a supplement that deserves some serious investigation—and this The Curse Pre-Workout review will do just that.
When selecting our pre-workout, we're looking for an ergogenic aid that'll give us almost supernatural power in the gym—but often, the promises made by these performance enhancers can turn out to be no more than voodoo-hoodoo.
You know what I'm talking about, right?
The best pre-workout supplements can turn us into hulk-like avengers—smashing through every single set like absolute beasts.
But, the worst ones can have no effect at all.
In this The Curse Pre Workout review, I'll examine whether this pre-workout has the power to put a spell on you, or is best exorcized from your memory.
The Curse Pre Workout Review
The only way to start this The Curse Pre Workout Review is by having a quick overview of this supplement.
Formulated and marketed by Cobra Labs, The Curse was the first product it sold after its inception back in 2010.
As a pre-workout, this supplement is designed to push you past your normal limits and abilities—vastly improving training sessions and therefore delivering more impressive results.
Cobra Labs claims that The Curse:
Is the most powerful and "mind-blowing" pre-workout supplement on the planet.
Provides crazy energy boosts.
Enables off the scale pumps and strength.
Delivers desire that's both aggressive and "mad."
Sounds like a potent supplement, yeah? Well, this The Curse Pre Workout review isn't over yet—let's get down to some more in-depth detail.
Who Should Use The Curse Pre Workout?
This supplement, and for that matter, pre-workouts in general, are designed for guys who:
Demand more intense focus in their workouts.
Wish to push their sets and reps harder and longer.
Want to witness selfie-deserving muscle pumps.
Require more sustained energy reserves.
Don't want to suffer from muscle fatigue.
Need to recover faster to hit the gym sooner.
Are vegan or gluten intolerant—this supplement is suitable for both groups.
But, don't assume by reading this The Curse Pre Workout review that it's for everyone. There are some guys who should avoid using it.
Who Should Not Use The Curse Pre Workout?
Pre-workouts aren't supplements that should be taken lightly. They should be avoided by:
Lazy guys—if you're not gonna put the effort in at the gym, there's nothing that a pre-workout can do to enhance your physique.
Gym newbies—if you've just started your bodybuilding journey, first learn to use the equipment and develop a powerful training program before considering supplementation.
Undedicated guys—you have to be willing to stick to a sensible diet and workout regime for the ultimate effects from pre-workout supplements.
Juicers—pre-workouts are legal, if you're looking for the gear to get ripped, wreck your health, and shrink your balls—stick to the 'roids, bro.
How Does The Curse Pre Workout Work?
For this The Curse Pre Workout review, I examined the manufacturer's blurb and advertising to discover how exactly this supplement is supposed to affect the body. However, there's no information directly from them on this process.
Hence instead, I've checked out the ingredients in this pre-workout, and it appears that it aims to work by:
Increasing stamina and reducing fatigue by preventing muscle acidosis.
Elevating endurance by boosting reserves of muscle-powering chemicals.
Heightening power and pumps by increasing oxygenated blood-delivery.
Raising energy by its inclusion of a stimulant.
Let me show you in the next part of this The Curse Pre Workout review what this supplement includes.
The Curse Pre Workout Ingredients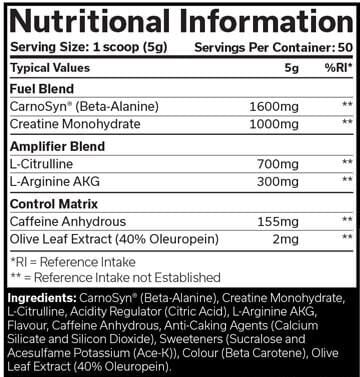 With just six active ingredients, already it's easy to see in this The Curse Pre Workout review that it's not going to be one of the most powerful pre-workouts on the market.
Here's what The Curse contains:
However, while it does contain proven performance enhancers—is it potent enough to really up your game? In the next section of this The Curse Pre Workout review we'll find out.
The Curse Pre Workout Ingredients Breakdown
For a truly powerful pre-workout, there are some ingredients that are so immense they shouldn't be left out of a performance-enhancing supplement. Let me show you how The Curse measures up:
✓Caffeine
✓Beta Alanine
✓Citrulline Malate
✘Betaine Anhydrous
✘L-Theanine
✘Acetyl-L-Carnitine
✘Black pepper extract (Bioperine)
✓L-Arginine
With four out of eight essential ingredients—you'd assume this to be an average supplement.
It's not that simple.
While the caffeine dose in The Curse is sufficient—the nitric oxide boosting arginine and citrulline are sadly lacking, coming in at a combined total of just 1 gram. The best pre-workouts contain 6 grams—more than all the ingredients in The Curse put together (5 grams).
Despite its claims, The Curse is not the most powerful pre-workout supplement on the planet.
The Curse Pre Workout Side Effects
So, is The Curse Pre Workout safe?
With a weak formula, it's unlikely that this supplement will cause any side effects. However, in a small number of cases, guys taking this supplement have experienced:
Headaches
Nausea
Diarrhea.
Agitation
Insomnia
"Itching"—from the beta-alanine ingredient.7
The Curse Pre Workout Before After Results
Taking a pre-workout should take your "normal" training sessions to stratospheric levels.
For this The Curse Pre Workout review, I researched what users of this supplement experienced.
Here are some genuine testimonials.
"This stuff truly does the trick."
AC
"Even three of the little scoops didn't do anything."
Danny H
"No pump not even energy."
Kevin
"Not giving me what it promised."
Ghost
"This stuff is trash…no pump no focus"
Ashrad
"The product itself is very disappointing…didn't feel anything…I got absolutely no pump or itchy/tingly feeling which I always associated with a solid product."
Cody B
"Didn't get the energy it promises."
JG
It appears that this supplement just doesn't have the ingredients to have any effect.
Where to Buy The Curse Pre Workout?
This supplement can be purchased from The Curse Pre Workout GNC page,
Bodybuilding.com, iHerb, and Amazon.
The Curse Pre Workout Review Conclusion
To give credit where it's due—this supplement does include some proven performance enhancers in the form of citrulline, arginine, caffeine, and beta-alanine.
But it's simply not enough.
As we've seen in this The Curse Pre Workout review, not only are most of these ingredients drastically underdosed and unlikely to have any effect, but it also lacks some of the best performance-enhancing ingredients.
In my opinion, this supplement is more about the hype than efficacy. It promises the world but delivers little.
Take my advice.
To really see your workouts take on witchcraft-like improvements and obtain the best pre-workout 2020—select a supplement which includes all the proven pre-workout ingredients I listed earlier—not The Curse.
The Curse Pre Workout Review FAQ
"How to Take The Curse Pre Workout?"
Mix one scoop of The Curse Pre Workout with five to eight ounces of water. Then, consume 20–30 minutes before the start of your workout.
"How Much Does The Curse Pre Workout Cost?"
One tub (250 grams—50 servings) currently costs $25.99.
"Is The Curse Pre Workout Safe?"
As this supplement is severely underdosed, there's little chance of suffering any side effects at all.
However, those sensitive to caffeine may suffer headaches, stomach cramps, or insomnia. Additionally, the beta-alanine content may cause an "itchy" feeling—this is harmless and subsides after a few hours.
"Where Can You Buy The Curse Pre Workout?"
Cobra Labs don't sell this supplement on their official website. Instead, you can purchase The Curse from GNC, bodybuilding.com, iHerb, and Amazon.
"Does The Curse Pre Workout Really Work?"
Lacking in some of the most effective performance-enhancing ingredients, and being underdosed in those that it does contain, it's unlikely that you will see any improvement to your training performance.
For example, if you did a The Curse Pre Workout vs C4 Pre Workout vs Mr. Hyde Pre Workout comparison, you would find it's even less powerful than these other two "average" products.
"Is There a Money-Back Guarantee?"
This depends on the supplier from which you purchase this pre-workout. Always check their individual terms and conditions before committing to a purchase.
"How Long Do You Have to Take The Curse Pre Workout Before Seeing Results?"
Probably a very long time.
Customer testimonials indicate that, despite using this supplement for an entire month, many guys saw no improvement in their workout sessions.
"What Flavors are Available for The Curse Pre Workout?"
The flavors available for this supplement are The Curse Pre Workout green apple envy, lemon rush, blue raspberry ice, pina colada, watermelon deluxe, orange mango, and tropical storm.
"Do They Ship Worldwide?"
This depends on the retailer from where you purchase The Curse.
Check with them directly to see if your location is covered before paying for the pre-workout.
References
1. https://www.ncbi.nlm.nih.gov/pmc/articles/PMC3257613/
2. https://www.ncbi.nlm.nih.gov/pubmed/12701817
3. https://www.ncbi.nlm.nih.gov/pmc/articles/PMC5802914/
4. https://www.ncbi.nlm.nih.gov/pubmed/14599231
5. https://www.ncbi.nlm.nih.gov/pubmed/1356551
6. https://www.ncbi.nlm.nih.gov/pmc/articles/PMC5392257/
7. https://www.ncbi.nlm.nih.gov/pmc/articles/PMC3491570/
Recommended