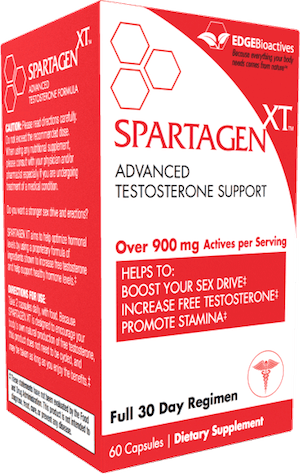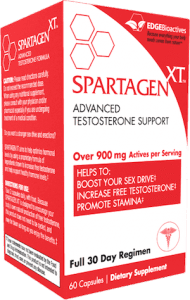 Spartagen XT from EDGEBioactives is a testosterone booster that contains a number of ingredients.
In this Spartagen XT review, I've examined the ingredients and found out if they really work.
Here's the deal:
There are loads of testosterone boosters just like Spartagen XT and I've reviewed hundreds of them.
Find out if this product is just another mediocre supplement or the real deal.
Spartagen XT Review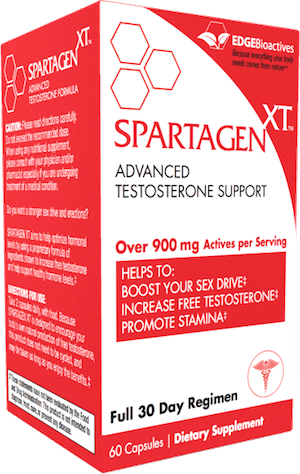 First, let's get a little bit of context in this Spartagen XT review.
See that awesome package between your legs? It's what makes you a man. And it's all thanks to the hormone testosterone.
It's like this.
Just as gasoline is the fuel that powers your automobile, testosterone is the fuel that drives you. It's essential for being a guy.
This amazing hormone is responsible for:
Sex drive
Making your penis grow
Giving you energy
Facial and body hair
Giving you a deep voice
Building strong bones
Increasing muscle mass
It's an incredible wonder of nature that makes you into the beast you are.
But there's a couple of issues.
Firstly, levels of testosterone vary from guy to guy. It's just genetics. You might be absolutely overflowing with the stuff, or you may be severely lacking.
Secondly, after the age of 24 years, our testosterone levels begin to fall. This can lead to feeling tired, lacking sex drive and finding it difficult to build muscle. That's where testosterone boosters come in.1
Get this.
T-Boosters are designed to stimulate the body to create more testosterone naturally, without the use of illegal steroids such as Sustanon.
The best testosterone boosters can:
That's all fact. But the question is, does Spartagen XT work as an effective T-Booster to achieve these results?
Read on! This Spartagen XT review will tell you!
What Is Spartagen XT?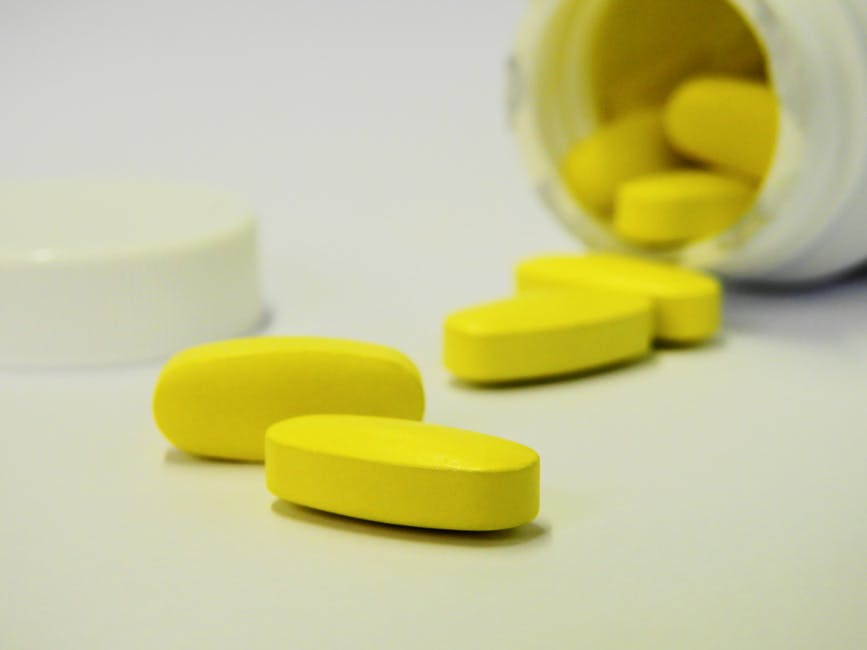 Spartagen XT is a natural testosterone booster which aims to increase T-levels by stimulating the body to create more of the hormone.
It's manufactured by Edge Bioactives.
I have not come across this company before. I did a lot of research for this Spartagen XT review, and it seems that Spartagen XT is the only product which it manufactures.
Listen.
Many T-boosters sell themselves as bodybuilding supplements. After all, testosterone is proven to build muscle fast, so it makes a lot of sense.
Although the marketing for Spartagen XT does mention this, it is more angled as a sex-drive booster and energy enhancer than anything else.
And it comes with warnings!
Before entering the Spartagen XT website you have to agree to a disclaimer, because apparently it is so damn powerful.
The warnings include:
Ensure you have a healthy heart before taking the supplement, because your libido is going to go so high you might give yourself a heart attack with all that bedroom action.
Be careful not to over train in the gym, as you will be building muscle like an animal.
Don't share it. Apparently your buddies will be so impressed with your new muscle and sexual prowess they will want to steal it.
Alarm bells ringing yet?
Anything that hypes itself with incredible (and frankly comical) claims should be examined with a little bit of caution.
How Does Spartagen XT Work?
No Spartagen XT review would be complete without understanding how it works!
Through its natural ingredients, Spartagen XT claims to boost testosterone.
In doing so, it has the following effects:
Raises Libido
If testosterone is elevated, libido naturally follows suit. This hormone is the driving force behind our desire to get down to some serious bedroom action.6
Improves Erection Quality
Low testosterone levels are a major contributing factor to erectile dysfunction.
The more testosterone you have, the harder and larger those erections will be.7
Increases Energy Levels
By raising testosterone, energy levels are raised. This means you will be going at it like an animal in the gym and the bedroom.8
Increases Protein Synthesis
For those muscles to build and repair they need testosterone. They cannot work without it!
Testosterone is the fuel that drives proteins to get those muscles stacked. The more testosterone the faster and stronger they rebuild!
Spartagen XT Ingredients
Now down to some serious investigative work in this Spartagen XT review! Let's see what's in the supplement and whether they can meet the claims!
Let's find out how many of the proven T-boosting ingredients Spartagen XT contains
D-Aspartic Acid
Zinc
Vitamin B6
Vitamin D-3
Magnesium
Fenugreek
Ashwagandha
Boron
Vitamin K-1
Ginseng
It contains five out of the top 10 ingredients which is decent.
However, some of them are low dosed and others in the form of a proprietary blend so it's no way of knowing if they are properly dosed.
Vitamin D, Vitamin E and Vitamin B6
Essential vitamins which will promote overall general health. This includes cardiovascular regulation, strong bone and muscle development, and testicular health.9 10 11
However.
Whilst these vitamins are required for a healthy body, and in turn will promote efficient testosterone production, they do not in themselves stimulate the body into creating more of the hormone.
Here's the truth.
Having a healthy diet and getting some sunshine will most likely provide more of these vitamins than are contained within the supplement itself.
Zinc
Zinc is essential for testosterone production. It has been shown that guys with a zinc deficiency produce lower amounts of the hormone.12
But get this.
Whilst zinc is essential for keeping testosterone at normal levels, there seems little evidence that taking this supplement will increase it.
Magnesium
Studies have shown that magnesium can boost testosterone levels, so a important ingredient to have in Spartagen XT.
But listen to this.
These studies, conducted over a four week period, involved 10mg per kilo of body weight. So for an average guy that was a daily intake of 850mg.
Spartagen XT contains only 50mg. This amount is unlikely to have that much effect on T-levels.13
Proprietary Testosterone Activation Stack
I always raise an eyebrow as soon as the word proprietary is included in the ingredients list!
I'll tell you why!
A proprietary mix is basically the manufacturer's own blend of two or more ingredients to achieve a particular result. In this case to activate testosterone.
OK, there's no problem with that.
But here is where the issue arises. Usually when there is a mix you cannot see how much of each ingredient is in the supplement. And this is the case for Spartagen XT.
If you cannot tell the quantity, you cannot judge the quality.
It's like this.
You wouldn't buy a gold watch for $1000 and just hope there was some gold in it. You want to know exactly how much!
Anyway here are the ingredients in the proprietary testosterone activation stack:
Tongkat Ali – A plant extract which is proven to increase sexual desire and boost testosterone 14 15
Tribulus Extract – Used in Indian medicine for centuries, this natural ingredient has been shown to raise libido levels 16
Credit where it is due.
These two ingredients are a mainstay of testosterone boosters. It's good to see them included here.
However,
As there are no indications of quantity, how effective they are is open to question.
Proprietary Sex Drive Amplification Matrix
Wow!
Sounds impressive doesn't it?
Well, it's not that exciting. Again the proprietary blend means that no quantities are listed so you cannot tell how much is in each capsule.
It includes:
Asian Ginseng – Aphrodisiac and libido enhancer 17
Maca – A plant extract high in antioxidants. It has been shown to increase the fertility of semen, but not to boost testosterone levels.18
Overall, it's not that impressive.
The lack of information of quantity and the few actual testosterone enhancing ingredients make it a very disappointing T-booster.
Spartagen XT Side Effects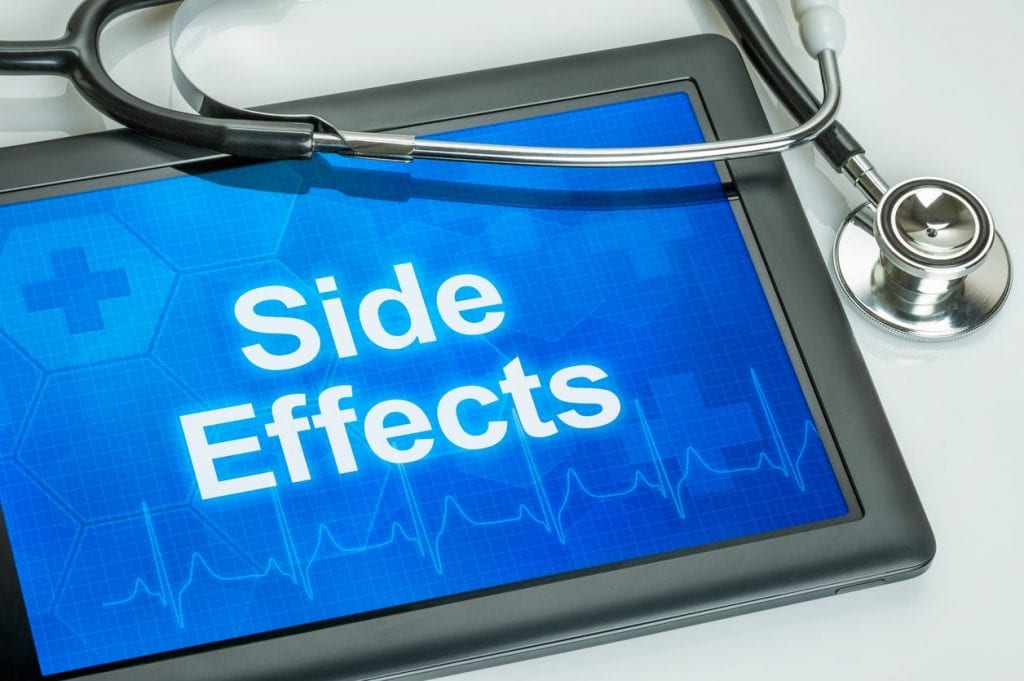 As it is a natural product, Spartagen XT has no side-effects.
But caution.
As I mentioned earlier in the Spartagen XT review, some quantities of the ingredients are not listed. I am always cautious when I do not understand how much of an ingredient I am putting in my body.
This is especially important if you are already taking other supplements, as you could overdose.
Be sensible guys.
Spartagen XT Before After Results
After looking at the ingredients, I was pretty sure that the results from this T-booster would be disappointing.
I was not wrong.
After looking at Spartagen XT Amazon and other Spartagen XT reviews, this is what guys have been saying:
"To me nothing more than a vitamin pill"
-Michael Sibley
"It doesn't work as it says and they will steal your money"
-Louis L
"Feeling nothing different after a month taken."
-Dewar
"I've been taking 6 capsules a day for three weeks and have seen zero results or effects, good or bad. I've felt more effects from off the shelf vitamins."
-Doug Hurst
"I had lots of energy and my penis became bigger"
-Martin R.
The Spartagen XT negative reviews are overwhelming.
Firstly, the supplement seems to have very little effect. I struggled to find one positive review.
Secondly, watch out for their charges!
There are a heck of a lot of complaints online regarding overcharging, double-billing and never receiving the product.
Be very careful.
Where to Buy Spartagen XT?
If, after reading this Spartagen XT review you still want to get hold of some, it is only available on their official website. It used to be available on Amazon but no longer.
There is no Spartagen XT at Walmart.
Spartagen XT Review Conclusion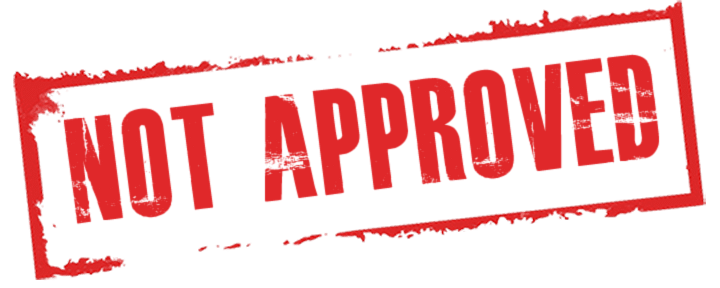 I started this Spartagen XT review telling you the amazing things T-boosters can do. And that's all true.
But this Spartagen testosterone booster is not one of those.
First, the overhyped marketing should make you suspicious. Anything that claims you should watch your heart because you are going to be working so hard in the bedroom should be taken with a pinch of salt.
It has a couple of decent ingredients that I would expect to find in a good testosterone booster, but that is it. There are simply not enough proven ingredients to make this product challenge the most potent T-boosters on the market.
As the customer reviews mentioned, it is more a vitamin pill than anything else.
Finally, and most importantly, the quantities of each ingredient are not included. The reason there are so many bad reviews is most probably down to the fact that there is simply not enough of each ingredient to make it effective.
Overall, if you are looking for a T-booster, there are much more powerful and proven ones on the market. My recommendation is don't buy Spartagen XT.
You will just be wasting your money.
Spartagen XT Review FAQ
"How to Take Spartagen XT?"
Take two capsules a day with food, or up to four if you are trying to bulk.
"How Much Does Spartagen XT Cost?"
One bottle of Spartagen XT (one month's supply) costs $69.00.
However if you buy large quantities, it works out cheaper:
Three months' supply $177.00
Six months' supply $294.00
"Where Can You Buy Spartagen XT?"
If you do a Spartagen XT where to buy search, you will find it is only available from the official Spartagen XT website. Don't do a Spartagen XT eBay search as you simply will not find it!
"Does Spartagen XT Really Work?"
As this Spartagen XT review has shown, although there are a few positive customer reviews online, the majority seem to indicate the supplement has very little effect at all.
"Is There a Money Back Guarantee?"
Spartagen XT offers a 90-day money back guarantee. Sadly there is no Spartagen XT free trial.
"How Long Do You Have to Take Spartagen XT Before Seeing Results?"
There are a few reviews online which indicate guys became more energized within the first week of use.
However in general, reviews show that even after taken Spartagen XT for a couple of months made very little difference.
"Do They Ship Worldwide?"
Yes. The Spartagen XT price in India, USA and around the world is the same. There is however a shipping charge of $14.95.
References
Recommended supplements: