Six Star Pre-Workout Explosion ranks 95th out of 125 pre-workouts ; See complete list here
Cons
Best Testosterone Booster For Men
Missing many key ingredients
Low dosed pre-workout
Most key ingredients under-dosed
Pros
Contains some proven ingredients
Although it sounds like a dynamite pre-workout—this Six Star Pre Workout Explosion review will expose the truth.
You know what it's like.
Best Testo Boosters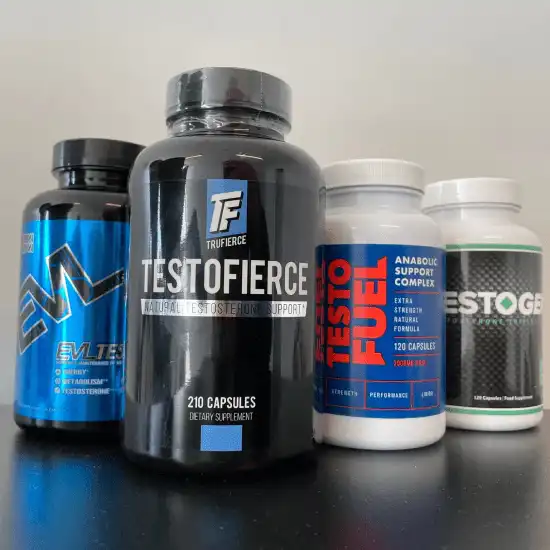 You hear of a dynamically titled brand and you think—damn, that supplement must be freakin' awesome! But then you try it out and find it was all hype and yielded no results.
I know you're nodding in agreement.
The truth is, what's on the front of the bottle isn't as important as what's on the back. If the ingredients are true performance enhancers—then your training results will go off the scale.
And that's exactly what this Six Star Pre Workout Explosion review will discover.
By looking behind the incendiary name, I'll explore exactly whether this pre-workout is worth your time—or if it should be left to fizzle out.
Let's get down to it!
About Six Star Pre Workout Explosion
Let me start this Six Star Pre Workout Explosion review by taking a quick look at the company behind it:
Six Star is a nutritional brand that's a subsidiary of Iovate Health Sciences—who also owns the supplement companies MuscleTech, Purely Inspired, and Hydroxycut.
While the MuscleTech brand targets its products at the bodybuilding market, Six Star is aimed toward the athlete—both track and field.
Already you're probably thinking—it's not for me.
Yet, this pre-workout seems to be marketed for the serious gym-lifters. Six Star claims that this supplement will set your training on fire, by:
Provoking you to achieve your peak performance.
Delivering longer and harder training sessions.
Enabling powerful and explosive results.
Providing previously unseen levels of concentration.
Elevating your strength and power levels.
And how does it do this?
Best Testosterone Booster For Men
In the next section of this Six Star Pre Workout Explosion review, I'll explain!
How Does Six Star Pre Workout Explosion Work?
The ingredients in Six Star Pre Workout have been put together to:
Reduce the onset of muscle fatigue—by including ingredients that can, in the right doses, prevent the buildup of lactic acid and fuel muscle contractions.
Increase stamina and pumps—by opening up the vascular system and filling the muscles with an increased volume of oxygenated blood.
Provide increased energy levels—through the inclusion of stimulant ingredients.
If it can achieve these goals, then we could be looking at a powerful pre-workout. But, as I mentioned earlier, it's all about the ingredient label.
Let's get down to the serious business in this Six Star Pre Workout Explosion review and see what it contains.
Six Star Pre Workout Explosion Ingredients
This supplement includes 10 pre-workout enhancing ingredients—seven of which are included in two different proprietary blends.
Let me take you through them all.
Quantified Ingredients
Beta-alanine—research indicates that this ingredient can stave off lactic acid buildup, reducing muscle fatigue, and providing extended training periods.1
Creatine monohydrate—powers the production of adenosine triphosphate (ATP), the fuel behind muscle movement which can become depleted through exercise.2
L-arginine alpha-ketoglutarate (AKG)—acts to promote the production of nitric oxide which dilates the blood vessels.3
Advanced Pump Complex (Individual Ingredients Unquantified)
Includes taurine, l-citrulline, citrulline malate, and l-arginine—designed to act as vasodilators, creating powerful and intense pumps through increased blood delivery.4
Pre-Workout Explosion Blend (Individual Ingredients Unquantified)
Contains caffeine anhydrous, choline bitartrate and l-tyrosine—ingredients known to boost energy and raise concentration levels.5 6 7
This Six Star Pre Workout Explosion review is looking positive, right?
Well, let's delve a little deeper!
Six Star Pre Workout Explosion Ingredients Breakdown
There are some ingredients that the very best pre-workouts should contain. That is, the most potent and scientifically proven compounds which send your lifting to unprecedented levels.
For the most detailed Six Star Pre Workout Explosion review, I've listed them below to test this pre-workout.
✓Caffeine
✓Beta-Alanine
✓Citrulline Malate
✘Betaine Anhydrous
✘L-Theanine
✘Acetyl-L-Carnitine
✘Black pepper extract (Bioperine)
✓L-citrulline malate
With only half of the best ingredients included—it appears there's a lot more Six Star could do to improve this formula.
But, I know what's on your mind—what, about the four ingredients that it does contain?
Listen up.
When you check the label, it's not sufficient to check the just names of the ingredients—examining the doses of each is vitally important.
And Six Star Pre Workout Explosion falls short.
In brief:
Despite containing 2.6 grams of the nitric oxide-boosting arginine and citrulline—the best pre-workouts on the market contain 6 grams.
Caffeine is dosed at 135 mg in this pre-workout—it should contain at least 150 mg.
The bottom line.
Lacking in important pre-workout ingredients, leaving many ingredients unquantified in proprietary blends, and containing low doses of proven ingredients—this formula is disappointing.
Six Star Pre Workout Explosion Side Effects
Pre-workouts can sometimes deliver unwanted side effects. Although harmless, they can be very uncomfortable and undesirable.
Usually, these stem from over-stimulation from caffeine. As Six Star Pre Workout's dose of this ingredient is so low—there's probably little chance of that happening.
Anyway, it's possible that you may experience:
Headaches
Diarrhea.
Nausea
Irritability
Insomnia
Additionally, some guys can experience a "tingling" feeling from consuming beta-alanine. If this occurs, don't worry. It's not dangerous and the sensation soon wanes.8
One more thing, I'm often asked—is Six Star Pre Workout vegan?
As it may contain fish, the answer is no.
Six Star Pre Workout Explosion Before After Results
It's possible that I've missed something in this Six Star Pre Workout Explosion review.
Maybe this supplement is more powerful than I believe.
Hence, I scoured forums, bodybuilding pages, and the Six Star Pre Workout Explosion reddit, to bring you a selection of customer testimonials.
"Gave me a good energy boost."
Harlem
"This pre-workout gives a quick energy response."
Garrett
"Lower caffeine than some other brands so you might need to use more."
Hearts
"This product did not work well for me at all."
AC
"Doesn't work might as well eat kool-aid to get more of an effect."
Nicole
"My workouts actually seemed less intense than normal."
Laurie
Conclusion
Six Star may call its pre-workout Explosion—but it seems it's not much more than a small "pop."
Lacking in some of the most important pre-workout ingredients, and underdosed in the rest—it's quite underwhelming.
Don't get me wrong.
If all you want is a little buzz, and aren't looking for some serious boosts—this could deliver.
Yet, as this Six Star Pre Workout Explosion review has shown—if you genuinely want to send your training into nuclear mode—forget about it.
Instead, seek out one of the best pre-workouts, which include all of the scientifically proven exercise-enhancing ingredients I discussed earlier. Doing this will genuinely send your results ballistic.
FAQ
"How to Take Six Star Pre Workout Explosion?"
Mix one scoop of this pre-workout with six ounces of water and consume 30 minutes before the start of your training session.
"How Much Does Six Star Pre Workout Explosion Cost?"
One tub of 210 grams (30 servings) costs $19.99.
"Is Six Star Pre Workout Explosion Safe?"
There's nothing in this supplement that will damage your health.
However, some users have experienced some minor side effects such as headaches, tingling, and insomnia. Although to be fair, the Six Star Pre Workout NO Fury side effects (a similar product) are more pronounced.
"Where Can You Buy Six Star Pre Workout Explosion?"
This pre-workout is available from the official Six Star website, Amazon, bodybuilding.com, and Walgreens.
"Is Six Star Pre Workout Gluten-Free?"
No, as it may contain traces of wheat.
"Does Six Star Pre Workout Explosion Really Work?"
Some users have experienced some "buzz" from using this supplement, whereas others have seen no results at all. It's about as powerful as the MuscleTech pre-workout, made by Six Star's sister company—that's weak too.
While it may have some small effect, it's not powerful enough to really take your training to the next level. The Six Star creatine dose is very small.
"Is Six Star Pre Workout Vegan?"
As this product may contain elements of shellfish or fish—this supplement isn't suitable for vegans.
"Is There a Money-Back Guarantee?"
You can receive a full refund if:
You return the supplement within 30 days of purchase.
It's unopened and undamaged.
You return the product with a Return Merchandise Authorization Number (RMA) that you must first obtain from Six Star themselves.
This only applies to the official website—other suppliers may differ in their returns policy.
"How Long Do You Have to Take Six Star Pre Workout Explosion Before Seeing Results?"
Some guys have described feeling more energized 30 minutes after consumption. Others have tried the product for one month and not witnessed an improvement in their training regime.
"Do They Ship Worldwide?"
Worldwide shipping is available from the official Six Star website.
References
1. https://www.ncbi.nlm.nih.gov/pmc/articles/PMC3374095/
2. https://www.ncbi.nlm.nih.gov/pubmed/12701817
3. https://www.ncbi.nlm.nih.gov/pubmed/21813912
4. https://www.ncbi.nlm.nih.gov/pmc/articles/PMC4595542/
5. https://www.ncbi.nlm.nih.gov/pubmed/1356551
6. https://pubchem.ncbi.nlm.nih.gov/compound/choline_bitartrate#section=Pharmacology-and-Biochemistry
7. https://www.ncbi.nlm.nih.gov/pubmed/25598314
8. https://www.ncbi.nlm.nih.gov/pmc/articles/PMC4501114/
Legal SARMs Alternatives