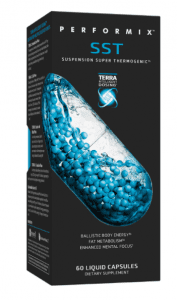 Performix SST fat burner did not make it to the top 10 list of fat burners ; See complete list here

Effectiveness
49%
Ingredients
27%
Value
36%
Pros
Contains some proven ingredients
Cons
Contains a proprietary blend
Reports of dangerous side effects
Low dosed
In this Performix SST Thermogenic fat burner review we have examined this supplement and found out exactly how well it works.
Here's the deal:
We noticed some things about the formula in this supplement that you really need to know of before making the decision to purchase this supplement.
To give you little information about this supplement it could come with side effects and the effectiveness is really questionable since it contains a relatively low proprietary blend that doesn't reveal the exact dosage of ingredients.
More on that later let get this review started.
About Performix SST Thermogenic fat burner
The guys behind the SST thermogenic fat burner run a supplement store called Performix and they even have their own gym in New York called Perfomix House.
They sell a variety of supplements, training and membership to Performix House.
The SST fat burner has been available for at least a few years and the makers of it say it will help to:
Deliver unrelenting energy
Increase mental focus
Enhance fat metabolism
We will find out soon enough if these promises can be fullfilled.
Perfomix SST Ingredients
When looking at any ingredient label from a supplement you want make sure they fulfill three things:
They contain proven ingredients
The dosages are high enough to make an impact
They reveal dosage for every ingredient listed in the formula
Sadly Performix SST fat burner only fullfills one of those.
The thing they have are proven ingredients, unfortunately they do not reveal dosage for every ingredient and the formula is quite low dosed.
You see many of the best fat burners on the market contain around 3-5 gram serving per dose and they reveal exact dosage for each ingredient.
Performix SST fat burner contains a little over 1-gram dose and they hide their ingredients in a proprietary blend so there is no way of knowing if you are receiving sufficient amount of each ingredient.
Chances are that you are receiving a low dose since the blend is only around 1-gram and contains a lot of different ingredients.
Let's examine the ingredients a little bit and see what they can do:
Caffeine(200 mg):
Caffeine is a well-proven ingredient that is great for energy and good even for weight loss, however caffeine is cheap and many people like to drink caffeine from coffee and energy drinks. that may cause a problem with this supplement as it contains a lot of caffeine and some people might not be able to drink both caffeine from their coffee and this supplement as it could be too much for them.
Ashwagandha
Studies have shown great results with this ingredient for building strength, increasing muscle, boosting performance, and even testosterone levels. However, this ingredient is not quantified in the formula which makes it hard to determine if the dose is actually big enough to make an impact.
Advantra Z Bitter Orange
Studies have shown that it may help to increase the metabolic rate when taken for 12 weeks which may result in more fat loss. The same problem arises with this ingredient as most others in the formula that they do not reveal the exact dose of ingredients.
Other ingredients are:
Synpherine HCL
Huperzine
Yohimbine HCL
Bioperine
Overall the ingredients are not bad but the dosages may be to low, the caffeine dose is quite large so you have to be careful if you are consuming other caffeinated drinks during the day.
Side effects
The Performix SST fat burner side effects may occur due to the high caffeine content, so you may experience some of these side effects:
Trouble sleeping
Restlessness
Headaches
Dizziness
Rapid or abnormal heart rate
Anxiety
Not all people handle caffeine the same way if you are used to taking in large doses of caffeine then you may be less likely to experience any side effects with using Performix SST fat burner.
WARNING:
We've seen some discussions on the internet if this supplement may cause death or serious side effects, there is one report online that confirms that a young man who used this supplement had serious complications due the synephrine in Peformix SST, You can read the report here https://www.ncbi.nlm.nih.gov/pmc/articles/PMC5902109/
Conclusion:
After reviewing this supplement and really analyzing the ingredients I would have to suggest passing up on this one.
It's missing many proven ingredients such as the appetite suppressant Glucomannan, metabolic boosters such as green coffee bean, cayenne and acetyl-l-carnitine.
On top of that it contains a proprietary blend that doesn't reveal exact doses of ingredients.
I think there are plenty of better options available for a similar price and that's why I am not recommending this fat burner.
It may cause potentially dangerous side effects as we talked about in the side effects section of the article.
References:
https://www.ncbi.nlm.nih.gov/pmc/articles/PMC3444973/
https://www.ncbi.nlm.nih.gov/pmc/articles/PMC6438434/
Recommended