For the last decade, Brian Finke has been a behind the scenes photographer at bodybuilding shows, capturing some of the most intense moments. His collection of great photographs shows how tedious and cut-throat bodybuilding actually is and how these athletes get ready to compete.
You can see at certain stages when tension levels are high and competitors become anxious and stressed.
It was in 2003 that he shot the Mr. Olympia competition in Las Vegas, the premier bodybuilding event in the calendar.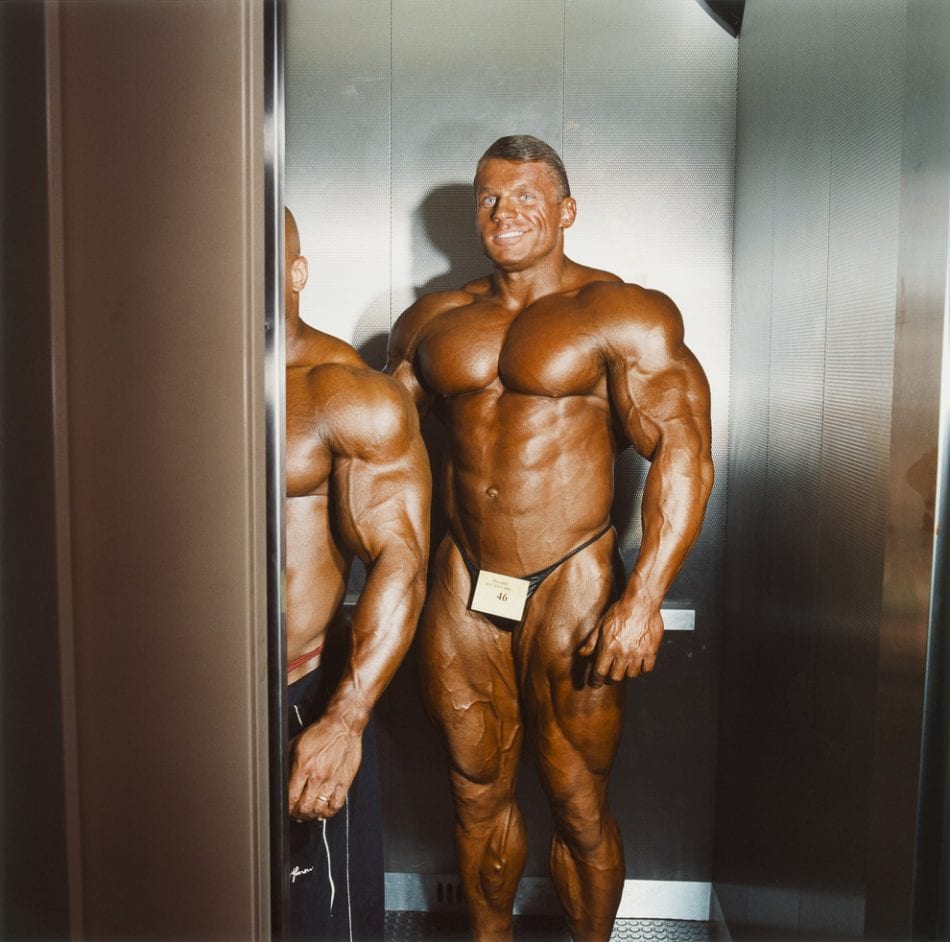 The Mr. Olympia was started in 1965 for those who had won the Mr. Universe competition.
This is where it began for Finke and he hasn't stopped since. "I had always been taking a lot of sports photos, but I was fascinated by how extreme a sport and lifestyle bodybuilding was."
"So I continued to explore this subculture, trying to showcase the emotional and quirkier moments both onstage and offstage. The stuff we normally don't get to see."
Finke has seen many bodybuilders over the years and says that there is no single type of person that becomes a bodybuilder.
"People come to it from all sorts of places. One woman I photographed used to be a sorority girl in college and became a professional bodybuilder."
"People come to the sport from different backgrounds, and the reasons why they do it vary."
He talks about how tedious the tanning ritual can be and how it has evolved over the years as airbrushes is now mainly used.
There is fierce competition for both men and women; both are as equally cut-throat.
"I never asked anyone to pose for the camera; the participants were there to compete and I was there to observe and photograph."
"When I'm photographing, I feel like I can never make anything up that's better than what's naturally happening."
He talked about what is was like being backstage with the competitors; "Once when I was photographing at a competition, the women competitors were backstage pumping up…"
"… There were dumb bells scattered around on the floor and the women were wearing these great high heels – the juxtaposition was badass."
……"I was crawling around of the floor photographing details – just the high heels and weights – when the contestants started making fun of me, saying I had a foot fetish."
….."Whatever, it was a great shot."
This is the lengths Finke went to do his job.
Recommended For You
5 EXTREME Muscle Growth Hacks (that work)
Finally! Start building muscle like the pro bodybuilders using these tricks:
Learn more
---
5 EXTREME Fat Loss Hacks (get ripped fast)
Now you can get ripped abs and shredded arms in 30 days:
Learn more
---
Best Testosterone Boosters (top 5 that ACTUALLY work)
After spending three months researching the market this is what actually works:
Learn more
---
Top 5 Pre-Workout Supplements
These give you raw POWER and supercharged energy:
Learn more