It's not an understatement to say Mike Chang's transformation has been both astonishing and inspirational.
Developing his own fitness routine, he turned from an overweight depressive into a ripped icon.
Best Testosterone Booster For Men
However, with the words scam and steroids often being mentioned upon hearing his name—is he all that he seems?
Hold on tight, as I reveal the earthquake-inducing truth behind Mike Chang.
Mike Chang Wiki
Age:                           40.
Best Testo Boosters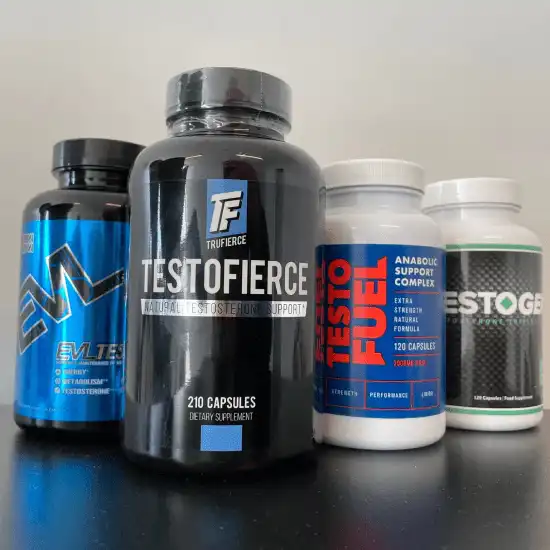 Date of birth:            30th November 1982.
Height:                      5 feet 9 inches (175 cm).
Weight:                      185-195 pounds (83.9-88.4 kg).
Profession:              Social media influencer, fitness trainer, life coach and entrepreneur.
Nationality:               Taiwanese/American.
Nickname:                Six Pack Abs Coach.
About Mike Chang
While born in Taipei, Taiwan, Mike Chang was brought up in Houston, Texas, USA.
When he was young, low self-esteem and a lack of confidence plagued him. Being overweight throughout his teenage years, Mike Chang found it difficult to attract the opposite sex.
Wanting to drop the pounds, become healthier and obtain some female attention, he hit the internet. Mike Chang spent large sums of money on online dieting fads, workouts and supplements. He found that generally, they yielded few results.
Disappointed, in 2006, he began researching reliable scientific sources on both weight loss and muscle growth. From there, he developed his own training and dieting regime. Within just a few months, he discovered that his bespoke program had vastly improved his physique.
Best Testosterone Booster For Men
Stimulated by this new-found knowledge, he became certified as an ISSA (International Sports Sciences Association) personal trainer.1
This was the start of the Mike Chang fitness empire. He took on personal clients and showed them the way to achieve their ideal physique.
His success at strengthening the cores of his students gained him the nickname, Six Pack Abs Coach. Soon afterward, he began posting his training methods online.
Little is known about Mike Chang's personal life—although he does have a dog called Yogi and a sister named Annie. He spends most of his time between Texas and California.
While he gained recognition on his YouTube channel Six Pack Shortcuts, he resigned from that position and started a new one three years ago. It concentrates on life, health and fitness coaching.
Mike Chang Net Worth
The Mike Chang net worth is estimated to be $1.5-$2 million.
How Did Mike Chang Become Famous?
In 2009, under his name, Mike Chang posted his first training video on YouTube. Seeing its success, he decided to brand his postings, opening the Six Pack Shortcuts channel.
It became a social media sensation. Viewers enjoyed his humorous and laid back approach—and the fact that you could complete many of his workouts in just a few minutes.
At one point, this YouTube phenomenon had over 4.4 million subscribers.
Most of these postings concentrated (as the name suggests) on building up the abdominal muscles. However, later videos included fat loss tips and guides on bulking up.
By 2013, Mike Chang was one of the most recognizable fitness gurus on the internet.
However, it wasn't to last.
What Happened to Mike Chang?
The Mike Chang says "goodbye" to social media story is one clouded by conjecture—with a few facts thrown in.
In late 2015, Mike Chang decided to leave Six Pack Shortcuts and sold it to his friend Clark Shao.
That much is true.
The reasons for his departure are, however, murky.
One theory is around the supplement Mike Chang released called Afterburn. This was a product that claimed to function as both a pre-workout and a fat burner.
On the Six Pack Shortcuts channel, Mike Chang extolled its powers, thanking it for his lean and tight physique. Subscribers were not convinced. They said that Chang's body was due to training, hardwork and steroids—and not this supplement.
(Actually, this product was distinctly average. It's a couple of proprietary blends).
Extensive YouTube-comment trolling followed, and some people say he just wanted out.
Alternatively, there's also the Mike Chang version.
After a year of leaving Six Pack Shortcuts, Mike Chang started posting videos under his own name again. Gone were the intense workouts. Instead, he made videos about healing, meditation, self-affirmation and general wellbeing.
In 2019, he used this personal YouTube channel to explain his reasons for getting out of Six Pack Shortcuts.
He detailed that despite making money from the channel, and being happier than ever before in his life, it was insufficient. It was a kind of spiritual enlightenment that success doesn't come from popularity or wealth—but from within (or something equally transcendental).
If you want to hear him speak about it (stick at it, he rambles a lot), here's the video:
Today, the Mike Chang 2019 figure is still posting his spiritual guidance videos (although fitness seems to be gradually creeping in again).
Mike Chang Workout Program
Mike Chang posted hundreds of YouTube workout videos on Six Pack Shortcuts.
While various, they all centered around one central theme—dropping weight and gaining Mike Chang abs.
However, it's difficult to describe a typical Mike Chang workout. This is because they're individually angled at strength, tone, fat loss, suppleness or flexibility. Furthermore, some are for those who have just a few minutes to work out every day—others for people who can fit in a 30-45 minute routine.
Hence, I have included below one of the most popular abs-building workouts. Like the majority of Mike Chang's programs, you can complete it in the home with no equipment.
Exercises should be completed, in order, with a two-minute break between sets and a three-minute break between exercises.
Six-Pack Abdominal Workout
Sit-ups                                   3 sets                          15-20 reps
Floor lying leg raises           3 sets                          15-20 reps
Jackknife sit-ups                  4 sets                          12-15 reps
Floor leg-to-chest pull-ins  3 sets                          12-15 reps
Toe touchers                         4 sets                          15-20 reps
Crunches                              5 sets                          10-12 reps
Reverse crunches               3 sets                          15-20 sets
Elbow-to-knee crunches    4 sets                          15-20 reps
Mountain climbers               4 sets                          10-12 reps
Half burpees                         3 sets                          12-15 reps
If you haven't enough time to complete the above workout, here's Mike Chang with a six-minute version:
Mike Chang World Record
In 2014, Mike Chang set a new Guinness world record for the number of pull-ups in one minute wearing a 40-pound backpack. He achieved 13, with the previous record being just 10.
You can watch this successful world record attempt here:
However, since this impressive display, numerous men have broken this feat. The current record holder is Adam Sandel who completed 32 pull-ups in one minute.2
Mike Chang Diet
It's a well-known gym cliché—abs are made in the kitchen, not in the gym.
And it's true.
You can do as many crunches as you want, but if you hide them beneath layers of fat, there's no six-pack.
As such, Mike Chang adheres to a healthy food diet. For optimum fat-loss, he insists you should eat five times a day. He believes this promotes fast digestion and prevents weight accumulation.
He concentrates on healthy fats, lean proteins and green vegetables.
Here's an example Mike Chang meal plan:
Meal #1
Four scrambled egg whites.
One whole egg.
Four ounces of chicken breast.
One cup of spinach.
One medium banana.
Meal #2
Five ounces of turkey breast.
One cup of rice.
One cup of boiled cabbage.
Half a cup of black beans.
Meal #3
Handful of almonds.
Two ounces of tuna.
One cup of kale.
Meal #4
One medium banana.
One cup of Brussels sprouts.
Two boiled eggs.
Meal #5
One avocado.
Four ounces of salmon.
One cup of cauliflower.
Two cups of green beans.
Listen to Mike Chang speaking about consuming healthy fats:
Is Mike Chang on Steroids?
From being overweight in 2006 to ripped in 2009—the transformation is impressive.
But can this be achieved naturally?
Theoretically, yes. Okay, it means daily training and seriously watching the food intake, but you could do it.
Plus, this guy isn't holding ridiculous mass, so at worst, he could be using some cutting synthetics.
The issue is—Mike Chang is his own worst enemy.
He started a website (mikechangcheated.com—now closed) and released YouTube videos with clickbait titles about confessing his steroid use. All of these were actually adverts for his "cheating" (wholly legal) supplements. These apparently humorous videos just increased the ire of his "fans," and they continued to accuse him of juicing.
Here's an example:
The bottom line—Mike Chang may or may not use steroids.
Mike Chang Before and After
After resolving to make a difference to his life, Mike Chang became shredded in around three years.
Here's the remarkable transformation:

Mike Chang Supplements
In the early days of his YouTube fame, the only supplements that Mike Chang claimed to use were whey protein and multivitamins.
He believed that you could obtain all the nutrients you require from your diet.
That is, until he brought out his own Afterburn supplement. Which, he claimed, promoted fat loss, increased training performance and enhanced protein synthesis.
While there are some excellent examples of these products on the market—this wasn't one of them.
The irony is that the original driving force behind Mike Chang creating his own fitness regime was to replace the ineffective scams he'd purchased online.
History repeating and all that.
Mike Chang Quotes: Motivation and Inspiration
Watch any Mike Chang Instagram or YouTube video, and you'll notice he isn't shy in the talking department.
Here are a few of his classic lines:
"If you wanna experience fulfillment start giving. If you try to fill your cup first, you will always be busy filling your cup. Serving others will bring you joy and at the same time, fills your cup automatically."

"Your mind will always make up all the reasons for not working out. All reasons are made up. Don't let overthinking stop you from achieving your goals."

"Don't fake it, become it. When we are making changes and redefining ourselves, it's not good enough to just act like a different person. We must become it."

"I've learned that the more different we want our life to be, the more of our current life we need to let go."

"Wanting, thinking, hoping, wishing and planning are not creating any results without action. Action, on the other hand, is always creating results. This is why we should spend more of our time doing rather than thinking."

"If someone is only your friend or partner because of the way you look, the relationship will be very shallow, and you won't be receiving any real love from this person."
Mike Chang Frequently Asked Questions
"Is Mike Chang Dead?"
No.
Many people believe the Mike Chang dead rumor started in 2016. This was when fellow fitness YouTuber, friend and new owner of Six Pack Shortcuts, Clark Shao, died.
It seems to be a case of mistaken identity.
"What Foods Does Mike Chang Avoid?"
Mike Chang doesn't include the following foods in his diet:
Fruit juice—too many calories.
Bread—as it contains high levels of processed carbohydrates.
Sports drinks—since they're high in fat.
Organic junk food—whether organic or not, it's still all "junk."
"Is Mike Chang Gay?"
He has never alluded to either gay, straight or bi-relationships in his videos. However, he did explain his initial reason for losing weight was to attract women.
"Was Mike Chang in Glee?"
Mike Chang was the name of a character in the TV show Glee, played by Harry Shum, Jr. The six-pack trainer Mike Chang has, as far as I'm aware, never starred in a high school musical-themed TV series.
"Is Mike Chang a Scam?"
While he does have an online personality, Mike Chang is a certified ISSA personal trainer.

Mike Chang Summary
It's an incredible transformation story.
Unhappy with his weight and disillusioned with the so-called solutions online—Mike Chang developed his own system.
And it worked.
His program not only turned him into a shredded beast—but also a successful online celebrity.
It's true, the questionable self-promotion and distinctly average branded supplements have cast a small shadow on his reputation.
However, you cannot take away his original resolve, hard work and amazing physique.
He's a symbol that you can achieve your dreams, if you're willing to put in the effort.
Sources
Legal SARMs Alternatives