Through hard work, and some hefty self-promotion, Maxx Chewning has grown into a social media sensation.
Record lifts and an impressively ripped physique has led him to be one of the most influential guys in the fitness industry.
Best Testosterone Booster For Men
Yet surprisingly, Maxx was a late entrant into the bodybuilding world—making his success even more astounding.
Let me reveal the crazy story behind this superstar.
Maxx Chewning Wiki
Age:                           33.
Best Testo Boosters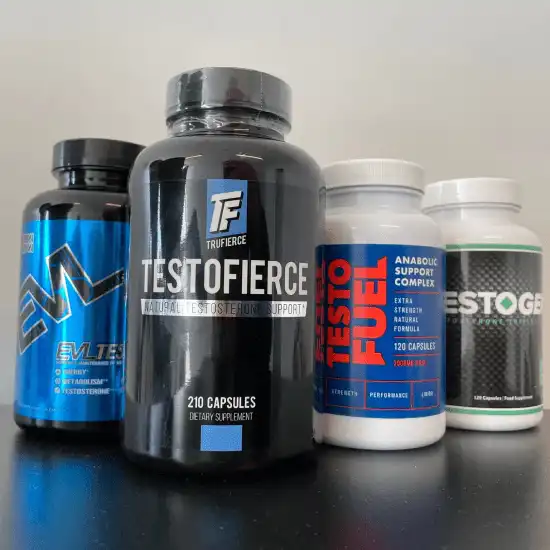 Date of birth:            9th September 1989.
Height:                      5 feet 10 inches (177.8 cm).
Weight:                      165-175 pounds (74.8-79 kg).
Profession:              Powerlifter, model, entrepreneur and social media influencer.
Nationality:               American.
Nickname:`               Deadlift Brah.
About Maxx Chewning
Born in the USA in 1989, Maxx Chewning originally had little interest in sports. He dabbled a little in wrestling in high school but preferred to play video games and eat candy rather than keep fit.
It wasn't until he reached college at the age of 21 that Maxx's interest in working out grew. While studying at J. Sargeant Reynolds Community College, Virginia, the guys he hung around with were seriously into lifting. Out of curiosity, he gave it a try.
He became addicted.
Maxx Chewning was fascinated by how resistance training made such an enormous difference in his physique. What's more, for the first time in his life, he was feeling strong.
He was an avid record-keeper—carefully noting down his ultimate lifts and celebrating every time he broke his personal best records. After just one year of working out, Maxx Chewning could deadlift 420 pounds—despite only weighing 160 pounds himself.
Best Testosterone Booster For Men
Beating his PBs (personal bests) became an overwhelming obsession.
Maxx Chewning became friends with Nick Wright, a fellow lifter who's popular on social media. It was he who planted the idea into Maxx's head to post videos of his heavy-iron-chasing records on YouTube.
The online world loved it.
Month-after-month Maxx Chewning saw his followers grow by the thousands. But these online fans wanted more—so he started to post details of his diet and workouts.
Today, he has over 321k followers on Instagram and 357k on YouTube.
But for Maxx Chewning, it's not all about fame or fortune. He takes pleasure in the fact that he's improving other people's lives—through what, for him, is still a fun hobby.
He says,
"Social media has really changed my life because, and this will sound clichéd, I can see how much of a difference I'm making on someone's life by just posting images, videos, and my own progress and my own struggles."
This success allowed Maxx Chewning to create his sports clothing brand, Ever Forward Apparel. The name comes from his deceased father's motto, ever forward.1
There's no Maxx Chewning girlfriend, although he recently posted on Twitter he was on the lookout. So currently, he lives alone in Texas. That is, apart from the Maxx Chewning dog, Dood.
Maxx Chewning Net Worth
The Maxx Chewning powerlifting and training videos have been very profitable. These, combined with his clothing brand and sponsorships, have amassed him an estimated wealth of $1.9M.
Maxx Chewning Workout Program
Unsurprisingly, as evidenced on the Maxx Chewning Twitter and Instagram accounts, his training methods are all about strength. Hence, you're not going to see much cardio action.
He hits the gym six days a week, considering this essential to make massive power gains. Like most dedicated iron freaks, he concentrates on the exercise staples—squats, deadlifts and bench presses.
Here's an example training week from the main man:
Monday—Lower Body
Warm-up with squats                                  3 sets              5 reps
Front squat                                                    8 sets              2 reps
Walking lunge                                              4 sets              12 reps
Leg extension                                               4 sets              12 reps
Watch the mighty Maxx Chewning going for a hefty 480-pound squat:
Tuesday—Muscle Active Recovery
Box jumps                                                     3 sets              15 reps
Seated rows                                                  4 sets              12 reps
Lat pull-downs (wide grip)                          4 sets              12 reps
Hammer dumbbell curl                               3 sets              15 reps
Take a look at the immense power involved in Maxx Chewning's box jumps:
Wednesday—Upper Body
Warm-up bench press (vary grip)              4 sets              10 reps
Bench press (close grip with pause)        3 sets              10 reps
Bench press (standard grip with pause)  8 sets              2 reps
Full triceps extension                                  4 sets              12 reps
Rope push-down                                         4 sets              12 reps
Here's the Maxx Chewning ally Christian Guzman joining him for some bench pressing:
Thursday—Muscle Active Recovery
Box jump                                                       3 sets              15 reps
Barbell bent-over row                                  4 sets              12 reps
Lat pull-downs (close grip)                         4 sets              12 reps
Machine curl                                                 3 sets              15 reps
Friday—Lower Body
Deadlift                                                          8 sets              2 reps (70-85% max effort)
Romanian deadlift                                       10 sets           1 rep   (80-90% max effort)
Glute-hamstring raise                                 4 sets              12 reps
Pull-ups                                                         3 sets              10 reps
If your deadlifts are lacking progress and plateauing out, Maxx Chewning explains how to take them to the limit:
Saturday—Upper Body
Bench press                                                 8 sets              2 reps (70-85% max effort)
Incline press                                                 2 sets              To failure
Triceps rope extension                               4 sets              12 reps
Dumbbell biceps curl                                  3 sets              10 reps

Maxx Chewning Diet
Like many of the current social media fitness gurus, Maxx Chewning adheres to the IIFYM "If It Fits Your Macros" diet.
Hence, while counting the carbs, proteins and fats, he can eat anything that he wants. Calories aren't that important.
Many of his videos indicate his taste for nontraditional bodybuilding foods. Often, he's seen enjoying an afternoon out at his favorite restaurant, Chipotle.
Naturally, he needs explosive power for lifting—a lower calorie diet would deny him of that. He says,
"Now that strength is my passion, it took me a long time to accept that I'll have to be in a caloric surplus and be OK with gaining some body fat."
Recently, people have questioned the Maxx Chewning Mona relationship, wondering if there was some romantic involvement. However, it appears she functions as more of a personal assistant—planning his busy schedule—including his meals.
Here's a typical day in Maxx Chewning's kitchen:
Meal #1
Two scoops of whey protein isolate powder.
One fresh bagel.
One piece of fruit (typically a banana).
Meal #2
Two servings of long-grain rice.
One serving of black beans.
Two servings of vegetables in a fajita.
Five ounces of chicken and steak (mixed).
One serving of spicy salsa.
Meal #3
Two nutritional fat-rich bars.
One bag of protein chips.
Meal #4
Two servings of rice.
One cup of mixed vegetables.
One scoop of whey protein isolate.
Meal #5
One to 1.5 cups of fortified cereal.
Two cups of fat-free milk.
To date, he has shared over 100 IIFYM Full Day of Eating videos on YouTube.
Perhaps his most famous example is the 10k Calorie Challenge. In this, he shows how difficult it is to take in such an immense amount of energy-rich foods in just one day.
Take a look at Maxx Chewning explaining this subject:
Is Maxx Chewning on Steroids?
He could be, but it's highly unlikely.
Let's look at the facts.
For starters, he's a busy guy. In addition to eating all day, you can often watch him on the Maxx Chewning twitch channel playing video games. So, he doesn't have that much time to be following a steroid cycle.
Second, he admits he carries at times a lot of fat. Most juicing bodybuilders are taking cutting synthetics to drop those pounds—Maxx doesn't appear bothered. Furthermore, he needs these reserves to help power him through some of his mammoth lifts.
Thirdly, let's look at his progress. In 2013 he was deadlifting 550 pounds. Five years later, and that increased to 625 pounds. Gains of just 75 pounds in half a decade arn't that dramatic. You would expect someone heavy on the injections to be making much more impressive plate-loading.
Finally, Maxx Chewning denies using steroids and actively speaks out against them. He considers that they're unnecessary unless you want to look like a freak. Furthermore, he frequently states that they're damaging to health and not to glamorize them.
Here he's giving an in-depth (if somewhat ironic) explanation of his feelings about synthetics:

Maxx Chewning Before and After
The Maxx Chewning transformation isn't as remarkable as you may expect—further emphasizing the lack of synthetics.
He first started lifting at the age of 21. Seven years later, he had gained just 20 pounds. Admittedly, much of this would be fat loss replaced by muscle gain—but still, it's not astounding.
What is apparent, though, is his increase in tone. Compare these two images of a 21-year old Maxx with today:
Yeah, there's some increase in size. But the majority of the change is definition and vascularity.
Maxx Chewning Supplements
Maxx Chewning utilizes five main supplements in his daily routine. These include:
Multivitamins—while he counts the macros, Maxx Chewning is concerned he doesn't achieve all the necessary micronutrients from food.
Fish oils—to increase bone strength, essential for a powerlifter.
Whey protein isolate powder—the ultimate muscle restorer and builder.
Creatine—used by Maxx Chewning as a pre-workout to push him through heavy workouts.
BCAAs (branched-chain amino acids)—to boost recovery.
Additionally, Maxx Chewning is currently the brand ambassador for the supplement and bodybuilding gear supplier, Ghost.
Maxx Chewning Quotes: Motivation and Inspiration
Being so prolific on social media, and also very talkative, it's unsurprising Maxx comes out with some gems of wisdom and humor.
Here are a few of his best examples:
"Going out as a single person when 100% of your friends are in relationships isn't the best time."

"I think people need to understand the difference in owning a company and being a CEO."

"Why be big and huge like a freak? Tone, definition, vascularity. You look like a man who looks after himself. Otherwise, you're just going to be considered a self-obsessed narcissus who cares more about himself than his girlfriend."

"My number one tip for grip strength. Don't use straps, don't use straps, don't use straps and…don't use straps."

"It's crazy to think there are people that dislike you so much, yet they continue to follow everything you do/post on social."

"Taking a break from lifting will result in muscle atrophy, but it's kind of like where you get really far in a game and you turn the game off, and you're like 'holy crap I forgot to save it.' You're pissed, you gotta start a little further back but you're like 'I really like this game, I'm gonna keep on playing and just re-do that whole thing over again.'"
Maxx Chewning Frequently Asked Questions
"What Does Maxx Chewning Dood Mean?"
As he has no girlfriend, Maxx decided to get a dog as a focus for his attention.
So, in January 2019, he obtained a Goldendoodle (a cross between a Golden Retriever and a Poodle) and named him Dood.
"Is Maxx Chewning Natty or Not?"
Maxx Chewning claims not to have used anabolic steroids. Often, he actively speaks out against their use in bodybuilding and powerlifting.
Furthermore, there appears to be little visible evidence of synthetic use. Both his muscle and lifting gains appear steady.
"How Many Children Does Maxx Chewning Have?"
Currently, Maxx Chewning has no children. He does, however, have a dog named Dood.
"What Is Maxx Chewning's Favorite Video Game?"
His current go-to game is Diablo 2. He blames his addiction to gaming for his singlehood.
Maxx Chewning Summary
Despite having little interest in fitness in his younger years, Maxx Chewning demonstrates that it's never too late to follow a new path.
Even when he discovered the joy of bodybuilding in his early twenties, it still wasn't on his mind to pursue it as a career.
Yet, his infectious enthusiasm and joy for his sport brought pleasure to thousands of online followers. They witnessed his real determination and resolve—in turn providing them with motivation.
Maxx Chewning capitalized on this success, turning him into a millionaire.
Today, he continues to post frequently on social media and runs his apparel line. There's no sign of this industry favorite slowing down any time soon.
Source
Legal SARMs Alternatives