Sporting an immense physique, it's no surprise that many people refer to Martyn Ford as Hulk.
This English bodybuilding star's rise from small-town boy to international movie icon appears like the perfect success story.
Best Testosterone Booster For Men
However, Martyn's tale is more of a horror, with sporting disaster almost destroying his professional sporting life.
Here's the whole insane journey.
Martyn Ford Wiki
Age: 37.
Best Testo Boosters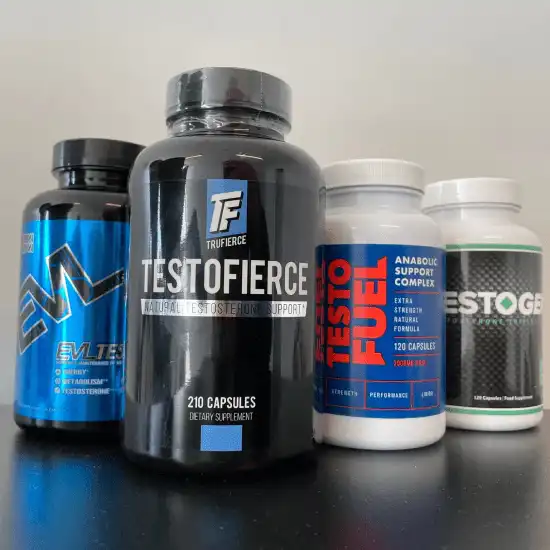 Date of birth: 26th May 1982.
Height: 6 feet 8 inches (203 cm).
Weight: 320 pounds (145 kg).
Profession: Bodybuilder, gym owner, fitness model, personal trainer and actor.
Nationality: British.
About Martyn Ford
He was born in the small village of Minworth, UK in 1982. Throughout his school years, Martyn Ford loved sports, being an avid soccer and rugby player. However, it was cricket that he found to be the most enjoyable of all.
What's more, he was freakin' awesome at it.
In his teenage years, scouts picked him to play for the mighty Warwickshire Cricket Club as a right-hand fast bowler. His lean yet tall frame was ideal for the sprint run-ups and explosive release of the ball.
Yet, complete disaster struck.
A freak accident during a practice session left him unable to compete or train for months. Then, just as his rehabilitation was about to end and Martyn was preparing to rejoin his club, he was diagnosed with glandular fever (Infectious mononucleosis).1
Best Testosterone Booster For Men
This meant the 19-year old Martyn Ford was out of action for a further year—the age at which players are usually beginning their international careers.
It hit the guy hard.
His previous lifeplan of a career in cricket was now in tatters. This led Martyn Ford into a severe state of depression. The tight-and-toned frame he had previously sported was gone, leaving nothing but an undeveloped physique.
One day, looking at this sad image in the mirror, Martyn Ford made a decision.
He wouldn't let his misfortunes ruin his life forever. Instead, he hit the gym like a damn beast—channeling his built-up anger, depression and resentment into machine-like workouts.
The result was a frame befitting a behemoth.
It still wasn't enough for Martyn Ford. He wanted to help others discover how they could transform their lives just as he had done. So he became a personal trainer, which eventually led to him opening his gym, Beta Bodz.
Keen to share his success, he began posting on social media. Today, while not active on YouTube, he has over two million followers on Instagram.
This exposure led to Martyn Ford being noticed by the film industry—landing him roles in numerous Hollywood blockbusters. Furthermore, it gained the attention of an MMA federation, to which he has recently signed a contract.
Today, Martyn Ford lives in Birmingham with his wife, Sacha Stacey. They have two daughters, Imogen and Wynter.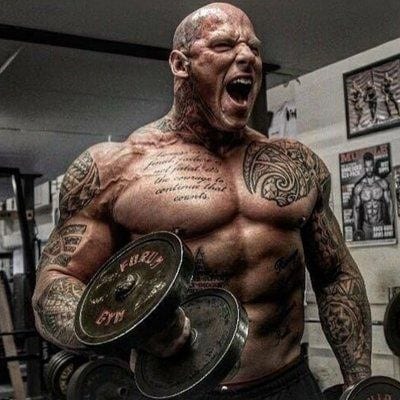 Martyn Ford Net Worth
Current estimates detail the Martyn Ford net worth as being approximately $4.5m. The majority of this income is from his movie roles and endorsements.
Martyn Ford Workout Program
Like the legendary Arnold Schwarzenegger, Martyn Ford's workouts utilize the muscle shock theory.
That is, the belief (so far unproven) that muscle can become conditioned to the same routine week-in-week-out. And, that if left unchanged, mass gains plateau out.
However, his reps and sets tend to remain the same. What he changes for the "shock" are the types of exercise. For example, one week, he will use flyes and presses for chest workouts—the following seven days he may select purely presses.
In addition to his resistance work, Martyn Ford will do at least one cardio session per week, sometimes including HIIT (high-intensity interval training). And, with his new interest in MMA, he now has to combine a minimum of two fighting workouts every seven days.
Here's a typical Martyn Ford bodybuilding workout:
Monday—Chest and Biceps
Incline press 3 sets 12-8-6 reps
Incline flyes 3 sets 12-8-6 reps
Decline press 3 sets 12-8-6 reps
Barbell curls 3 sets 8-6-2 reps
Concentration curls 3 sets 8-6-2 reps
Tuesday—Back and Traps
Bent-over rows 3 sets 12-8-6 reps
Close-grip pull-downs 3 sets 12-8-6 reps
Deadlifts 3 sets 12-8-6 reps
Seated single arm rows 3 sets 12-8-6 reps
Shrugs 3 sets 12-8-6 reps
Take a look at Martyn Ford blasting through a back workout:
Wednesday
On this day include two sets of 30 minutes on either the treadmill or elliptical at a medium intensity.
Alternatively, complete two sets of 20 minutes HIIT.
Thursday—Shoulders and Triceps
Seated dumbbell press 3 sets 12-8-6 reps
Seated laterals 3 sets 12-8-6 reps
Single arm lateral raises 3 sets 12-8-6 reps
Front raises 3 sets 12-8-6 reps
Rear delt flyes 3 sets 12-8-6 reps
French press 3 sets 12-8-6 reps
Rope pushdowns 3 sets 12-8-6 reps
Friday—Legs
Leg extensions 3 sets 12-8-6 reps
Squats 3 sets 12-8-6 reps
Leg press 3 sets 12-8-6 reps
Hamstring curls 3 sets 12-8-6 reps
Calf raises 3 sets 12-8-6 reps
Here's Martyn Ford proving he doesn't skip leg day:
Saturday
Cardio, HIIT or MMA training.
Sunday—Recovery
Rest day.
Martyn Ford Diet
Currently, there's no such thing as a typical Martyn Ford diet. Demands placed on him for future modeling, acting or MMA contracts can determine what he eats at any one time.
However, when building muscle, Martyn Ford concentrates on mainly lean meats like chicken and fish. Usually, his diet hits around 6500-8000 calories per day—again, dependent on the amount of size he needs.
He says,
"I have really started to pay greater attention to my nutrition. I now weigh and monitor my food intake much more closely."
When cutting, Martyn aims for around six to eight percent body fat.
Here's an example mass-building Martyn Ford meal plan:
Meal #1
5 ounces of grilled chicken breast.
Two tablespoons of omega complex oil.
6 ounces of green vegetables—preferences for spinach and kale.
Meal #2
Five ounces of grilled chicken breast.
Five ounces of egg whites scrambled.
Three ounces of oats (dry).
Meal #3
Protein shake post-workout.
Meal #4
5 ounces of chicken breast
5 ounces of vegetables.
5 ounces of olive oil.
Two tablespoons of brown rice (uncooked).
Meal #5
Five ounces of grilled chicken breast.
Five ounces of egg whites scrambled.
Five ounces of sweet potato salad with salsa.
Meal #6
5 ounces of chicken breast.
Two tablespoons of olive oil.
5 ounces of green vegetables.
Meal #7
5 ounces of white fish.
One cup large green salad.
Meal #8
Fifteen egg whites.
Two tablespoons of low-fat cottage cheese.
One cup of green salad.
Here's Martyn Ford talking about training and his diet regime:
Is Martyn Ford an MMA Fighter?
Kind of.
In November 2018, Martyn Ford signed with the Polish MMA organization KSW (Konfrontacja Sztuk Walki).
Martyn Ford was looking for a new challenge in his life, saying,
"I've just always been very competitive, and I like challenging myself. I'm just a bit stupid really, aren't I?!"
However, the Martyn Ford MMA debut faced delays. Firstly, he was due to meet the Iranian Hulk Sajad Gharibi in early 2019, but that fight fell through.
Talks then started to put together the Polish Monster, Popek and Ford in the cage, but nothing yet has been finalized.
Take a look at Martyn Ford in training for MMA fighting:

Martyn Ford Acting
His immense frame, enormous physique and menacing appearance soon attracted acting agents.
Martyn's debut came in the TV series, Of Kings and Prophets (2016), as, unsurprisingly, the giant Goliath.
However, it wasn't long before Hollywood was calling, obtaining the role of Koshmar in the movie Boyka: Undisputed (2016). However, it was probably his Kingsman The Golden Circle Martyn Ford scene that brought mainstream attention.
Other highlights of his career include:
Robin Hood: The Rebellion (2018).
Kill Ben Lyk (2018).
The Marine 6: Close Quarters (2018).
Final Score (2018).
Redcon-1 (2018).
Viking Destiny (2018).
Accident Man (2018).
Benidorm—TV Series (2017).
Lambo (2017).
Generation Iron 2 (2017).
Currently, Martyn Ford is working on a TV series known as The Nevers, and a new movie called Made Ordinary. Both are due for release in 2020.
Is Martyn Ford on Steroids?
He says not—but that's what you would expect.
Frankly, many of the images you see of him illustrate excess weight—it's not as if he cuts to competitive standards. So, it's doubtful if he uses much gear to become shredded.
However, even though he eats and trains like a monster, it's still a ridiculously huge physique. A bucket load of chicken alone isn't going to create that.
Remember, this guy is a movie star and involved in his own supplement company. Neither of which would benefit from admitting to juicing.
That said, he believes that synthetic use is out of hand, doesn't recommend it and believes there should be more regulation.
You can listen to Martyn Ford discussing steroid abuse here:
Martyn Ford Before and After Transformation
The Martyn Ford transformation took around three years, taking him from a slim teen to a muscular beast in his twenties.
Here is Martyn Ford before as a keen cricketer at 18 years of age:
And take a look at how he appears now: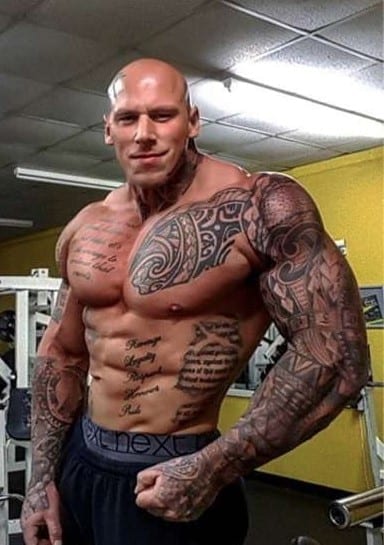 Martyn Ford Supplements
He considers that supplements are essential to building an impressive physique—providing the nutrients that food alone cannot provide.
Martyn Ford tries to take his supplements with specific meals at particular times of the day. However, he admits that often, he forgets. This means at the end of the day, he usually "loads" to play catch up.
His particular muscle and performance-boosting products are:
Whey protein isolate.
Omega-3 oils.
Creatine.
Glutamine.
ZMA.
Earlier in his career, he was sponsored by 5% Nutrition, the company owned by his friend Rich Piana—who sadly died in mysterious circumstances in 2017.
Today, he's the CEO of Ignite Nutrition and promotes this line of products through his Instagram account.
Quotes: Motivation and Inspiration
In interviews, Martyn Ford appears very humble. He knows, through his own experience, the struggles that people face in life—and how training can work as a focus for anger and transformation.
Here are some of his thoughts:
"Think about what you don't want to become. Negative reinforcement is a great tool to kick start the body into action! The fear of being a failure is almost like the 'fight or flight' that will either crush or push you!"
"The only time you should look down on someone is when you're helping them up."
"Success? For me? Be yourself. Try and always be…as positive, as motivational, and as encouraging, and wanting people to succeed as much as yourself…and try and paint yourself in the best light that you possibly can."
"Deadlifts are the key to mass. Don't shy away from what works!"
"Always…always view what you have as being something extremely fortunate, don't take it for granted…and just…just enjoy it…enjoy it."
Frequently Asked Questions
"What Shoe Size Does Martyn Ford Wear?"
Martyn Ford wears a size 14 shoe.
"Has Martyn Ford Competed in Bodybuilding?"
No. Despite his phenomenal physique, Martyn Ford has never participated in bodybuilding—considering it as nothing but a beauty pageant.
"What Is Martyn Ford's MMA Fighting Record?"
Despite being signed to the MMA federation KSW, he's yet to have a professional fight. The Martyn Ford KSW deal is rumored to be a six-figure sum.
"Is Martyn Ford Natty or Not?"
Martyn Ford has never admitted to juicing. In fact, he often speaks about the damage that these synthetics do to professional bodybuilding. Furthermore, he actively discourages young athletes from using these drugs.
However, it's highly unlikely that his immense physique is a result of purely natural means.
"Does Martyn Ford Drink or Smoke?"
Wherever possible, Martyn Ford tries to live a healthy lifestyle. However, he has been seen enjoying an alcoholic drink and smoking a cigar.
Martyn Ford Summary
He's nicknamed The Nightmare, but the only thing scary about him is his sheer determination.
Seeing his hopes of cricketing stardom stolen from him—he didn't give up. Martyn Ford reinvented himself as a fitness, movie and entrepreneurial icon.
He shows us that although life can try to knock you to the ground, you can still stand firm.
What's more, you can fight back like a beast and become the ultimate man.
Sources
Legal SARMs Alternatives