Bodybuilder, YouTube celebrity, gamer, rapper, former gang leader and motivational speaker–it seems Kali Muscle has done everything.
He was raised in a poverty-stricken environment, and a family tragedy rocked his entire world.
Best Testosterone Booster For Men
Let me share the fascinating Kali Muscle story, and explain how his rough and devastating childhood made him the person he is now.
Kali Muscle Wiki
Age: 45.
Date of birth: 18th February 1975.
Best Testo Boosters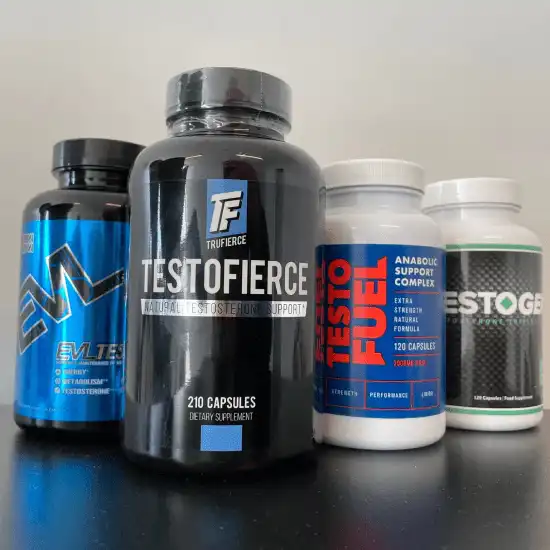 Height: 5 feet 10 inches (178 cm).
Weight: 240 pounds (108 kg).
Instagram: kalimuscle
Profession: YouTuber, influencer, bodybuilder and actor.
Nationality: American.
Nickname: Kali Muscle.
About Kali Muscle
Chuck Kirkendall (later to become known as Kali Muscle) was born in Oakland, California, on the 18th of February, 1975. Raised by his birth mother and stepfather in a poor neighborhood, he had to learn early how to survive on the tough streets.
When he was a teenager, Kali started to go to the gym as he pursued his passion for football—receiving a scholarship to Fresno State as a running back.
But, after his brother died in a freak gun accident, Kali Muscle felt bitter, angry and cheated by the world.
Best Testosterone Booster For Men
On a downward spiral, he was arrested for robbery and sentenced to 11 years in jail. Although, at the court hearing, he also admitted being involved with drug deals, pimping, running a strip bar and gang affiliation too.
Once behind bars, with little else to do, Kali Muscle began working out every day with weights. He was so focused on his diet and training that he rapidly became huge.
As an act of punishment for a misdemeanor, the prison guards confiscated his iron. But this didn't stop Kali, as he found a way to work out in his cell without equipment.
He improvised—using bottles full of water or garbage bags as resistance. Reportedly, inmates even witnessed him carrying other men in the prison as training.
The guards were angry that his exercising continued—so they threw him into solitary confinement.
On his YouTube channel, Kali Muscle has numerous videos teaching you how to train without weights—just as he did when he was incarcerated.
In 2010, when Kali Muscle was released, he decided it was time to develop a career and put his past behind him. He moved to Los Angeles, aiming to be an actor and to improve his bodybuilding.
Kali Muscle got his first jump into fame when he posted a video on YouTube telling his life story—to date, it's received more than 45 million views.
Kali Muscle is now a famous bodybuilder, followed by millions on social media. As for his acting career, it couldn't have gone any better. He's already starred in more than 15 movies and series, such as Raising Hope, The Dog Who Saved the Holidays and Bullet Ride.1
Although Helena Vladisavljevic is not yet the Kali Muscle wife, they've been together for many years now but don't plan to have kids anytime soon.
Kali is also involved in charity:
"My soul purpose on this earth is to help the kids. I go to juvenile houses, prisons, schools where people don't want to go, and I show these kids how they don't have to use the negativity—and that they are involved in their community."
Recently, Kali Muscle lost muscle. Fans were concerned, so he made a video explaining why that occurred.
You can watch the whole Kali Muscle muscle loss story here:
Kali Muscle Net Worth
It's estimated that the Kali Muscle net worth is $5M.
Kali Muscle Bodybuilding Accomplishments
2009 1st place Orange County Muscle Classic XXXII
2009 1st place Contra Costa Bodybuilding, Figure & Bikini Championship
2009 3rd place California State Bodybuilding, Figure & Bikini Championship
2009 11th place USA Championships
2010 13th place NPC USA Championships
2012 1st place NPC Grand Prix LA
2012 9th place NPC USA Championships
2014 11th place NPC USA Championships
Watch Kali Muscle at a bodybuilding competition in Los Angeles:
Kali Muscle Workout Program
Below is a typical Kali Muscle prison workout routine. Remember, incarceration means a lot of free time. Hence, this program is designed to be completed throughout the day—not in one hour.
Furthermore, reps and sets may seem extreme—but this is the type of plan Kali Muscle was following.
Monday–Push-ups
Wall push-ups 5 sets 50-30 reps
Incline push-ups 5 sets 30-10 reps
Kneeling push-ups 5 sets 40-10 reps
Half push-ups 5 sets 40-10 reps
Full push-ups 5 sets 35-10 reps
Close push-ups 5 sets 30-10 reps
Uneven push-ups 3 sets 30-10 reps
Half one-arm push-ups 3 sets 30-10 reps
Lever push-ups 3 sets 30-10 reps
One-arm push-ups ultimate endurance 1 set 40 reps
Watch Kali Muscle doing some push-ups in the video below.
Tuesday–Leg Raises
Knee tucks 4 sets 40-10 reps
Flat knee raises 4 sets 40-10 reps
Flat bent leg raises 4 sets 35-10 reps
Flat frog raises 4 sets 35-10 reps
Flat straight leg raises 3 sets 30-15 reps
Hanging knee raises 3 sets 25-15 reps
Hanging bent leg raises 3 sets 25-15 reps
Hanging frog raises 3 sets 25-15 reps
Partial straight leg raises 3 sets 25-15 reps
Hanging straight leg raises 3 sets 40 reps
ultimate endurance
A video of Kali Muscle in prison training his legs with a weighted bag:
Wednesday–Pull-ups
Vertical pulls 5 sets 40-10 reps
Horizontal pulls 5 sets 40-10 reps
Jackknife pulls 5 sets 40-10 reps
Half pull-ups 5 sets 30-15 reps
Full pull-ups 4 sets 30-15 reps
Close pull-ups 4 sets 25-10 reps
Uneven pull-ups 4 sets 20-10 reps
Half one-arm pull-ups 4 sets 15-10 reps
Assisted one-arm pull-ups 4 sets 10 reps
One-arm pull-ups ultimate power 3 sets 10 reps
Watch this video with Kali Muscle's pull-ups:
Thursday–Squats
Shoulder stand squats 5 sets 50-10 reps
Jackknife squats 5 sets 45-15 reps
Supported squats 5 sets 40-10 reps
Half squats 3 sets 35-15 reps
Full squats 3 sets 30-20 reps
Close squats 3 sets 25-15 reps
Uneven squats 3 sets 20-15 reps
Half one-leg squats 3 sets 15-10 reps
Assisted one-leg squats 3 sets 10 reps
One-leg squats ultimate endurance 1 set 50 reps
See Kali Muscle working out with the bros:
Friday–Bridges
Short bridges 5 sets 50-10 reps
Straight bridges 5 sets 45-20 reps
Angled bridges 5 sets 40-10 reps
Head bridges 3 sets 35-10 reps
Half bridges 3 sets 30-20 reps
Full bridges 3 sets 25-15 reps
Wall walking bridges (down) 3 sets 20-15 reps
Wall walking (up) 3 sets 15 reps
Closing bridges 3 sets 10 reps
Stand-to-stand bridges ultimate ability 3 sets 30-10 reps
Saturday–Handstand Push-Ups
Wall handstands 2 minutes
Crow stands 1 minute
Wall handstands 2 minutes
Half handstand push-ups 3 sets 30-10 reps
Handstand push-ups 3 sets 25-10 reps
Close handstand push-ups 3 sets 20-10 reps
Uneven handstand push-ups 3 sets 15-10 reps
Half one-arm handstand push-ups 3 sets 10 reps
Lever handstand push-ups 3 sets 8 reps
One-arm handstand push-ups ultimate power 3 sets 5 reps
Take a look at Kali Muscle doing some handstands:
Sunday—Rest Day
Kali Muscle Diet
When it comes to food, Kali tries to keep it simple. Depending on his body goals, he can eat around five or six specific meals a day, or he can spend the whole day constantly eating—depending on his mass goals.
For Kali, drinking a gallon of water every day is essential for his health and appearance.
Let's start with the famous Kali Muscle Ramen recipe:
Meal #1
Three bags of Ramen noodles.
Honey.
Mustard.
Mayonnaise.
Tuna.
Meal #2
One cup of oatmeal.
Cinnamon
Cane sugar.
Eight ounces of beefsteak.
Meal #3
Two cups of rice.
Twelve ounces of chicken.
Two tablespoons of honey.
Meal #4
White rice.
Six scrambled eggs.
Spinach.
Eight ounces of tuna.
Meal #5
Peanut butter and jelly sandwiches.
Meal #6
Eight ounces of salmon.
Two cups of rice.
Sliced pineapple.
Spinach.
Carrots.
Here's Kali Muscle showing us what he eats.
Kali Muscle Music
Kali Muscle is also a rapper. All he wants is to reach the maximum amount of people he can and encourage them to work out. Even if his method comes in the shape of music.
Kali raps about training, but the criticism about his music has been sweet and sour.
His most popular songs are We Pumpin and Money and Muscle.
Take a look at one of his videos below:
Is Kali Muscle on Steroids?
Due to Kali's sheer size, many don't believe his words when he says that he's never touched steroids.
He claims that it would be nearly impossible to take synthetics in prison.
"I know the majority of you out there think that you need some type of special potion to get "swole," and yes, you do, it's called AMBITION, DEDICATION and BELIEF."
Kali Muscle Before and After
He was always enthusiastic about bodybuilding, and maybe that's why there are few images of him without mass.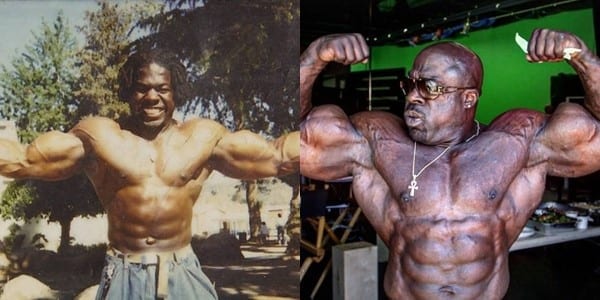 Looking at the photos above, you can see that for over 20 years, he's maintained an awesome physique.
Kali Muscle Supplements
He has his own brand of Kali Muscle supplements, known as Hyphy, which he claims he uses every day.
The most popular product, a pre-workout called Hyphy Mud, was reportedly invented by Kali Muscle while in prison. It includes only ingredients that were available to him when behind bars.
In addition to this performance enhancer, the Hyphy brand also includes amino acids.
Kali Muscle Quotes: Motivation and Inspiration
Kali takes his speech and his life story to the poor neighborhoods and schools, to improve his local community.
Here are some examples of his words of encouragement:
"If you chose to be ordinary, don't be mad at someone that chooses to be extraordinary."

"Strong people don't put others down. They lift them up."
Kali Muscle Frequently Asked Questions
"Where Can I Find Kali Muscle on Social Media?"
You can find Kali Muscle on his YouTube account, and also on Facebook, Instagram and Twitter.
And don't forget to visit the Kali Muscle 2019 website too.
Kali Muscle Summary
Kali Muscle has one of those life stories that simply inspires people.
He wants to prove that you don't have to be rich to be able to workout. Your fitness goals can be achieved regardless of your background.
He learned from his mistakes, enabling him to mature and grow—both mentally and physically.
This is why this bodybuilder should be both admired and respected.
Sources
Legal SARMs Alternatives