Who is Joey Swoll?
American Joey Sergo, better known as Joey Swoll, is a co-founder of a supplement company, owner of Gym Positivity Nation gym apparel, fitness model, and social media personality who inspires countless people worldwide to start living a healthier, more productive lifestyle.
He has been featured in some of the top fitness and bodybuilding magazine covers and has released his own fitness book.
Best Testosterone Booster For Men
Recently, Joey has become more famous for his videos promoting gym positivity and responding to bullies who record toxic gym videos.
He even sells apparel called Gym Positivity to promote positivity in gyms worldwide.
How Joey Swoll Started Training
During his primary and high school years, Joey participated in various sports. Eventually, due to college and moving to another town, he had to leave sports behind.
Best Testo Boosters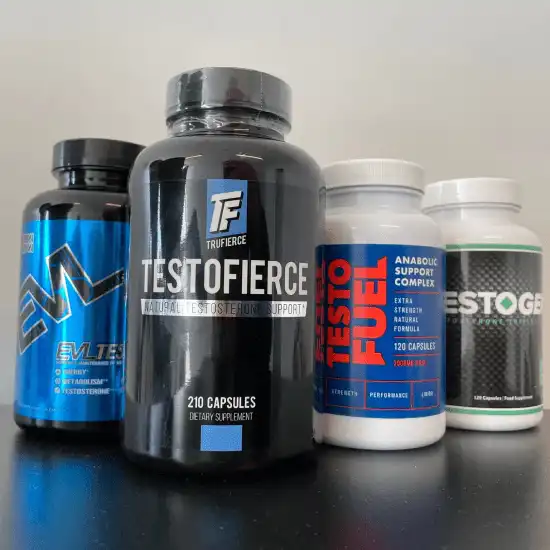 In college, Joey struggled to make friends and was often bullied. It was during this time that he discovered bodybuilding, which helped him deal with stress, anger, and frustrations.
After years of hard work in the gym, his body transformed into an impressive physique.
At this point, Joey decided to become a full-time bodybuilder and fitness model. Since the beginning of his journey, he has become one of the fitness industry's leaders and an inspiration to people worldwide.
How Joey Swoll Became Famous
Joey Swoll gained fame for his incredible physique, motivational message, and being in the spotlight as a supplement company owner.
More recently, he has gone viral on social media for his gym positivity encouragement, labeled as the CEO of gym positivity for responding to bullies who post toxic gym videos.
Joey Swoll Height, Weight, Age
Joey Swoll stands at 5'6″ (167.5cm) and weighs around 210 lbs. He was born on January 11th, 1986.
Joey Swoll Net Worth and Income
Joey Swoll's estimated net worth is around $4-10 million. This number could be higher or lower.
With 2.4 Million followers on Instagram where he can advertise his training service and apparel brand, it is highly likely he is making a lot of money.
Joey Swoll has also grown his TikTok account rapidly which has around 7 Million followers currently.
Recently Joey Swoll launched the gym apparel company: Gym Positivity Nation.
Best Testosterone Booster For Men
Joey's huge potential with over 10 Million social media followers, it wouldn't be surprising if he were making anywhere between $100,000-$500,000 per month, keep in mind that this is only speculation based on his huge social media following, his apparel business, and training service.
Joey has made money selling programs on his website and founded the supplement company Shredz back in the day.
He has exploded in popularity recently, offering various coaching packages on his website.
Joey also launched an apparel company called Gym Positivity Nation, where he sells clothing.
Does Joey Swoll Use Steroids?
Joey Swoll has never admitted to using steroids, but based on his appearance, it is highly likely.
Joey has admitted to being addicted to opioids on social media and has turned his life around after stopping their use.
If Joey Swoll were a natural bodybuilder, he would be one of the biggest natural bodybuilders in the world, but he has never confirmed if he is natural or using steroids.
Legal SARMs Alternatives