Jeff Cavaliere is a personal trainer, fitness expert, social media celebrity and was previously a physical therapist for the New York Mets.
He's most famous for the workout method he developed—leading to him to gain a massive online following.
Best Testosterone Booster For Men
This article explores his surprising inspiration and how he achieved celebrity status.
Jeff Cavaliere Wiki
Before I get down to the meat in this article, here's the Jeff Cavaliere wiki:
Age:                           47.
Best Testo Boosters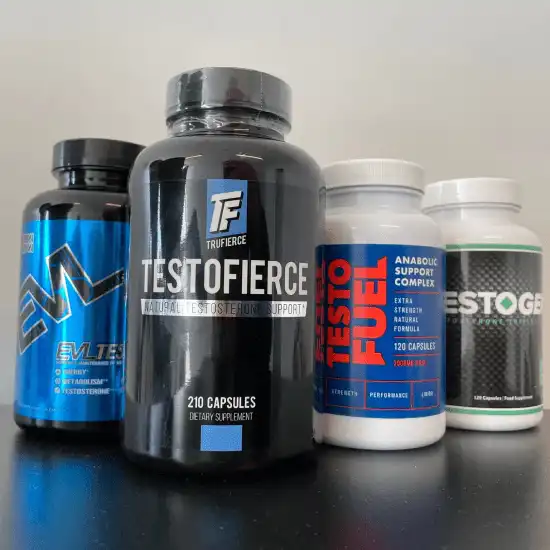 Date of birth:            28th June 1975.
Height:                      5 feet 8 inches (172 cm).
Weight:                      185-195 pounds (84-88 kg).
Nationality:               American.
Profession:             Personal trainer and social media personality.
About Jeff Cavaliere
Jeff Cavaliere was born in Connecticut, USA. The inspiration to become fit was planted in him early in his life.
By looking up to some of the stars of the time such as wrestlers and bodybuilding icons like Arnold Schwarzenegger, he dreamed of achieving a ripped physique.
In high school, he started to hit the gym. From then on, his life took on numerous turns which placed him right beside his idols in the halls of bodybuilding fame.
He said:
"After one summer of consistent workouts, I not only started to see abs but was finding it easier to get my job done on the field."
Jeff entered the University of Connecticut, ultimately to complete a master's degree in Physical Therapy.
Best Testosterone Booster For Men
Concurrently, Jeff began to follow the exploits of The New York Mets, watching every game as a keen supporter. He resolved to work in this sporting arena as a physical therapist once he graduated.
Jeff Cavaliere New York Mets Career
He gained employment as a personal physical trainer to the famous Mets player Mark Johnson. Working with the elite of the elite gave him further inspiration to take his talent to new levels.
Jeff not only trained with Johnson but managed to impress him with his great ideas and impressive results. A few of the right words in people's ears and Johnson found a space for Jeff Cavaliere inside the Mets.
Appointed as a physical therapist, Jeff Cavaliere revolutionized their methods—and soon became the head of the department.
"I essentially went from my private practice in Connecticut to the big leagues in a matter of 2 months."
However, while he initially believed he had fulfilled his dream, the novelty soon wore off.
Jeff Cavaliere became disillusioned with the traveling. Newly married, he was seeing little of his wife. So, just three years into his position, he resigned from the New York Mets.
Immediately, he began writing fitness guides and books—featuring his own training system. Jeff Cavaliere pushed these products hard on social media—working with athletes such as David Beckham and Rafael Nadal.
His stardom skyrocketed—and he became the brand AthLEAN-X.
Who Is Jeff Cavaliere Married To?
The Jeff Cavaliere wife name is unknown, although they do have two children and four dogs. Little is mentioned on social media about his private life.
What Is His Potential Net Worth?
The Jeff Cavaliere net worth is estimated to exceed $2 million.
Jeff Cavaliere Workout and Training Program
The Athlean-X ethos is to develop a strong, muscular and ripped physique—balancing the ideal percentage of body fat to muscle.1
On his website, Jeff Cavaliere provides numerous different routines for mass gain, fat loss or a combination of both.
His training methods combine boxing, cardio and resistance exercise.
Here's a typical example:
Monday—Upper Body Push
Spiderman crawls                                                    2 sets                          10 reps
Alternate dumbbell press                                      3 sets                          10 reps
Rotational dumbbell shoulder press                    3 sets                          12 reps
Shoulder lateral raises                                            3 sets                          12 reps
Woodchopper pushdowns                                     4 sets                          13 reps
Cable external rotation                                           3 sets                          15 reps
Here's Jeff Cavaliere taking you through building the ultimate back:
Tuesday—Cardio
QFL (quick feet ladder) lateral run                                    3 sets                          30 seconds
QFL in-in out-out                                                     3 sets                          30 seconds
QFL icky shuffle                                                       3 sets                          30 seconds
QFL ali shuffle                                                         3 sets                          30 seconds
Wednesday—Lower Body/Core
Dumbbell squat                                                        4 sets                          12 reps
Dumbbell side lunge                                               3 sets                          12 reps
Hip bucks                                                                  4 sets                          12 reps
Starfish crunch                                                        2 sets                          NA
Heels to the heavens                                              2 sets                          NA
It's exercises like these that have developed the awesome Jeff Cavaliere legs.
Thursday—Cardio
Running, HIIT—one minute at medium pace followed by 14-second sprints. Repeat.
Friday—Upper Body/Core
Inverted row                                                              4 sets                          12 reps
Dumbbell bent over row                                         3 sets                          12 reps
Reverse lunge curls                                                            3 sets                          12 reps
Dumbbell hammer curls                                         3 sets                          12 reps
V-up Russian twist                                                  4 sets                          To failure
Bench press                                                             3 sets                          12 reps
Jeff Cavaliere explains how to improve your bench press massively:
Saturday—Upper Body Push
Burpee push up pyramid                                        3 sets                          20 reps
Tubing chest press                                                  4 sets                          12 reps
Dumbbell lateral raise                                             3 sets                          12 reps
Dumbbell bent over row                                         3 sets                          12 reps
Tubing tricep push aways                                      3 sets                          12 reps
Sunday—Conditioning Workout
V-up Russian twist                                                  4 sets                          To failure
Boxing                                                                       3 rounds                    3 minutes
Ball passes                                                               4 sets                          2 minutes
Heels to the heavens                                              4 sets                          2 minutes
Jeff Cavaliere Diet and Nutrition
Ideally, Jeff Cavaliere recommends that his athletes consume about six small meals, equally distributed during waking hours. This keeps the metabolic rate high and enhances calorie burning and hence, fat loss.
Jeff Cavaliere considers this the perfect strategy to keep a person lean yet strong without rigorous dieting schemes. These small meals are packed with proteins that can be directly assimilated by the body in the process of building up muscle strength and mass.
In addition, carbs are cut out as much as possible, and protein supplements included where necessary.
Here's an example Jeff Cavaliere diet:
Meal #1
Pumpkin mixed with oatmeal.
Hard boiled eggs with some salsa.
Skimmed or low-fat milk.
Slices of kiwi fruit.
One banana.
Meal #2
Protein shake.
One large banana.
Bowl of strawberries.
Meal #3
Grilled chicken wrap.
Boiled vegetables.
Tomatoes.
Greek yogurt.
Soda water.
Meal #4
Black beans.
Vegetables.
Onion soup.
Soda water.
Meal #4
Sesame covered salmon steak.
Boiled asparagus.
One large sweet potato.
Soda water.
Meal #5
Here's Jeff Cavaliere going through a full days' food intake:
Does Jeff Cavaliere Take Steroids?
Like most bodybuilders who shoot to fame, Jeff Cavaliere has been accused by many of having used steroids. It is a natural question that arises in the minds of most people when they see such an astounding physique, is he natty?
Looking at his height to weight ratio, it's theoretically possible to achieve such results without having used steroids at all.
Being a physical therapist and a strength coach, he has a firm understanding of the ill effects of steroids on the human body.
Furthermore, he exhibits none of the tell-tale signs of 'roid abuse. So it's unlikely he uses synthetics.
Jeff Cavaliere Before and After
Jeff Cavaliere has been ripped from a young age. Few images exist of him before his training began.
What's remarkable about him is that he maintains a constantly impressive physique.
Here's Jeff Cavaliere in his baseball days. Notice the highly impressive forearm musculature:
Ten years later and he still sports this seriously remarkable tone:
Jeff Cavaliere Supplements
Through his Athlean-X brand, Jeff Cavaliere retails numerous supplements. The most popular of these include:
X-Cite—a pre-workout that contains the mighty pump-boosting citrulline.
X-LR8—protein designed for consumption post-workout to increase muscle protein synthesis.
AALPHA-RX—a BCAA supplement to enhance recovery and heighten muscle mass.
RECONSTRUXION—alleviates the symptoms of DOMS with its betaine and glutamine ingredients.
RX4—a protein supplement designed for the female market.
Additionally, many of these supplements can be purchased in stacks for the ultimate fitness enhancements.
Jeff Cavaliere Quotes: Motivation and Inspiration
Here are some wise words from Jeff Cavaliere:
"To this day, I still haven't found a cure for my addiction to fitness. Not sure I'd want one either!"
"While I always go in with a plan, I take pride in my ability to change things on the fly to react to the effort I'm getting on a given day."
Jeff Cavaliere Frequently Asked Questions
"How Old Is Jeff Cavaliere?"
People often ask how old is Jeff Cavaliere. I can reveal the Jeff Cavaliere age is 44 years old.
"How Tall Is Jeff Cavaliere?"
The Jeff Cavaliere height is 5 feet 8 inches.
"Where Does Jeff Cavaliere Live?"
This Jeff Cavaliere biography shows he resides in Connecticut, USA, along with his family.
"Who Is Jeff Cavaliere?"
The Jeff Cavaliere young man originally worked as a physical therapist for the New York Mets. Today, he has his own fitness brand known as Athlean-X.
"How Much Does Jeff Cavaliere Weigh?"
The Jeff Cavaliere weight is currently 185 pounds.
Jeff Cavaliere Summary
Jeff Cavaliere has been an inspiration to countless bodybuilders, just as Arnold Schwarzenegger was to him.
He is passing on his genius to an entirely new generation of young fitness enthusiasts.
Jeff's enterprisingly new system of training has proved popular—and more importantly, effective.
He's not just a bodybuilder, but a mentor and a torchbearer of the fitness community of today.
Sources
Legal SARMs Alternatives