Effectiveness
83%
Ingredients
79%
Value
78%
Pros
Cons
Contains Proven ingredients
300 mg caffeine
No fillers
Outdated formula not updated in 5 years
Missing new key fat burning ingredients

See the Top Fat Burners on the market

Instant Knockout from Roar Ambition is a natural fat burning supplement that promises to help you burn fat like the professionals.
It sounds really good but is it all true?
That is what we're going to find out in this Instant Knockout review.
Instant Knockout fat burner contains ingredients such as cayenne pepper, green tea extract, gtf chromium, green coffee bean extract, black pepper, vitamin b6, vitamin b12 but is it enough to trigger weight loss?
A while ago we put together an article that reveals the best fat burning supplements on the market in 2020.
We found that if you're stuck at a certain weight despite having a good diet and training hard, that a fat burner is the best solution.
After a ton of research, and reading multiple studies, we finally agreed after this Instant Knockout review that it is one of the best fat burners on the market.
It's not the best but definitely very good.
The makers of Instant Knockout fat burner claim it will help to:
Brings out your abs – Lose fat around your torso
Keep lifting heavy – Maintain high energy during workouts on a low-calorie diet
Quit Snacking – Stop cravings between meals
In this review, we will find out if Instant Knockout is one of the top fat burners for weight loss or if its a waste of money.
Table of contents
Instant Knockout Results
I used Instant Knockout for 4 months, I've had fat burners before, but nothing like this. When I first started taking it I was at 85kg (187lbs) and around 18% body fat – I was pretty surprised by the results. I've summarized my training logs below:
Month 1 – Weight Loss: 1.5kg (3.3lbs)
When I first got Instant Knockout I felt like I was more impressed with the bottle than the actual capsules – The bottle was a badass fist, and after taking it – I realized it hit like one too!
Seriously, bro, I was so aware of the natural stimulants in the first month. I found myself flying through gym sessions, my motivation was higher and I was weight and still hitting the weights hard.
The best way I could manage IKO was to take a cap as soon as I woke up and then one every 3 hours until I'd done 4 for the day. After that, all I could think about was training.
Month 2 – Weight Loss: 2kg (4.4lbs)
By the start of month 2, I was down 1.5kg, I'm not saying Instant Knockout did all of this, but it certainly helped. My diet was solid too; clean eats and around 300 calories below maintenance, all within an 8-hour eating window.
It was definitely a combination of these two factors, but I had never lost so much weight while still maintaining all my muscle mass.
After seeing these quick results, I started to take my training on Instant Knockout more seriously.
I added cardio to my workouts – 15 minutes of High-Intensity Training at the end of each session. Considering my restricted calories, I don't think I could've stuck it out if it wasn't for the stimulants in Instant Knockout to keep me going, they really picked me up on sluggish days.
Towards the end of Month 2, I started to notice my waist leaning out. My lower back and 'love handle' areas were tightening up as well. I was looking a lot more V-shaped and sculpted.
Month 3 – Weight Loss: 2kg (4.4lbs)
By the start of month 3, I had lost a further 2kg (4.4lbs) – That's 3.5kg (7-8lbs) in 2 months, with all muscle mass still intact.
Throughout month 3 I noticed I was not only getting a leaner body, but I was also getting a more aesthetic face. My jaw was sharper and I looked better in photos. Although that could be the salt I took out of my diet – either way, it was a welcomed bonus.
I was getting close to the physique I wanted now and was pretty excited to see what I would look like at the end of my fourth month.
Month 4 – Weight Loss: 2.5kg (5.5lbs)
By the end of my course of Instant Knockout, I had lost a further 2.5kg – and I think that's a safe enough weight for me to stop.
Overall on Instant Knockout, I had lost 8kg (17-18lbs). I've gone from just shy of 18% body fat, to somewhere around the 8-9% range. Which was far better than I was expecting.
My original lifts at the start of this cut were a hell of a lot tougher to perform by the end of it, but I could still do them. I'm tempted to admit that this is the best I've looked in my life.
I'm not saying all the results were Instant Knockout, but I wouldn't be at this weight without it. It adds the edge that allows you to push yourself further than usual and cut serious weight to look like you want.
The appetite suppression allowed me to stay on my diet, whereas the thermogenic properties helped with burning more calories. In addition, the natural stimulants raised my metabolism and kept me motivated when I was running low on energy. These three features complement each other well and achieve great results.
I can safely say I've never had a more successful cut apart from the time I used the best fat burner on the market ShredFierce which is like Instant knockout on steroids.
Instant Knockout Before and After
Now I no longer use Instant Knockout, and with a calculated diet my new weight is relatively easy to maintain, but it can get boring. I still have a cheat day now and then, and it doesn't seem to cause me a problem.
At the time of writing this review, I'm 77kg lean and loving it. I'm tempted to bulk at some point and take it again to get the same result at 82kg, although that's a way down the road.
More Instant Knockout testimonials:
We've been looking into a lot of forums, general testimonials, and instant knockout reviews, to see if it wasn't just my training and diet that was helping me cut.
Turns out Instant Knockout has been helping a lot of people losing weight.
Take this guy Josh who lost 16lbs in a month:
Just take a look at his transformation: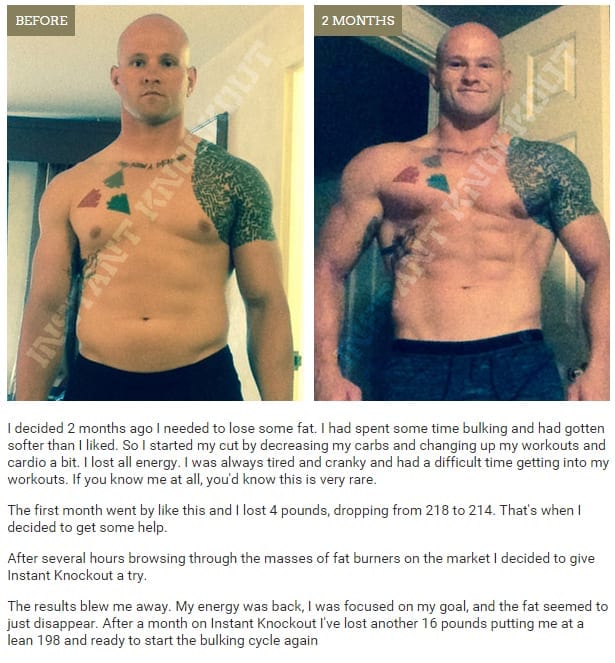 And of course pro athletes, MMA fighters Diego Sanchez & John Dodson
https://www.youtube.com/watch?v=-GnnZtwC_aM
https://www.youtube.com/watch?v=UQQ-ERH76Yw
Ingredients
Instant Knockout contains 10 natural ingredients without any proprietary blend.
Here are the ingredients Instant Knockout fat burner contains:
Vitamin B6 and vitamin B12
Green Tea Extract
Cayenne pepper seeds
Glucomannan
Caffeine Anhydrous
GTF Chromium
Zinc
Piperine (black pepper extract)
Green Coffee bean
Let's talk a little bit about the ingredients, as you may notice one serving size is 4 capsules.
The formula contains 300 mg caffeine anhydrous which is quite a lot and makes not a lot of room for drinking other caffeinated drinks such as coffee, energy drinks or pre-workout supplements.
Glucomannan is really effective to help reduce hunger cravings and the dose of 1.3 grams which is alright but could be bigger.
Green tea extract has proven to be one of the top fat loss ingredients to work. 500 mg is actually a decent dosage of green tea extract even though it could be bigger.
Green coffee bean extract is a promising ingredient for weight loss, the 100 mg dose is slightly on the lower end though.
Cayenne pepper or capsaicin in a 100mg dose should work to increase the metabolic rate of the body (help burn off more calories)
There is also a nice inclusion of vitamin b12 and vitamin b6.
Overall the ingredients are pretty good and should work for fat oxidation and to enhance fat loss results.
Side Effects
I did not get any bad side effects or health risks from using Instant Knockout.
The ingredients are all safe and natural, so most people should not get any side effects.
With that said, one of the ingredients is Caffeine, and if you have super low caffeine tolerance you might experience lightheadedness the first few days.
Pricing and Shipping
Price
1 Month Supply: $59 / £35 / €45
1 Box
2 Month Supply: $118.00 ($59.00 each) / £70 (£35.00 each) / €90 (€45.00 each)
2 Boxes
+ Free Shipping in the USA and UK
Ultimate Shredding Stack: $185 ($46.25 each) / £110 (£27.25 each) / €140 (€35.00 each)
3 Boxes
+ 1 Free Box
+ Money-back Guarantee
+ Free International Shipping
Shipping
Roar Ambition ships from both the UK and the USA. International shipping is fast and takes 1-2 weeks for delivery.
Room for Improvement
In terms of the supplement itself, the capsules are gelatin. It's a huge inconvenience for vegetarians taking instant knockout as they'll have to split the caps into some water and drink it up – and with the cayenne pepper. It doesn't taste great.
Some ingredients are lowly dosed such as green tea extract and the caffeine dose is too big in my opinion.
It's a good product that can really help to lose weight but it's not the best on the market.
One of the main issues we found when doing this review is that it can only be bought from the supplement's website. Although they offer fast shipping from their USA and UK depots worldwide.
This brings us to our next concern, the price. At $59.00 Instant Knockout is a premium-priced fat burner, it's not for those on a tight budget.
That said, if you buy more than one box the company gives you more of a discount.
Review Conclusion
In the end, I lost 8kg (17-18lbs) using Instant Knockout over a period of 4 months. It took me from 85kg to 77kg (187lbs to 170lbs) and cut essentially just body fat. (this was back in 2015)
However, in my more recent cut (2019), I got better results using
" />ShredFierce a fat burner that just came on the market in 2019.
Even though Instant Knockout is solid ShredFierce is something else let me tell you.
So would I use Instant knockout again? probably not because there is another fat burner (ShredFierce) that I've tried that works much faster to lose weight and contains better ingredients.
However, I can still recommend Instant Knockout because it is quite good but they haven't changed their formula in years and it is kinda outdated for 2020.
FAQ
So, after you've read my review you still might have some questions, and that's okay. Here are a few of the most common ones I get.
Q: I skimmed this Instant Knockout review. How many servings do I take per day?
A: This fat burner requires 4 doses a day of 1 capsule. This has been proven to be the best way to keep thermogenesis consistent and for you to be constantly losing weight.
Q: Is instant knockout FDA approved?
Instant Knockout fat burner is not approved by the FDA in the sense that they have looked at it and approved it. However, it is produced in an FDA and cGMP approved facility.
Q: How fast does Instant Knockout work to burn fat?
A: It'll all depend on your diet and training, but in our experience: Fast.
I lost 1.5kg (3.3lbs) after a month of this stuff just testing the water – once you've started noticing changes though you'll be motivated to lose a lot more.
Q: Are the Instant Knockout Ingredients Any Good?
Most of the ingredients in Instant Knockout work very well to burn fat and for fat oxidation, however, there are some of them that I would like to be dosed a little higher. There are limitations when you have supplements in capsule form, it's hard to put all ingredients in the max dosage.
Q: Will this fail me on a drug test? i.e. Any Ephedra, DMAA, etc in this?
A: All the ingredients used here are 100% natural. You won't have any problems. It's used by Pro MMA fighters that go through rigorous drug testing before they compete.
Q: Can I just take this and lose weight?
A: Technically you'll burn more calories than usual. But if you're using this as an excuse to eat more, you'll see no real changes. Fat burners are made to take your cut that one step further. To get the best results you need to be on top of your diet and exercise.
Q: Is Instant Knockout a thermogenic?
A: Yes, Instant knockout contains ingredients that increase the internal temperature in your body which helps burn off more calories, fat oxidation and enhance fat loss.
Q: Can I take this with other supplements?
A: Yes, you can stack Instant Knockout with most supplements. Just make sure to monitor your caffeine intake since Instant Knockout contains 300 mg of caffeine per serving so you wouldn't want to use a strong stim pre-workout while using Instant knockout.
Q: Are there side effects?
A: One of the main ingredients in Instant Knockout is caffeine if you have a low tolerance it may give you some light-headedness for a few days before you get used to it. So stay away from other caffeinated products while using instant knockout.
Q: Where to buy Instant Knockout?
A: From this Instant Knockout review you should know that you can only buy Instant Knockout directly from their official website which means you can NOT buy it on Amazon or GNC.