Pro Clinical Hydroxycut
$17.43
Pros
Pro Clinical Hydroxycut will deliver a good energy boost
It's reasonably priced
Will help to increase your metabolism
Cons
Pro Clinical Hydroxycut contains proprietary blend so you don't know how much of ingredient you are consuming
Missing many of the best fat burning ingredients
Many of the ingredients HydroxyCut contains are not scientifically backed up
Reports of liver damage by using it

Pro Clinical Hydroxycut Review – Quick Summary
Before we dive into the pro clinical hydroxycut review let me explain briefly what it is and how it works.
Pro clinical Hydroxycut  is a fat burning supplement that is available in caplets(pills) and you can also get it in powder form to mix with water.
What results can you expect?
We will go in further detail later on in it this pro clinical hydroxycut review on how it works, side effects and the results you can expect from using this fat burner.
Here's what to keep in mind:
Pro Clinical Hydroxycut contains a ton of ingredients in 3 proprietary blends.
These 3 blends are combined of 10 ingredients which are 340mg.
Look:
So on average you are only getting 34mg of each ingredient (depends on how they mix them)
This is an extremely low dose for many of the ingredients.
Pro Clinical HydroxyCut Review – Does It Work For You?
You are probably thinking this:
I'm going to be honest and just say it "I hate weight loss"
Even though losing fat is a good feeling.
It is boring
Well it turns out that Using the RIGHT fat burner will speed weight loss and make you feel awesome.
Let me tell you a little story.
Actually I have been lean for the most part of my life until I did a dirty bulk and gained 30 lbs (fat and muscle)
This is what happened.
I was a 29 year old gym rat who didn't fit into any of his jeans. (my gf at the time did not like it)
Thankfully I managed to get that weight off and get lean again.
Here's how I did it:
It took me 6 months to lose the excess weight and get my six pack back. (I could have gotten faster results if I stayed on my plan)
That's when I became very interested in fat burners.
I used them quite a bit at this time but never really understood what to look for in a fat burner.
Until I did this:
I've actually researched fat burners quite a bit now.
I could easily create my own crazy powerful fat burner with the knowledge I have.
Why don't I have my own fat burner?
Because I find it more fun just to write reviews on weight loss supplements that are already for sale and give my honest opinion about them.
So people like you can actually see how the product works without just being influenced by marketing hype.
Here's how you can find a fat burner 2-3x more powerful than hydroxycut
You don't have to be a supplement nerd to see that Hydroxycut is not the best weight loss supplement on the market.
Here's how you see it:
First of all It's missing a whole lot of important fat loss ingredients
Secondly Contains proprietary blends so you won't know how much of each ingredient you are getting.
So how can I find the best fat burner on the market?
You can start by reading my article on the best 3 fat burners and the most important ingredients.
Read the whole pro clinical hydroxycut review to find out if this weight loss supplement will work for you.
Hydroxycut –  Who Is It For?
This fat burner is definitely not for everyone.
Actually I wold never recommend it to anyone but it might suit some people fine.
Hydroxycut is actually quite cheap and it contains caffeine and a few other ingredients that might have a mild effect on weight loss.
Here's the deal:
It's definitely for someone who has a very limited budget and is willing to settle for a mediocre fat burner that will give you energy and focus.
It's not for someone looking for the best fat burner available.
Are you willing to spend more money on a quality product that works 50-75% faster to lose fat?
If you are I can tell you that there are some fat burners superior to hydroxycut.
There are only a few fat burners I trust:
You can actually see the best 3 fat burners in my guide here.
Pro Clinical Hydroxycut – How Does It Work?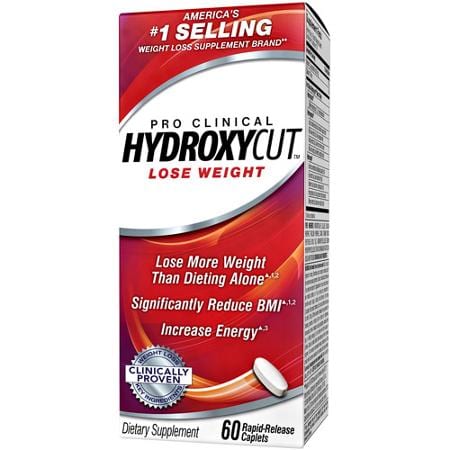 One of the most well-known brands and products for weight management is Hydroxycut.
You've probably heard about it.
This brand has been around for quite some time and has received mixed reviews.
Many users do report seeing great results from it, while others, report no such thing.
Which doesn't surprise me.
While originally this started out as just one product, now, you can find a whole line of products made by the manufactures of Hydroxycut, all designed to help you take your fat burning up a notch.
I bet they are making some real good money selling this.
You'll find different strengths of Hydroxycut products along with along with appetite control options, options that contain green tea extract, options that contain CLA, as well as drink mixes for easy use.
For those who hate taking capsules, you can even find Hydroxycut gummies, which, for anyone combating a sweet tooth, will seem like a Godsend.
So all of this said, how does Pro clinical Hydroxycut stand up?
Will it really help you see faster results from your plan?
We'll discuss
If  it work to increase focus, energy, reduce appetite and boost the metabolism.
Let's go over it in this pro clinical hydroxycut review.
Pro Clinical Hydroxycut Ingredients
Amount Per Serving
% Daily Value
 Vitamin C (As Ascorbic Acid)
 7 mg
 12%
 Calcium
 170mg
 17%
 Pro Clinical Hydroxycut™ Blend
 340 mg
 †
 HydroxyBoost™

---

 †

---

 Caffeine Anhydrous (1,3,7-Trimethylxanthine)
 †
 Acerola Concentrate (As Malpighia Glabra)(Fruit)
 †
 Hydroxyprovia™

---

 †

---

 Lady's Mantle Extract (As Alchemilla Vulgaris)(Leaf)
 †
 Wild Olive Extract (As Olea Europaea)(Leaf)
 †
 Komijn Extract(As Cuminum Cyminum)(Seed)
 †
 Wild Mint Extract (As Mentha Longifolia)(Leaf)
 †
 Hydroxagen™

---

 †

---

 Goji Extract (As Lycium Barbarum)(Fruit)
 †
 Blueberry Powder (As Vaccinium Corymbosum)(Fruit)
 †
 Pomegranate (As Punica Granatum)(Fruit And Seed)
 †
 Bilberry Extract (As Vaccinium Myrtillus)(Fruit)
 †
While the ingredients of Pro Clinical Hydroxycut are going to vary based on which particular product you are going to buy, let's look at the basic level product, which is just standard Hydroxycut, sometimes called Hydroxycut Pro Clinical.
I can tell you just straight away that the caffeine in this product is by far the most effective ingredient.
Many ingredients in it are useless IMO.
I did my research on the ingredients and this is what I found out:
Hyroxycut Pro Clinical contains 3 proprietary blends that are combined 340 mg.
1.HydroxyBoost
This blend contains Caffeine and Acercola concentrate.
Athletes use acerola for improving physical endurance.
We already know that caffeine is effective in increasing energy levels and boosting the metabolism.
This is a bad sign:
They don't reveal how much caffeine this blend contains.
That means you have to be very careful while using this product so you don't consume too much caffeine.
2.Hydroxyprovia
This blend contains Lady's Mantel Extract, Wild Olive Extract, Komijin Extract and Wild Mint Extract.
Useless blend and this is why:
Lady's Mantle might be useful as an antioxidant, this is however not very effective for weight loss and in my opinion an useless ingredient.
Wild Olive Extract has not any studies behind it proving that it is successful in losing fat, however some suggest it is implicated with fat loss effects.
Komijin Extract and Wild Mint Extract have no clinical studies behind them that prove that they help lose fat.
Here's what I think:
I'd say this formula is definitely very questionable and you have to wonder if it really helps with losing weight.
3.Hydroxagen
The last proprietary blend in hydroxycut contains Goji Extract, Blueberry powder, Pomegranate and Bilberry extract
Goji Extract had numerous health benefits but fat loss isn't one of them unfortunately.
Blueberry powder has no clinical study available proving it is successful in losing body fat.
These ingredients may help a little bit:
Pomegrenate has shown to be successful in reducing appetite in mice on a high fat diet, there are no studies available on humans that show any weight loss effects.
Bilberry may prevent obesity by helping lowering fat absorption.
According to studies these ingredients do not play a critical role in weight loss.
At best these ingredients will provide you with mild fat loss effects.
Pro Clinical Hydroxycut Ingredients breakdown
Sadly, you do not know the full values of how much of each ingredient is in these blends, so this doesn't give you a lot to go by in terms of the effectiveness of this product.
This is what we know:
Studies have proven that caffeine on its own is a powerful fat fighter however as it will not only help to boost your resting metabolic rate, but also help give you more energy and may also help suppress your appetite as well.[1]
The unfortunate thing however is that one will eventually become adapted to caffeine, so unless you keep taking more and more, you may lose some of the benefits that it provides.
Here's the kicker:
There isn't a lot of scientific literature out there about the other ingredients, so we can not be certain how they will help or hinder fat loss progress.
Now, what you also need to be aware of is that there are studies of reported problems associated with Hydroxycut.
This is what the studies say:
For instance, one study[3] reported that two patients experienced acute liver injury associated with using the product. Other studies[4] have reported much of the same.
It's for this reason that this product has gotten a bit of a bad name in the press.
Many people will choose to stay far away from it due to the potential safety concerns.
I completely get that.
Hydroxycut did not make it to our top 3 choices for fat burners. and you can probably see why.
Hydroxycut Results – What Do the Hydroxycut Reviews Before and After Say?
I was actually very surprised that Hydroxycut gets overall good reviews from customers.
We are however concerned about using the product.
Many users report that there are side effects with using hydroxycut while seeing no results.
One user reported:
Gave me rapid heart beat, insomnia and pressure in my chest. Stay Away!
Pro Clinical Hydroxycut review
However only 55% of customers are very satisfied with the weight loss results of this product.
Some say it works well for them for weight loss while other say they got no results from using it.
One user reported:
It didn't give the energy as others have claimed,also did not even lose one pound.I am very active walk 25 miles during the week,my job is very physically demanding also.I eat very low fat,no sodium,low carbs.I dont eat fast food.This product is not the same when it first came on the market.
Another one said:
Didn't do anything to me, not even a caffeine high!
There have also been reported a number of positive hydroxycut weight loss reviews:
This really helped give me energy and kept my cravings to a minimum.
Pro Clinical gets mixed review on the internet some people claim it works well for them while other say it doesn't do anything.
Either way there are a lot of unsatisfied customers and that is always a concern.
Pro Clinical Hydroxycut Does It Work?
All in all, you need to really weigh the pros and cons of this one.
There are many reports of serious health harm by using Hydroxycut, so if you are going to use it, be sure to check with your doctor first and only use it if you are in good health standing to begin with.
The bottom line?
There isn't a lot in this product that makes it far more effective than any other fat loss product on the market, so think hard about whether it's worth the risk.
You can likely see quite similar results from just using caffeine.
This was a big issue with hydroxycut..
First of all it contains many ineffective ingredients
Secondly it contains a proprietary blend so you don't know much of each ingredient you are getting.
Hydroxycut did not make it to the list of the top 3 fat burners on the market.
This concludes our Pro Clinical hydroxycut review, we answered frequently asked question about pro clinical hydroxycut in the FAQ section below.
FAQ
Hydroxycut Side Effects 
As just noted, the biggest possible side effect with Hydroxycut is the fact that it may lead to liver damage.
Using the product too often or for too long could put your liver health in jeopardy.
Now, this won't happen to everyone and will depend on your own physical chemistry, tolerance for it, as well as the lifestyle that you lead, but it's important to know that the risk is there.
Apart from those issues, also be aware that since this product does contain caffeine, you'll also be at risk for the normal side effects that come from caffeine including high blood pressure, anxiety, racing heart rates, and trouble sleeping.
We don't know how much caffeine is contained in this product, so you'll need to take the lowest dose and assess your tolerance from there.
---
Where To Buy Hydroxycut
You can purchase this product from a variety of major retailors including Amazon.com, walgreens, Walmart, GNC, as well as Drugstore.com.
Retail prices vary depending on which version of the product you buy.
---
How Do I Take Hydroxycut?
For best results, you are supposed to take this product twice per day, taking two capsules per dose.
After the first three days, you should then move to two capsules per dose, taking two dose per day.
Your second dose should come at least four hours after the first dose and preferably at least five hours prior to bed time.
---
What's better than Pro Clinical Hydroxycut?
Hydroxycut is an average fat burner, it does not reveal how much of each ingredient the supplement contains it is also missing many key fat burning ingredients.
One particular product called Instant Knockout is in our opinion the best fat burner on the market right now. – See our Instant knockout review.
---
Are there other versions of Hydroxycut available?
Hydroxycut offers a variety of hydroxycut weight loss supplements. These include hydroxycut gummies, hydroxycut caffeine free,  hydroxycut max and hydroxycut hardcore.
---
References:
Arciero, PAUL J., et al. "Effects of caffeine ingestion on NE kinetics, fat oxidation, and energy expenditure in younger and older men." American Journal of Physiology-Endocrinology And Metabolism 268.6 (1995): E1192-E1198.[1]
Dellalibera, O., B. Lemaire, and S. Lafay. "Svetol, green coffee extract, induces weight loss and increases the lean to fat mass ratio in volunteers with overweight problem." Phytotherapie 4.4 (2006): 194-197.[2]
Stevens, Tyler, Asif Qadri, and Nizar N. Zein. "Two patients with acute liver injury associated with use of the herbal weight-loss supplement hydroxycut."Annals of internal medicine 142.6 (2005): 477.[3]
Fong, Tse-Ling, et al. "Hepatotoxicity due to hydroxycut: a case series." The American journal of gastroenterology 105.7 (2010): 1561-1566.[4]
[P_Review]