With his remarkable physique, steady mind, and unshakable determination—it's no surprise that Elliott Hulse is an international bodybuilding sensation.
He's a man of many talents—from competing in strongman competitions to starting his own business and becoming a YouTube celebrity.
Best Testosterone Booster For Men
It seems he has it all—however, has his alarming history with steroids influenced his approach to fitness? And is he still taking them?
Come along, as I expose the truth behind Elliott Hulse.
Elliott Hulse Wiki
Age:                           41.
Best Testo Boosters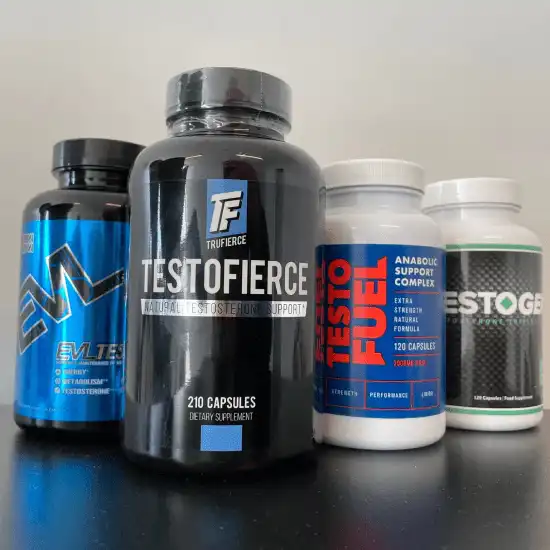 Date of birth:            10th April 1979.
Height:                      5 feet 10 inches (172.5 cm).
Weight:                      205-215 pounds (88.5-93 kg).
Profession:              Strongman, personal trainer, YouTuber and influencer.
Nationality:               American.
Nickname:                He refers to himself as "King."
About Elliott Hulse
Elliott Hulse was born in April 1979 and raised in Brooklyn, New York. His family is originally from Belize.1
His Uncle Elroy, a martial arts expert, cultivated his passion for bodybuilding. He taught Elliott and his younger brother the basics of bodyweight strength training—such as push-ups, sit-ups and chin-ups.
This led to Elliott having a lifetime's obsession with fitness—providing the foundation for his career.
Today, Elliott Hulse is a full-time strength trainer and owns a gym—Strength Camp—in St. Petersburg, Florida. Additionally, he provides training tips and workouts on his two YouTube channels.
While a popular figure, he's not without controversy. In an interview with London Real in February 2019, he expressed strong opinions about women's rights to vote and the #metoo movement.
Best Testosterone Booster For Men
Elliott Hulse met his wife, Colleen, when he was just 14. They married on August 18th, 2002, and have three girls, Isabelle, Emerson and Simone, and a boy, Benjamin.
Elliott Hulse Net Worth
He makes approximately $100k a year from YouTube alone—and has an estimated net worth of around $1M.
Elliott Hulse Football and Strongman Career
Being physically trained from a young age, Elliott Hulse excelled in sports at school. He was such an impressive footballer that he earned a scholarship to play in the first division at St. John's University in New York.
At college, his goal was to attain the most impressive physique possible. Records show that at just 20 years old, Elliott Hulse could squat 225 pounds (102 kg).
Looking for a new challenge, he quit football to compete in strongman competitions. In 2009, Elliott Hulse entered a Pro-Am show in Orlando—permitting amateurs to battle against professionals.
He won, gaining his Pro Card.2
Unfortunately, this success was short-lived. A torn bicep tendon ended his strongman career.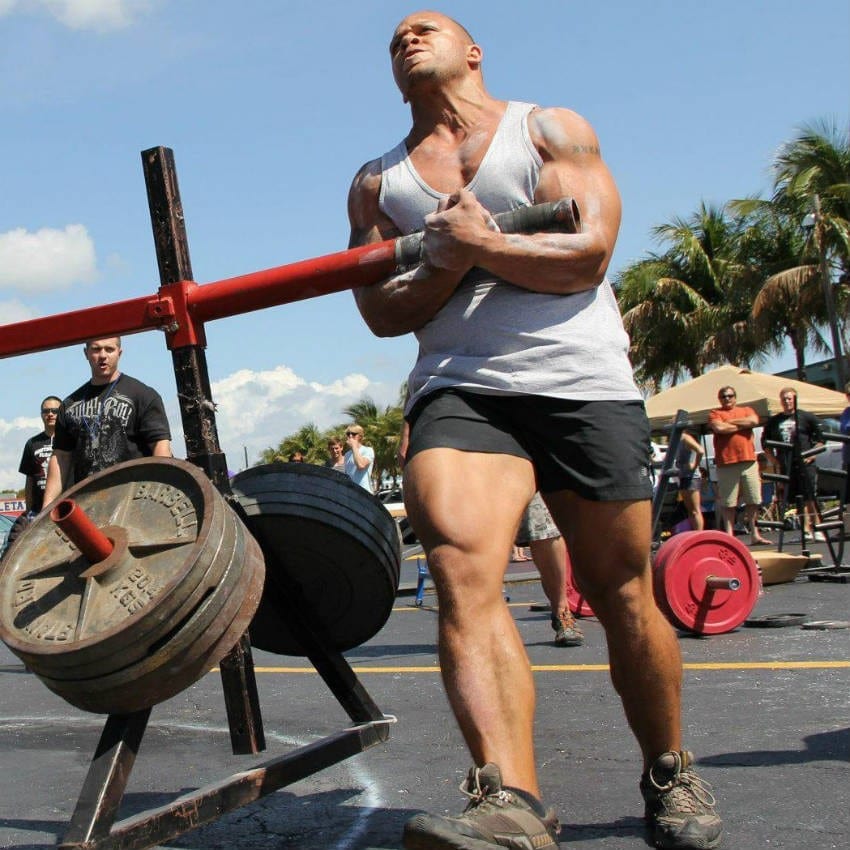 How Did Elliott Hulse Become Famous?
After graduating, Elliott Hulse bought a warehouse and turned it into a gym. Unfortunately, the economy crashed in 2008, and people couldn't afford to use his training facilities.
He needed a smart approach to continue working as a trainer. This is what motivated him to purchase a used laptop and start his YouTube channels—the internet allowing him to reach an audience beyond his local economy.
Today, he has one channel called Elliott Hulse—on which he answers questions from subscribers—and another named Strength Camp, where he dishes out workout tips.
Both these YouTube accounts are highly successful and have elevated him to social media stardom—with Strength Camp alone having over 1.8M followers.
Furthermore, unlike many "typical" bodybuilding channels—Elliott Hulse emphasizes the importance of spirituality. Considering that the mind and body should work in harmony for the ultimate physique.
Elliott Hulse Books
In addition to being a successful athlete and trainer, Elliott Hulse is also an author.
He's published two books to help people with their fitness journey.
King: The 4 Layer Approach to Becoming the Strongest Version of Yourself
Inspired by his spiritual enlightenment, Elliott Hulse explains how you can take control of your own life. It holds a guide on how to achieve your goals, attain authority, integrity and stronger discipline.
NonJobs Revolution
A book on how to obtain the freedom you want—quit your job, follow your passion and bring in $50k a year.
It goes into depth about the methods Elliott Hulse used to get out of debt, and how he found himself in a position of financial abundance.
Additionally, he has also written numerous e-books such as The Grow Stronger Method, Superior Speed System and The Manifesto of Strength.
Elliott Hulse Workout Program
His workout ethos is taken from the powerlifting community. These techniques are specifically tailored to build both size and strength.
Elliott Hulse developed his own format—the 5×5 program.
It involves five sets of five reps per exercise—with 90 seconds rest after every set, and three minute's break between exercises.
Here are two examples:
Elliott Hulse 3-Day a Week 5×5 Workout for Beginners
(Remember—each exercise five reps and five sets)
Monday
Bench press.
Bent-over rows.
Squat.
Deadlift.
Elliott Hulse gives advice on how to increase your bench press:
Wednesday
Weighted dips.
Weighted chin-ups.
Deadlift.
Hanging leg raises.
Friday
Bench press inclined.
Squat.
Glute and hamstring raise.
Dumbbell renegade row.
Saxon side bends.
Elliott Hulse 6-Day a Week 5×5 Advanced Workout
(Again—each exercise, five reps and five sets)
Monday—Chest and Back
Bench press inclined.
Wide grip pull-up.
Weighted rope crunches.
Tuesday—Arms and Shoulders
Upright row.
Bench press (close-grip).
Preacher curls.
The Strength Camp coach shows you how to complete a proper upright row:
Wednesday—Legs
Squats.
Lying leg curl.
Calf raises.
Elliott Hulse teaches you how to squat with proper form:
Thursday—Chest and Back
Chest dips.
Single-arm dumbbell rows.
Lying leg raises (weighted).
Mistakes to avoid when doing dips:
Friday—Arms and Shoulders
Rear delt rows.
Triceps push-downs.
Incline hammer curls.
Watch the Strength Camp coach show you how to perform a proper rear delt row:
Saturday—Legs
Leg press.
Stiff-legged deadlift.
Calf press.
Elliott Hulse's tips on how to gain a lot of mass in your legs:
Elliott Hulse Diet
During Elliott's strongman days, he would eat anything and everything—more focused on taking in as many calories as possible, rather than the quality of the food.
Now, he believes in the power of organic products—knowing foods without hormones and pesticides are healthier.
It took him five years to find the diet that was right for him. It mostly consists of grass-fed beef, eggs, oily fish, numerous vegetables and a variety of healthy carbs.
As you might have guessed, he's an advocate of a high protein diet—it's what will make you gain muscle mass. He also recommends eating five to six meals a day—and never skip breakfast.
Here are some example meals that he eats on a daily basis:
Meal #1
Four scrambled eggs.
Fish oil.
Two bananas or
One cup green tea.
Meal #2
One cup brown rice.
6-8 ounces turkey breast.
1-2 cups steamed broccoli.
Meal #3
One cup brown rice or
4-6 ounces tuna.
1-2 cups coleslaw.
Meal #4
4-6 ounces steak.
1-2 cups broccoli.
1-2 cups Brussels sprouts.
Meal #5
Meal #6
1-2 scoops creatine powder.
1-2 cups milk or water.
One cup mixed berries.
Elliott Hulse gives tips on how to cut while making gains:
Is Elliott Hulse on Steroids?
No—but he has used them.
Near the end of 2009, Elliott Hulse started using steroids—out of curiosity.
According to him, the side effects didn't make it worthwhile. He didn't like the fact that it was changing his body unnaturally—and it impacted on his thought process and his character.
So he stopped.
Elliott Hulse says that he wouldn't do it again, but views it as an opportunity to educate others. Now, he promotes natural methods to make gains—being consistent with your workouts, eating the right way and maintaining spiritual alignment.
He also encourages people to keep their cortisol levels in check—your body's main stress hormone. A high level of cortisol can make even the bulkiest men feel weak, which can lead to them resorting to steroids.
Here's Elliott Hulse talking about steroid use:
Elliott Hulse Before and After
Elliott Hulse has been fit his whole life—but one of the most significant changes to his body came when he started eating healthier after doing strongman. As seen below, he was packing some serious bulk.
After following a strict high protein, high fat, low carb diet, and drinking a lot of water every day, he lost 60 pounds. Below is Elliott weighing in at 200 pounds, but with a more pronounced, muscular physique.
Elliott Hulse Supplements
Elliott doesn't really promote supplements because he thinks most of them are "pure crap." The only ones he uses are fish oil, vitamins and the occasional green superfood shake.
However, there is one supplement that he used when preparing for a strongman show—creatine.
Creatine has an outstanding safety record and is one of the most widely used performance enhancers. Elliott swears by its efficacy, calling it "magical."
Elliott Hulse Quotes: Motivation and Inspiration
Elliott Hulse knows a thing or two about fitness, overall well-being and connecting with your higher self.
Some of his wise words include:
"Do the things you fear the most and fear will move out of the way."
"It's not about what you get, it's about who you're becoming."
"Just like you, I'm on the journey of Becoming The Strongest Version Of Myself. I'm not free from the challenges, struggles and growing pains of this journey."
"All of our challenges are also challenges for other people."
Elliott Hulse Summary
Elliott Hulse is one in a million.
From being a broke college student to dominating the YouTube fitness industry, he's earned his success.
What sets him apart from most other athletes is that he combines spirituality with fitness—according to him, being spiritually aligned is a part of being healthy.
Moreover, he's a social media star—he knows how to captivate people with his inspirational message of wellbeing.
Elliott Hulse has been making waves for years, and he's not stopping any time soon.
Sources
Legal SARMs Alternatives