Dorian Andrew Mientjez Yates is an English former professional bodybuilder, who is well-known for winning the Mr. Olympia title six consecutive times.
Dorian, also known as "The shadow" won his first olympia in 1992 and continued on to winning it all the way to 1997.
His record is the fifth highest number of Mr. Olympia awards, placing him behind the likes of Ronnie Coleman, Lee Haney, Phil Heath and of course, Arnold Schwarzenegger.
Stats
Height: 5 ft 10.5 in (179.1 cm)
Off Season Weight: 310 pounds (141 kg)
Competition Weight: 265 pounds (120 kg)
Upper Arm Size: 51 cm (20 in)
Thigh Size: 79 cm (31 in)
Waist Size: 88 cm (35 in)
Calf Size: 52 cm (20 in)
Chest size: 142.24 cm (56.00 in)
The sheer amount of weight stacked onto his fairly tall frame, made him one of the biggest guys on the lineup.
According to some bodybuilding experts and coaches, Dorian's back was one of the best (if not the best) of all time.
Overall, he didn't have that many weak points, besides maybe his biceps.
His physique has always flowed well but at one point, Dorian decided to up his game.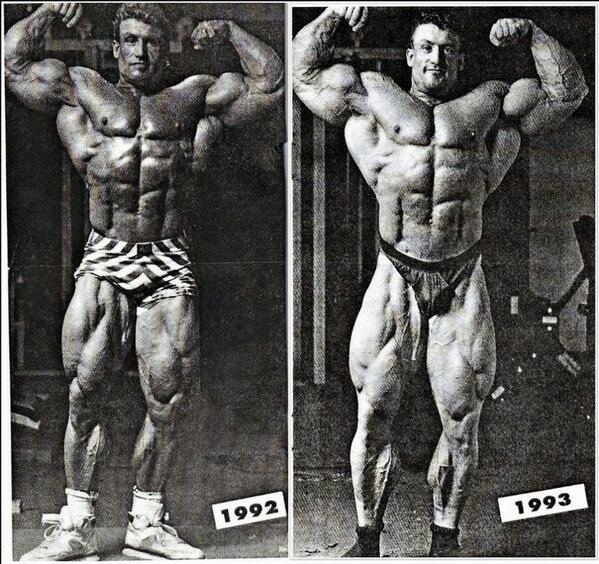 He is well-known for the immense progress he made for 1 year.
Allegedly, that was a kickstart and a pivoting point for the era of mass-monsters.
Needless to say, such progress at a professional level requires a bit of… Help.
"If I had not continued with my professional career at that critical point, when I competed in the 'Night of champions', I wouldn't have taken steroids, I would have stopped. And also, there's a psychological addiction to steroids, perhaps even a slightly physical one."

-Dorian Yates
Dorian is a man who can tell you everything about steroids. Judging by what he says, he is conscious about the use of steroids.
According to him, many people get into training because of insecurities. They want to be bigger, leaner, more powerful and stronger.
And Dorian admits that steroids will definitely help you take that to the next level.
However, there is also a Dark side to it.
"If your whole importance of self is built up on how muscular you are, you're never gonna want to stop taking steroids, because you're going to lose your gains. You just can't keep that level of development when you stop taking steroids. You always come down to a degree, so it's going to be a crash. A physical crash, a mental crash, so, all those things you need to know, before you step on that Merry-go-round."

-Dorian Yates
Check out the video below, where 6-time Mr. Olympia talks about steroids in detail: