With the increasing hype around this company, it's time for a Dedicated Nutrition review.
Here's the truth:
There are hundreds of supplement companies out there, both in retail stores and online.
Separating the real players from the pretenders is damn difficult.
You're with me on that, yeah?
Thing is, 21st century advertising techniques have taken things to a whole new level.
No longer is it just about products, promises and price – now social media has given things a whole new aspect.
Increasingly supplement manufacturers are enlisting the help of social media influencers.
Listen up:
Dedicated Nutrition places a lot of emphasis on their 'star user' – Simeon Panda.
But do the products stand up to scrutiny?
Here's the deal:
In this Dedicated Nutrition review you will discover the truth behind this company. In addition, the facts behind their main 'influencer' and whether their supplements actually do work.
Down to the serious business!
Who Are Dedicated Nutrition?

Let me kick off this Dedicated Nutrition review with a little bit of background on this company.
Dedicated Nutrition is the marketing brand of the supplement company Dedicated Brand USA, LLC.
It appears that they are entirely web-based, and man, do they have a serious online presence.
Get this:
These guys have all the social media covered, even the somewhat underused Google+. Whichever platform you are on, you will find they are there!
Primarily a supplement company, they push hard their ethos of 'Dominate through Dedication'.
This is mirrored throughout the numerous non-nutrition products they sell. It includes clothing, gym products and audio-tech.
Here's the key:
Dedicated Nutrition is aimed at the serious, no bullsh*t (their words!) bodybuilder.
That's the guys looking to hit each and every session like an animal.
But let me ask this:
They talk the talk, but have their supplements got what it takes?
Soon in this Dedicated Nutrition review we will find out. But first, onto their poster guy, Simeon Panda.
Who Is Simeon Panda?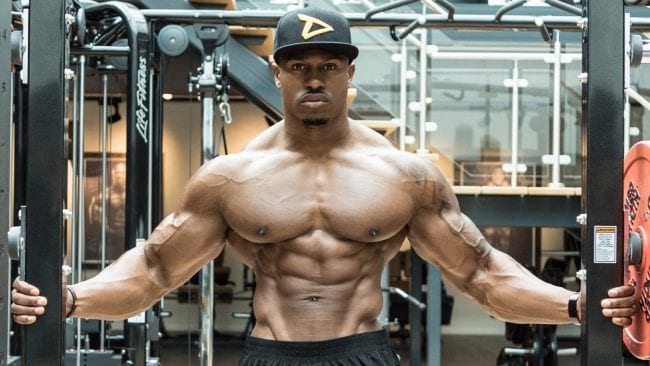 Simeon Panda is a British bodybuilder who became the Musclemania European champion in 2013.
This guy is known for two main things: his awesome physique and his social media power.
Listen to this:
Simeon Panda has an enormous 70 cm shoulder span combined with an impressive 35 cm waist giving him an awesome 2.0 shoulder/waist ratio.1
That's why he looks impressive!
What's more:
Simeon Panda claims that this phenomenal physique has been obtained 100% through natural means. Since Musclemania does have a drug testing regime – who am I to question it! 2
But it's his enormous following on social media that makes this guy front Dedicated Nutrition's advertising.
Here's the numbers:
With an alleged following in excess of 9 million subscribers, that's one heck of an audience!
In addition, Simeon Panda owns sportswear companies and has been featured in Forbes Top 100 influencers.3
He claims that Dedicated Nutrition's muscle building product EPIC is his favorite supplement of all time.
So, that's the deal on the company and their influencer, what about the products themselves?
What Are the Dedicated Nutrition Products?
Depending where you are in the world seems to influence what products are available.
On the US site, currently there appears only two nutrition supplements. On the EU version there are 15.
For this Dedicated Nutrition review I will therefore take a look at the top products on the EU site.
Dedicated UNSTOPPABLE
Our Rating: ★★★☆☆
Let me give you the lowdown in this UNSTOPPABLE pre workout review.
UNSTOPPABLE is a pre-workout supplement. It promises to provide a 'sensory sensation unlike any other available today'.
And it makes even more claims:
The guys behind it explains that it includes never before seen ingredients, and what it calls 'adaptogenic stimulants'.
Basically the harder you push yourself in the gym, the more this pre-workout supplement works.
That's the theory.
The product on the official website is actually its second incarnation. It's what many people refer to as Dedicated Nutrition UNSTOPPABLE v2.
As a pre-workout product, UNSTOPPABLE says it will:
Focus the mind
Raise energy levels
Improve blood flow
Provide massive pump
Give strength and endurance boosts
What Are the Dedicated Nutrition UNSTOPPABLE Ingredients?
With 13 ingredients and a single serving of 7000 mg – this is a hefty supplement.
And it really is heavy on the stimulants.
OK, I know this is a pre-workout and that's expected, but still, it's a little too much for my liking. These stimulants include:
Caffeine Anhydrous – a proven energy booster and focus enhancer 4
Selaginella tamariscina
Theacrine 5
Di-caffeine malate
It's true that Theacrine can provided energy boosts without crashing.
But when combined with other stimulants and the without the balancing power of taurine, it seems likely there could be a large come down.
In addition, UNSTOPPABLE includes the muscle building n-carbamylglutamate, rhodiola for endurance and trimethylglycine nitrate for a huge pump. 6 7
However:
There does seem a little bit of 'fill' in here too with the inclusion of vitamin C, thermopsis lanceolata and longan fruit.
Dedicated UNSTOPPABLE v2 Review Bottom Line
With the large number of stimulants this will definitely provide a kick to your workouts. But it could be too much.
There's more:
The proven muscle builders and endurance enhancers will most likely have some positive effect. However, I don't like to see extraneous ingredients included.
How Much Does Dedicated UNSTOPPABLE Cost?
One tub (30 Servings) costs £30.00.
Dedicated DOMINATE
Our Rating: ★★☆☆☆
No Dedicated Nutrition review would be complete without a look at its testosterone booster.
It's like this:
I'm sure you are already aware of testosterone's amazing power to improve muscle gain, shed fat and boost energy.
Which means:
Not only should a testosterone booster be the #1 supplement of choice, it makes sense for it to be the leading product of any nutrition brand.
Dedicated Nutrition's Dominate claims that it will:
Boost testosterone
Reduce estrogen
Raise human growth hormone
Build massive muscle mass in 'record breaking time'
Increase libido
Improve sleep
Provide amazing dreams (never heard that one before!)
Turn you into a real alpha male
Sounds impressive, yeah?
Let's see in this Dedicated Nutrition Review if it has the power to do this!
What Are the Dedicated Nutrition DOMINATE Ingredients?
With just eight ingredients, it's not the most packed T-booster I have ever seen.
I want to be positive, so let's start with the 'good'.
DOMINATE contains nettle extract and d-aspartic acid, both scientifically proven testosterone boosters. 8 9
The impressive thing about these two ingredients is that they work in different ways.
Here's how:
Nettle extract restricts the power of Sex Hormone-Binding Globulin to attach to testosterone. This means more testosterone is 'free' to be utilized.
D-aspartic acid stimulates the production of luteinizing hormone. This makes your balls work in overtime to produce testosterone!
In addition:
They have included Bioperine, a fantastic absorption enhancer. This results in the ingredients being utilized by the body and not expelled down the toilet!
Now the not so good!
Firstly, there are a couple of 'average' ingredients in DOMINATE.
The formulation includes acacetin which the product claims can inhibit aromatase.
This is the enzyme which is responsible for turning testosterone into estrogen.
While this has been shown to be true in women, there is little evidence it can do the same for men.10
Secondly:
Spilanthes acmella, a traditional aphrodisiac and anti-toothache herb, has been shown to conclusively raise testosterone levels in rats.
Human studies are mixed.
Dedicated DOMINATE Review Bottom Line
With some proven testosterone boosting ingredients, the formula is OK.
DOMINATE may have some T-enhancing power, but has omitted some of the really potent ingredients I would really like to see. Powerful boosters such as zinc, magnesium and fenugreek. 11 12 13
How Much Does Dedicated DOMINATE Cost?
One bottle (180 capsules – one month supply) costs £32.00.
Dedicated ENIGMA
 Our Rating: ★☆☆☆☆
The final product to look at in this Dedicated Nutrition Review is their fat burner and lean muscle builder, ENIGMA.
This supplement claims that it will:
Provide massive muscle pumps
Increase muscularity
Raise endurance
Burn fat quickly
ENIGMA promises to throw genetics out of the window and either provide massive muscle gains or serious fat loss. A serious claim for one product!
What Are the Dedicated Nutrition ENIGMA Ingredients?
Out of all the products in this Dedicated Nutrition review, ENIGMA has the least.
The guys behind it are putting everything behind one key ingredient, green tea extract.
Let me give you the science:
ENIGMA contains the green tea derivatives Epigallocatechin gallate (EGCG) and Epicatechin.
Studies have shown that green tea extract containing these compounds can increase follistatin and reduce myostatin in the body. In turn this can promote muscle gain.14
What's more, trials have shown that green tea can promote fat loss by raising the metabolic rate.
However:
That's it.
Admittedly there are some decent absorption enhancers in the formulation –  bioperine and astragin. But nothing more to build muscle or shed the fat.
Dedicated ENIGMA Review Bottom Line
In this Dedicated Nutrition review I have tried to be as positive as possible. But for me, ENIGMA is the weakest in the product line.
Although claiming to be a muscle builder and fat burner, it seems to be drastically lacking on both counts.
Let me explain:
For muscle building I would have like to see some serious amino acids included. And for fat burning a potent ingredient like garcinia cambogia.
Just having green tea makes it appear a little weak.
How Much Does Dedicated Enigma Cost?
One bottle (50 capsules) costs £37.00.
Other products in the Dedicated Nutrition review line include: Fusion Pro, Vaso Grow, Genesis, Gainz, Epic and Dedicated nutrition pack.

Is Dedicated Pre Workout Banned?
In researching for this Dedicated Nutrition review I discovered that the old version of UNSTOPPABLE had been discontinued due to its inclusion of AMP Citrate.
This ingredient had been disallowed by the FDA due to its similarity to the banned substance Dimethylamylamine (DMAA).
UNSTOPPABLE v2 however, as reviewed in this article, is perfectly fine and available for purchase.
Dedicated Nutrition Review Conclusion
I wanted to discover in this Dedicated Nutrition review whether their products actually worked.
So, I'll answer that straight away!
They might, to some extent.
I know that's not very committal but the facts are that their supplements appear distinctly average.
I'll be honest:
All three of their main products in this review do indeed contain scientifically proven ingredients that will achieve, within limits, the claims they make.
And in addition, it's fantastic to see that all the ingredients in their supplements are quantified. There are no proprietary blends here hiding underdosed ingredients.
But here's the downer:
All the products seem to lack a serious variety of other proven ingredients.
Why have just a few effective elements when the serious players in the market contain many more?
The bottom line:
Dedicated Nutrition is a respectable company fronted by the impressive natural bodybuilder Simeon Panda.
Did he achieve his amazing physique through using Dedicated Nutrition's products?
I doubt it. If he did, he took the difficult route.
In my opinion there are more potent products on the market than those from Dedicated Nutrition. That is where you should spend your bucks.
Dedicated Nutrition Review FAQ
"Are Dedicated Nutrition Products Available in the USA?"
Yes. Although as mentioned earlier in this Dedicated Nutrition review, products vary from region to region.
Check the official Dedicated Nutrition website for details.
"Do Dedicated Nutrition Products Work?"
To some extent, yes.
Out of all the products, the Dedicated Unstoppable review indicated it may be the best from Dedicated.
However, they do lack the powerful formulation that many of their competitors contain.
Equally, customer testimonials report mixed results. For some guys they work, for others not.
"Are There Dedicated Nutrition UNSTOPPABLE Side Effects?"
All of the Dedicated Nutrition products are made from natural and legal ingredients, so there should be no health problems.
However, as I highlighted earlier in this Dedicated Nutrition review, UNSTOPPABLE does contain a very high level of stimulants that could cause some issues.
As always, if you find any side effects when taking these products, stop immediately.
"What is Dedicated Nutrition EPIC?"
EPIC is a muscle builder containing creatine. I have not included a Dedicated Nutrition EPIC review in this article.
"Where to Buy Dedicated Nutrition?"
Dedicated Nutrition products are available from the official website and Amazon.
References
Recommended