CT Fletcher is one of the most intriguing and larger-than-life characters in the fitness industry. A guy who holds six world championship titles across bodybuilding and powerlifting competitions.
Known as the Superman from Compton—this muscle-bound legend survived multiple heart attacks and is still going strong!
Best Testosterone Booster For Men
Yet, revelations of an abusive childhood rocked the gym community.
Let's check out what makes him such an iconic, resilient figure.
Wiki
Before we get down to the story, take a quick look at the CT Fletcher Wiki:
Best Testo Boosters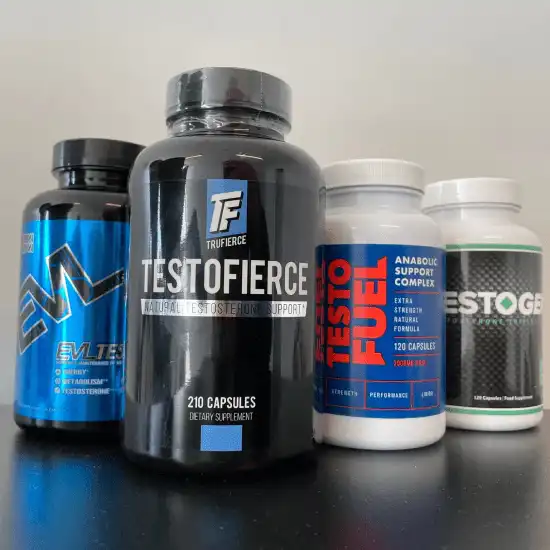 Age:                           60.
Date of birth:            8th June 1959.
Height:                      5 feet 11 inches (180 cm)
Weight:                      225-235 pounds (102-106 kg)
Nationality:               American.
Profession:              Powerlifter, bodybuilder, personal trainer and social media
personality.
Nickname:                Superman.
About
Born in Pine Bluff, Arkansas, CT Fletcher grew up in a poverty-stricken environment. His parents were struggling to make ends meet—with CT and his siblings suffering from extreme physical abuse at the hands of their father.
He joined the U.S. Army once he turned 18—finally able to escape from his father's strict and violent ways.
Best Testosterone Booster For Men
Stationed in Germany and free to explore his interests, he took up karate. By 1979, at the age of 20, CT Fletcher earned his second-degree black belt.
He returned from the Army, married his high school sweetheart and gained employment with the U.S. Postal Service. It's at this time that his interest in bodybuilding began—starting to compete in numerous shows.
He rose to prominence quickly as his strength rapidly increased. As he continued to train and become larger and more powerful—he transitioned to powerlifting. Even as a young, amateur lifter, he proved to be a match for many of his more experienced rivals.
CT Fletcher fueled his workouts through a high-calorie diet. Unfortunately, he didn't maintain healthy eating habits, and this eventually caught up with him.
His body struggled against all the vast quantities of processed foods and junk he was consuming. He developed hypertension, and the CT Fletcher heart couldn't handle all of this fat.
CT Fletcher Heart Attack Update
His family already had a history of heart failure—in 2004, his mother died from this issue. In 2005, Fletcher's health took a huge hit—undergoing open-heart surgery after suffering a myocardial infarction.
The champ survived—but spent months in intensive care. This meant his powerlifting days were over, and he had to find a new path.
He recovered slowly but surely, eating more healthy foods and lifting lighter weights. CT Fletcher was even able to compete in a few amateur bodybuilding contests.
In 2017, he suffered another heart attack and was placed on the waiting list for a transplant. On May 6, 2019, he underwent eleven-hour transplant surgery.
Today, he's getting back into shape once again. This man is relentless, even at age the age of 60.
The documentary—My Magnificent Obsession—details the CT Fletcher heart attack and his recovery.
CT Fletcher Young
These CT Fletcher young images show how he looked in his earlier years:
Here's a remarkable video illustrating CT Fletcher's transformation from a child to a bodybuilding mammoth:
CT Fletcher Net Worth
The CT Fletcher net worth is approximately $1.5 million. This revenue is mostly from his entrepreneurial endeavors (Iron Addicts Gym chain) and his YouTube vlogging.1
Workout Routine
Surprisingly, the CT Fletcher Workout routines don't follow a regimented pattern. Instead, he concentrates on whatever muscles he feels like training that particular day and aims for the highest number of reps possible.
He believes that the key to gaining and maintaining a great physique is to consistently change workout types. The theory is to never get too comfortable in one routine and let the muscles adapt.
He advocates the one-movement workout. It consists of performing a single exercise non-stop until you can't do any more reps—although he doesn't suggest following this program all the time.
This kind of high-volume, repetition training is extremely draining but effective.
This is what a typical week for him could look like:
Monday—Chest
Barbell bench press                                    20 sets           1-20 reps
Incline dumbbell press                               3 sets              5 reps
Close, normal and wide grip chin-up       1 set                10 reps per position
Incline bench cable fly                               5 sets              12 reps
Here's the CT Fletcher chest workout:
Tuesday—Back
Bent over row                                               2-3 sets          10 reps
Close-grip seated cable row                      2-3 sets          10 reps
Straight arm pushdown                              1-3 sets          15 reps
Hammer strength lat pulldown                  2-3 sets          10 reps
Check out the Superman with a combined chest and back workout:
Wednesday—Rest
Thursday—Shoulders
Barbell press                                                 10 sets           10 reps
Single-arm dumbbell press                        10 sets           10 reps
Side lateral raise                                          4-5 sets          20 reps
Bent-over dumbbell lateral raise               5 sets              15 reps
Follow CT Fletcher's Agony of the Shoulders workout here:
Friday—Legs
Seated machine leg curl                            3-4 sets          12 reps
Hack squat                                                    4-5 sets          10 reps
Barbell squat                                                2-3 sets          12 reps
Sled push                                                      30-40 mts       6 rounds
He doesn't mess around on leg day:
Saturday—Arms
Follow the CT Fletcher arm workout in the next section.
Sunday—Rest
Take the day off, or perform some light cardio for 20-30 minutes.
CT Fletcher Arm Workout
This is his famous, highly-effective, seriously-intense arm workout—known as Armed Warfare.
Warm-Up
Triceps cable pulldown                               10 sets           10 reps
Biceps cable curl                                         10 sets           10 reps
Workout
Dumbbell single-arm preacher curl          2 sets              To failure
French curls                                                 4 sets              To failure
T-curl                                                              2 sets              To failure
Two position dumbbell kickback               2 sets              40 reps per arm
Three position reverse-grip pull-up          1 set                30 reps
Underbar tricep extension                          2 sets              To failure
Gauntlet for triceps                                      1 pyramid       20 reps
ISYMFS
Although the death of his mother was devastating to him—he wanted to commemorate her life. So, he coined the phrase—It's Still Yo Mutha Fuckin Set! Or, ISYMFS. It remains one of the most memorable CT Fletcher quotes.
This embodies her strength and outlook on life.
He explains that his mother, despite being in failing health, remained true to her ideologies. That is, putting adversity aside and being the best person she could be—whatever life had thrown at her.
This fuels his training—pushing himself to the limit and focusing on overcoming all obstacles.
Diet and Nutrition
Fletcher's poor diet habits damaged his heart.
Now he maintains a healthy lifestyle—with clean eating being the focus. His macronutrient intake is made of 10 percent fat, 50 percent protein and 40 percent carbs.
Meal #1
12 egg whites (omelet).
One handful of leafy green vegetables.
Two servings of chicken or lean turkey breast.
Protein shake.
Meal #2
One serving of salad of choice, with a can of Albacore tuna.
Meal #3
Two servings of ground turkey.
Two cups of brown rice.
Meal #4
Eight ounces of chicken breast.
Sauteed vegetables.
Meal #5
Two cups of brown rice
Protein shake.
Take a look at him talking about diet:
Does CT Fletcher Take Steroids?
In the past, he competed in the INBA bodybuilding federation—who not only randomly test blood and urine for 'roids, but they also conduct polygraph tests on the competitors.
He passed every time.
However, the actual CT Fletcher steroids truth is on record. In interviews, he explains that he used synthetics. Although, he now regrets taking them and advises others not to follow his example.
Here he is discussing his steroid use:
Before and After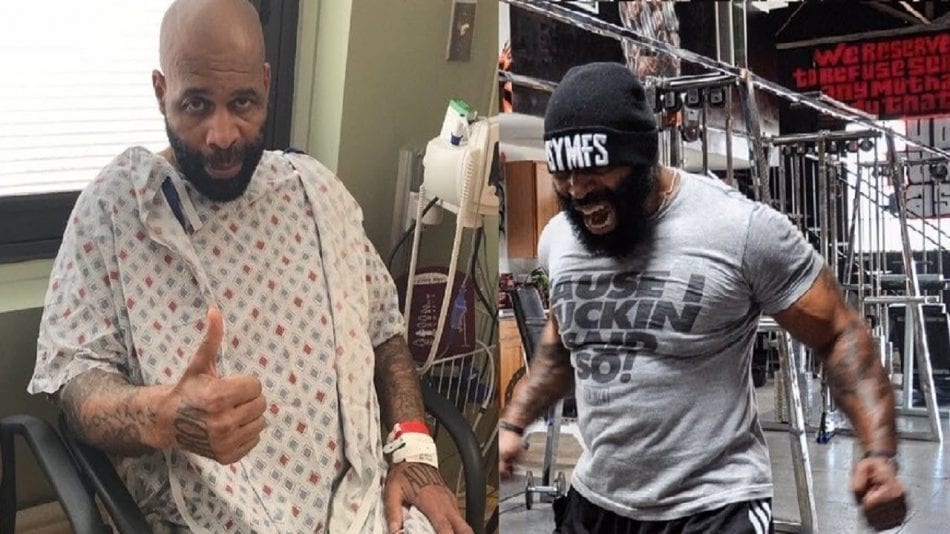 Few images exist of him before he began working out. However, what is possibly more remarkable is the immense recovery he made after the CT Fletcher heart transplant.
Here's the incredible story:
Supplements
Under the Iron Addicts Gym brand—there exists a CT Fletcher supplements range—including a pre-workout, pump booster and BCAA supplement.
CT Fletcher Pre-Workout
This popular training enhancer includes beta-alanine to counteract the stamina-killing effects of lactic acid. The CT Fletcher pre workout comes in a nine-ounce pack and has a Compton Coolaid flavor.
CT Fletcher Quotes: Motivation and Inspiration
Here are some CT Fletcher motivation quotes:
"You must become obsessed with obtaining what you are trying to get, you have to be obsessed with it."
"I hate complainers…I hate criers. If I can come in here with a metal valve implanted in my chest, taking ten different medicines just to stay alive every day to do my work out, you have no excuses."
Frequently Asked Questions
"How Old Is CT Fletcher?"
The CT Fletcher age is 60 years old.
"How Tall Is CT Fletcher?"
The CT Fletcher height is 5 feet 11 inches.
"Who Is CT Fletcher?
He is an American powerlifter and bodybuilder who had heart transplant surgery.
"What Happened to CT Fletcher?"
He suffered from two heart attacks and had a heart transplant.
"What Does ISYMFS Mean CT Fletcher?"
This is his mantra—It's Still Yo Mutha Fuckin Set!
"How Much Is CT Fletcher Worth?"
It's estimated his net worth is $1.5 million.
"How Much Does CT Fletcher Weigh?"
He currently weighs around 225 pounds.
"Where Is CT Fletcher Gym?"
The CT Fletcher Gym is in Signal Hill, California.
Summary
Having endured an abusive childhood and suffered from severe medical problems, he could have given up on his dreams with ease.
However, even with his deteriorating health, he continued to power on in the fitness world. A black belt in karate, powerlifter and six times world champion, CT Fletcher truly defeats the odds.
After a long and fruitful career in bodybuilding, Fletcher is now working to motivate others and encourage young athletes to take care of their health.
With his successful gym chain and sensational online presence, the legend continues to surprise us.
Sources
Legal SARMs Alternatives