Craig "Goliath" Golias from America is one of the most extreme bodybuilder around, his transformation from a skinny boy to a hulk looking man is incredible and he has gained a lot of attention for his incredible physique.
He started his bodybuilding journey when he was 20 years old and his progress since then is mind-blowing as he has gained 200 lbs of muscle mass since starting his journey.
Best Testosterone Booster For Men
He is one of the most freakish bodybuilder in the game today.
What are Greg Golias Stats like?
Craig Golias weight is 350-360 lbs, his height is 6'3 and he is 37 years old.
Craig Golias is so big and has so much muscle that in many of his pictures look like they have been photoshopped
He looks bigger in his pictures than many of the pro bodybuilders that regularly compete.
Best Testo Boosters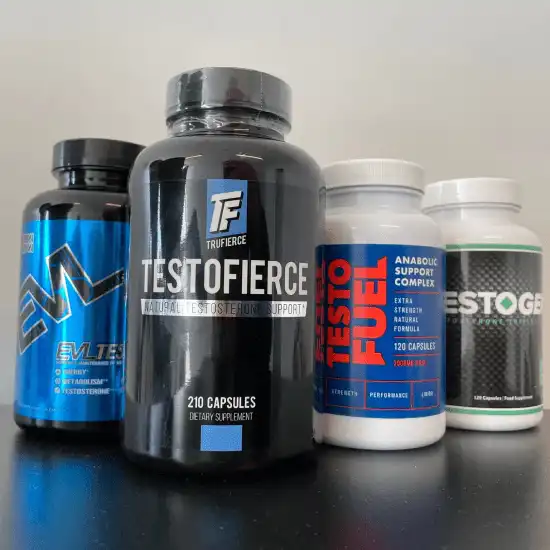 How did Craig Golias become so famous?
He truly is one of a kind there is nobody that looks like him and he gained popularity because of his freaky physique which he has spent years developing. Obviously a unique physique like he has will make people wonder about his training and diet.
Craig Golias used to compete in bodybuilding his last show was back in 2010 and for now he has stopped competing in bodybuilding shows.
How did Craig Golias get so big?
In an interview with Generation Iron Craig Golias says:
High calories and carbohydrates are very important when you are trying to grow.
He also states that he eats at least 50 grams of protein with every meal and he eats every three hours.
Craig also shared his training method:
The way I train is I try to go as heavy as possible to put on that muscle muss, but as long as you are doing 10-12 reps you're good. If you go any lower you are moving more towards powerlifting.
He further elaborates and talks about throwing in supersets here and there.
You are throwing around 3-4 plates and you only get 8 reps, you take a plate off and do 10 more lighter ones.
Craig also talks about the importance of good food, he also says he uses protein shakes especially before bedtime because it's hard to get a meal in right before bed.
He doesn't reveal the exact calories he eats per day but he says that his last meal is his biggest meal because he doesn't want to feel full throughout the day. That's why he chooses to eat his biggest meal as his last meal so he doesn't have to worry about feeling to full.
Does Craig Golias have a wife?
Little do we know about Craig's current relationship status but he has posted pictures of himself with a blond woman on his Instagram account, we have not found verified information if this is wife or even her name. Definitely looks to be his girlfriend based on picture.
Best Testosterone Booster For Men
What about Craigs Golias past wife/marriage?
There are pictures on the internet of Craig Golias and Gizel Rodriguez, even pictures that look to me like a wedding ceremony from 2013. According to a lot of websites on the internet, they got married, but we don't know if they still are.
What about Craig's quotes and sayings?
Craig Golias has a phrase he uses in his instagram posts he ends many of them with "SAAAP"
He also "outangles" every person he takes a picture with.
The frequently wears a shirt that has "Fu%K skinny get huge" on it.
He also uses another saying "That angle is 9k"
Craig talks a lot about his bicep peaks, "Peak check"
One thing is for certain Craig "Goliath" Golias is a very unique and interesting bodybuilder that doesn't care about bodybuilding shows.
He just want's get bigger and he loves what he does.
His crazy pictures of him with his strangely massive body have gained a lot of popularity and he has almost 500 thousand followers on instagram.
Before we end this article we have to share with you probably the most famous picture/meme of Craig Golias
Legal SARMs Alternatives