Chris Bumstead is a phenomenon—seemingly appearing from nowhere in 2014 and winning Olympia just five years later.
From the moment this classically-built lifter demonstrated his Schwarzenegger-like vacuum pose—the bodybuilding world knew he was something special.
Best For Bulking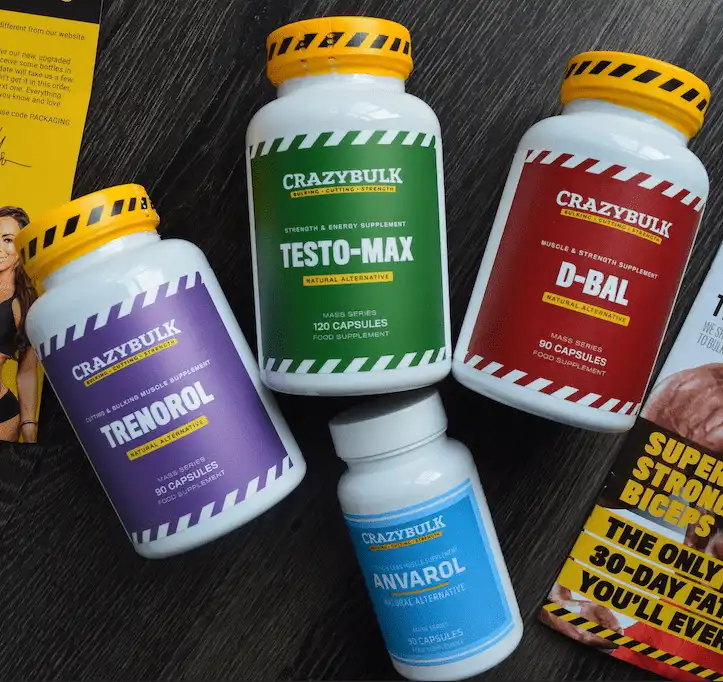 Yet, with a reputation of stealing away other guys' girlfriends—Chris Bumstead may not be the entirely wholesome figure he likes to promote.
Here's the complete mind-blowing story.
Chris Bumstead Wiki
Age:                           28.
Date of birth:            2nd February 1995.
Height:                      Six feet one inch (185 cm).
Weight:                      215-225 pounds (97.5-102 kg).
Profession:              Bodybuilder, social media influencer and ebook author.
Nationality:               Canadian.
We Recommend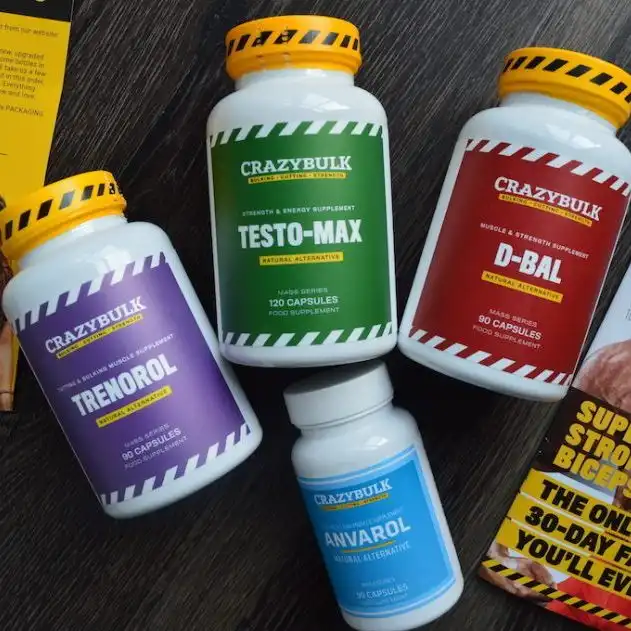 About Chris Bumstead
Born in Canada in 1995, the young Chris Bumstead was a keen sportsman—in school, he competed in football and track.
He explains that during these early years—he fell in love with gym work—enjoying both the physical transformation and the buzz it gave him. However, it was an outside influence that pushed him into competition.
"It wasn't until I met my now close friend and sister's boyfriend, Iain Valliere, that I even considered competing. He was and still is a huge mentor to me."
He entered his debut competition in 2014 and gained his first title just a year later in the CBBF National Bodybuilding Junior Championship.
Numerous fitness magazines said that he was the guy to watch on the circuit—and they were right. Just five years later, Chris Bumstead became the Mr. Olympia Men's Classic Physique champion.
In addition to his competitive bodybuilding, he retails his training programs and apparel through his official website. Furthermore, he has a massive social media base—with 230k subscribers on his YouTube account and one million followers on the Chris Bumstead Instagram account.
Currently, he lives in California. It's reported that the current Chris Bumstead girlfriend is the bikini model, Courtney King. Insiders allege that she left the online fitness trainer Steve Cook to be with him.
Chris Bumstead Bodybuilding Wins
2015               CBBF Canadian National Bodybuilding Championship Men's Junior
2016               IFBB North American Bodybuilding Championships, 1st (Pro Card)
2017               IFBB Pittsburgh Pro
2019               IFBB Mr. Olympia Men's Classic Physique
Chris Bumstead Net Worth
The Chris Bumstead net worth is estimated to be $5 million.
Chris Bumstead Workout Program
The Chris Bumstead workout follows a five-day rotation. That is, he works different muscle groups for five days, and then starts the program again.
This means that he rarely has a day off. He explains that the only time he allows himself a rest day is if he's feeling completely exhausted or ill.
He favors compounds exercises and recommends to his Instagram followers that, if short on time, they concentrate on squats, dumbbell presses and barbell bent-over rows.
Here's an example of his five-day rotating program:
Monday—Back
Deadlifts 4 sets              10-8-8-8 reps
Bent over rows 4 sets              12-10-10-8 reps
Lat pull downs (wide grip) 4 sets              12-15 reps
Assisted pull ups (wide grip) 4 sets              12-15 reps
Straight arm pull downs 4 sets              12-15 rep
Dumbbell rows 4 sets              15-12-10-10
Machine rows 3 sets              20 reps
Hyperextensions 2 sets              10 reps
Take a look at Chris Bumstead working out his back at the legendary Gold's Gym, Venice, California.
Best Cutting Stack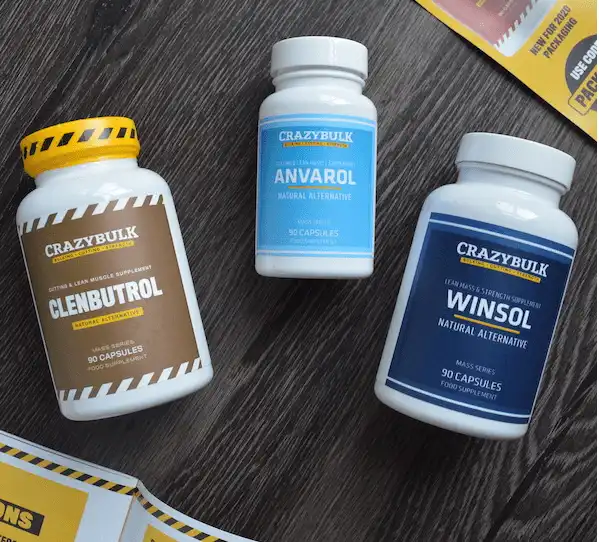 Tuesday—Chest and Biceps
Incline dumbbell bench press 5 sets              15-15-12-12-10 reps
Smith machine bench press 4 sets              12-10-8-8 reps
Incline dumbbell flyes 3 sets              15-12-12
Cable flyes 3 sets              15-12 reps
Push ups 3 sets              To failure
Barbell curls 3 sets              15 reps
Reverse barbell curls 3 sets              To failure
Machine preacher curls 3 sets              10-12 reps
Hammer curls 2 sets              10-8 reps
Just seven weeks away from the 2019 Mr. Olympia, here's Chris Bumstead pushing his arms hard:
Wednesday—Hamstrings and Glutes
Lying leg curls 4 sets              15 reps
Straight leg deadlifts 4 sets              15-20 reps
Standing leg curls 2 sets              4-5 reps
Reverse hack squat 4 sets              15-20 reps
Single leg glute pushdowns 3 sets              12-15 reps
Watch Chris Bumstead completing a massive leg workout:
Thursday—Shoulders and Triceps
Dumbbell lateral raises 3 sets              15 reps
Dumbbell shoulder press 3 sets              12 reps
Barbell front raise 3 sets              12 reps
One arm cable 4 sets              20-15-12-12 reps
Upright rows 3 sets              15-12-12 reps
Rope face pulls 3 sets              15-12-12 reps
Machine lateral raises 3 sets              15 reps
Bench dips 4 sets              12-15 reps
EZ-Bar skull crushers 4 sets              12-15 reps
Reverse barbell skull crushers 4 sets              8-10 reps
Single arm cable kickbacks 3 sets              12-10-8 reps
This is how Chris Bumstead achieves those massive shoulders:
Friday—Quads
Leg extensions 3 sets              15 reps
Squats (heavy sets) 2 sets              8 reps
Squats (light sets) 6 sets              10-12 reps
Leg press 4 sets              40-30-20-10 reps
Leg extensions 4 sets              15 reps
Standing lunges 4 sets              6-8 reps
Here's an in-depth look at the Chris Bumstead quad workout:
Chris Bumstead Diet
When bulking, he aims to hit around 6000 calories per day. Often, he will knock back some hefty carbs just before a workout to power him through his training.
Wherever possible, he tries to remain strict with his diet—especially when leading up to competition. This includes avoiding any new or unusual foods in his meal plans—as he says,
"It's key not to add in new foods close to a competition because I don't know the effect it can have on my body."
Here's a typical day from the Chris Bumstead diet:
Meal #1
5 cups of egg whites.
Two whole free-range eggs.
One cup of cooked oats.
Meal #2
Eight ounces of grilled chicken breast.
One cup of whole-grain rice.
Eleven ounces of mixed green vegetables.
Meal #3
Eight ounces of white fish.
Seven ounces of organic sweet potato.
Eleven ounces of mixed vegetables.
Meal #4—Pre-workout
Seven ounces white fish.
Two cups of whole-grain rice.
Meal #5—Post Workout Shake
Fifty grams of whey protein Isolate mixed with eight ounces of water.
Meal #6
Eight ounces of grilled chicken breast.
Six ounces of organic sweet potato.
Two ounces of broccoli.
Two ounces of asparagus.
Meal #7
5 cups of egg whites.
Three free-range whole eggs.
Eleven ounces of mixed green vegetables.
Let Chris Bumstead take you through his specific Mr. Olympia diet:
Is Chris Bumstead on Steroids?
Since his Mr. Olympia win, the Chris Bumstead steroids question has gained momentum on bodybuilding forums. But, is he juicing?
Firstly, in his favor, it seems he may have been tested—and found not to be using.
He participated in the CBBF (Canadian Bodybuilding Federation). According to their official policy page on drug use, they carry out random tests on athletes performing in their contests.1
However, there are allegations within the industry that the process is more selective than random—and the CBBF only tests bodybuilders they know are natural. Although, there's no evidence that this is true.
He hasn't denied using steroids, nor has he admitted injecting them.
Physically, the gains made to his shoulders over the past few years have been dramatic. He has some massively cannonball-like delts—often a sign of synthetic use (due to the number of androgen receptors in these muscles).
Hence, it's likely he is using steroids—but it's not proven.
Chris Bumstead Before and After Transformation
From a toned footballer in high school to the shredded winner of the 2015 CBBF National Championship—his transformation took just two years.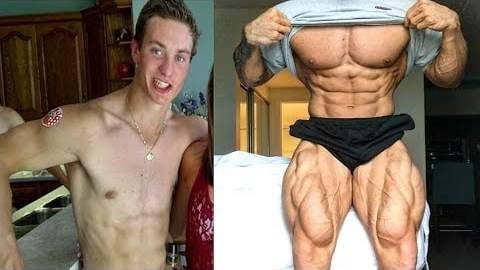 Chris Bumstead Supplements
He is the brand ambassador for the supplement company Jacked Factory. In interviews, he's indicated that he uses the following products:
Whey protein isolate.
BCAAs.
Creatine monohydrate.
Vitamin B.
Fish oil.
Glutamine.
Carb powder.
Multivitamin.
Alpha-lipoic acid.
Vitamin C.
Chris Bumstead Quotes: Motivation and Inspiration
Here are some wise words from him:
"If you look in the mirror and you don't see the perfect version of yourself—you better see the hardest working version of yourself."

"Sometimes for motivation, it doesn't hurt to have a pretty girl in the gym."

"There are experiences you have in life where everything around you seems to just fade away, and nothing else matters, apart from the moment you are in. Forget about success, money, and objects. Live a life chasing moments like this."
Chris Bumstead Frequently Asked Questions
"How Tall Is Chris Bumstead"
The Chris Bumstead height is six feet one inch.
"How Old Is Chris Bumstead?"
The Chris Bumstead age is 28 years old.
"How Much Did Chris Bumstead Weigh at Mr Olympia?"
The Chris Bumstead Olympia weight was his favored 225 pounds.
"What happened to Chris Bumstead's Kidney?"
Chris encountered some issues with his kidney in one of his competition prep, his body swell up and held water.
"What Steroids Does Chris Bumstead Take?"
Although he has made some massive gains over the past five years—there's no actual proof that he is using synthetics.
"How Big Is Chris Bumstead?"
He is 185 cm tall.
"When Did Chris Bumstead Start Training?"
He started training at the age of 14.
Chris Bumstead Summary
Chris Bumstead is an anomaly.
He burst onto the bodybuilding stage just a few years ago—and already has become a Mr. Olympia champion.
He shows us that sometimes, if you work hard enough—you can reap the rewards faster than you could ever imagine.
Sources