With a towering and ripped physique, a massive following including Arnie himself and a forces career that saw him operating in the hostile Middle East—Cedric McMillan is a real-life action hero.
Yet, behind this apparent success, there lies a man often criticized by his bodybuilding contemporaries and bodybuilding fans alike.
Best Testosterone Booster For Men
So, is he a hero or a villain?
This article exposes the astonishing truth behind Cedric McMillan.
Cedric McMillan Wiki
Age:                                       42.
Best Testo Boosters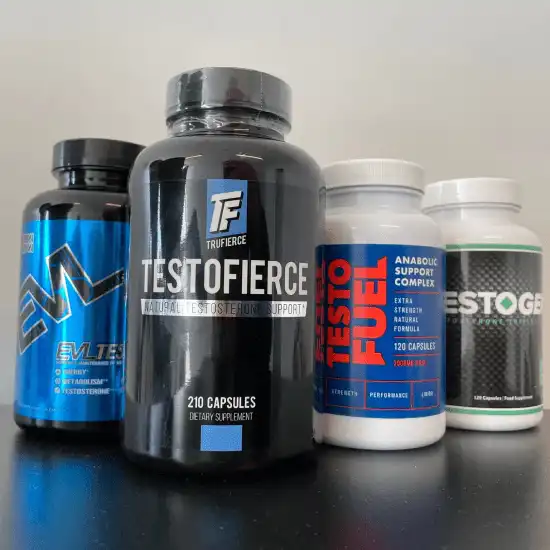 Date of birth:                        17th August 1977.
Height:                                  6 feet one inch (185 cm).
Weight:                                  280 pounds (127 kg).
Instagram:                            cedricmcmillan
Profession:                          Bodybuilder, social media personality and army Staff
Sergeant.
Nationality:                           American.
Nickname:                            The One, Black Arnold.
About Cedric McMillan
Born in 1977 in Lancaster, South Carolina—Cedric McMillan didn't have the easiest of starts in life.
An absent father and a single-mother depending on welfare handouts for Cedric's food and diapers—meant nothing was going to come easy to this future superstar.
Best Testosterone Booster For Men
You probably think that this instilled a desire to succeed or the formation of a tenacious attitude. But this isn't a movie—Cedric has never been that bothered about competition.
He explains:
I didn't develop competitive spirit. When I was in junior high, a football coach asked if I wanted to play football. I was intimidated. I didn't wanna be the guy who didn't catch the ball…I was more into just doing stuff by myself.
Yet, he became fascinated by muscle. Seeing pro-bodybuilders on the TV and engrossed by Arnie in Conan the Barbarian (1982)—led him to want to be big from an early age.
When he was 13, his mom bought him a set of weights—although he wasn't allowed to use them unsupervised. However, Cedric ignored his mother's wishes and would train every time she left the house.
After relatively uneventful school years—where he remained dedicated to his weightlifting—he enlisted in the army. Although he was deployed to Iraq in 2003—this wasn't going to interfere with his training.
As these Cedric McMillan army photos show—he even built a gym in the sweltering heat of the desert camp.
When he returned to the USA—Cedric McMillan worked hard to prepare for competition—eventually winning the NPC Nationals in 2009. Often, this is seen as a springboard for success—being the same title won by the legendary Lee Haney.
But, the big-time has been hard.
Bodybuilding contemporaries criticize him for frequently being out of shape. Fans say he lacks the killer instinct to win.
Others, including Schwarzenegger, have said that he's one of the most aesthetic bodybuilders of all time—it's the sport that's going in the wrong direction.
However—just this year, his second place in the Arnold Classic illustrated he can make it at the top.
The question is, at 42 years of age—is his time running out?
Presently, Cedric spends most of his spare time at home with his wife and three kids. If you want to keep an eye on his progress, he frequently posts on both YouTube and Instagram.
Cedric McMillan Net Worth
Current estimates indicate that the Cedric Mcmillan net worth is between $1-2 million.
Cedric McMillan Bodybuilding Career
2008   1st       National Physique Committee Juniors
2009   1st       National Physique Committee
2010   4th      Europa Dallas Pro
2011   11th    New York Pro
2011   1st       Europa Orlando Pro
2012   1st       New York Pro
2013   6th      Arnold Classic
2013   1st       FIBO Power Germany
2013   12th    New York Pro
2013   12th    Olympia
2014   3rd      Arnold Classic
2015   4th      Arnold Classic
2015   2nd     Arnold Classic South America
2015   1st       Golden State Pro
2015   2nd     Europa Atlantic City Pro
2015   3rd      Nordic Pro
2016   2nd     Arnold Classic
2016   2nd     Arnold Classic Australia
2016   7th      Olympia
2017   1st       Arnold Classic 1
2017   10th    Olympia
2018   3rd      Arnold Classic
2018   3rd      Toronto Pro
2018   9th      Olympia
2019   4th      Arnold Classic
2019   2nd     Arnold Classic Australia
Here's an awesome Cedric McMillan Arnold Classic 2019 video. Witness how he throws in some of Arnie's classic moves—and then the Terminator himself demands a selfie with Cedric!
Cedric McMillan Workout Program
To build and maintain his phenomenal X-physique—the Cedric McMillan workout routine involves working every muscle group on separate days per week.
However, he also explains that in building up to competition, he will increase the intensity by working the biceps and triceps every other day—in addition to that days' muscle group.
Often, he will complete the first exercise set of the day really slowly—believing it to be the ideal warm-up for the muscles concerned.
Here's a typical week:
Monday—Chest
Pec deck flye                                    4 sets                          12 reps.
Cable crossovers                 2 sets                          12-15 reps.
Low incline dumbbell flye  3 sets                          12 reps.
Incline barbell press                        1 set                            20 reps.
Tuesday—Back
Barbell row                            3 sets                          12 reps.
Lat pulldown                         3 sets                          12 reps.
One arm cable pullover      3 sets                          12 reps.
Hyperextension                    3 sets                          20-25 reps.
Watch the Cedric McMillan back workout—completed by the man himself:
Wednesday—Rest
Light cardio—20 minutes.
Thursday—Shoulders
Smith machine press          3 sets                          12 reps.
Cable lateral raise                3 sets                          12 reps.
Bent over lateral raise         3 sets                          12 reps.
Forward dumbbell press     4 sets                          12 reps.
This video shows Cedric McMillan working his shoulders in his hometown gym:
Friday—Legs
Quad leg extensions           3 sets                          12 reps.
Seated leg curls                   3 sets                          12 reps.
Lying leg curls                      2 or 3 sets                  12 reps.
Machine calf raise               5 sets                          10-12 reps.
Take a look at the Cedric McMillan calves in action:
Saturday—Arms
O'head cable extension     3 sets                          12 reps.
Standing barbell curl           2 sets                          20 reps.
Concentration curl               2 sets                          20 reps.
Decline lying triceps                        3 sets                          12 reps.
extension (cambered)
Sunday—Rest
Light cardio—20 minutes.
Cedric McMillan Diet
To maintain his awesome physique, Cedric McMillan typically eats five to six times per day.
Recently, he's been working with the legendary bodybuilding guru Chris Aceto to ensure that his nutritional requirements are met and is in perfect condition for competition.
Here's a typical daily meal plan:
Meal #1
Oats.
One large banana.
Six egg whites.
One whole egg.
Meal #2
Chicken breasts.
One cup of rice.
Spinach.
Meal #3
Steak.
Sweet potatoes.
Curly kale.
Meal #4
White fish.
One cup of rice.
Meal #5
50 grams of whey protein isolate.
Meal #6
Steak.
Lettuce and rocket salad.
Is Cedric McMillan on Steroids?
Cedric McMillan always denies the use of synthetics—but not with a great deal of conviction.
In a recent Q and A session, when asked about how he responds when questioned about steroid use, he said:
I laugh and say 'no'… I say I eat 400 grams of protein a day, eight meals, and train six days a week… that usually changes the subject.
But then, ask most of the pros in the IFBB, and you'll get the same answer.
Let's face it—steroid use in the professional ranks is one of the worst kept secrets in bodybuilding—despite what the regulatory committees say. If you want to compete at the top—you're gonna have to juice.
However, when you look at the Cedric McMillan height to mass ratio—he's not a behemoth. And, this is probably one of the reasons he's never been consistently winning in the modern bodybuilding "monster trend."
The symmetrical physique—like Schwarzenegger—seems to indicate that if he is using—he's not abusing. There's no evidence of the tell-tale 'roid gut associated with HGH use.2
Cedric McMillan Before and After
Take a look at these images:
From his toned army years in the late 1990s to the competition-winning physique of today—his appearance seems to be in line with steady progress.
However, watch the below video—detailing his change from a child into a competitive bodybuilder. Pay particular attention to the difference between the ages of 26 and 30 years.
During this time, not only did he massively bulk—but his whole body composition appeared to change.
Diet and training—or synthetics? I'll let you be the judge.
Cedric McMillan Supplements
Protein and BCAAs—these are the two main products that Cedric McMillan often refers to in interviews.
With a hefty daily protein and amino acid requirement—that would equate to a heck of a lot of meat—hence the need for supplementation.
Business-wise, Cedric McMillan is sponsored by and works as a brand ambassador for the Hungary-based Scitec Nutrition.
Cedric McMillan Quotes: Motivation and Inspiration
In addition to his numerous photos, the Cedric McMillan Instagram account is packed full of his inspiring musings. Here are a few examples:
"Life ain't about trying to prove shit to nobody. It's about living. So do things your way."
"Making gains over a long period takes some serious creativity. You shouldn't be afraid to try new things in the gym."
"We are all worthy. None of us are greater or less than the other."
"Bodybuilding is in my heart, and I do it because I love it. It is a goal for me to be successful at representing what bodybuilding was all about—back when I fell in love with it."
Cedric McMillan Summary
Cedric McMillan isn't your typical bodybuilder.
He rejects the overt masculinity of the sport—seeing it more as an aesthetic discipline rather than a competition between testosterone-driven Hulks.
As he says:
I just can't equate bodybuilding as going to war…It's standing up beside a bunch of other half-naked dudes in a beauty pageant….it's not freakin' MMA—we're just trying to look beautiful.
Maintaining his almost Golden-Era physique requires discipline and hard work. His critics could be seen to be wrong—it's not him who is misguided—it's the sport.
And, when you have the backing of Schwarzenegger himself—who are we to argue?
Sources
Legal SARMs Alternatives