You could consider Brad Castleberry to be the most controversial bodybuilder in the world.
With good looks, an immense physique and seemingly unparalleled strength—you'd expect him to be respected as the pinnacle of lifting prowess.
Best Testosterone Booster For Men
Yet, the majority of his initially impressive 750k Instagram followers aren't admiring him—they're saying he's a fake.
Get ready for the shocking Brad Castleberry story.
Wiki
Here's the info on Brad Castleberry age and other stats:
Best Testo Boosters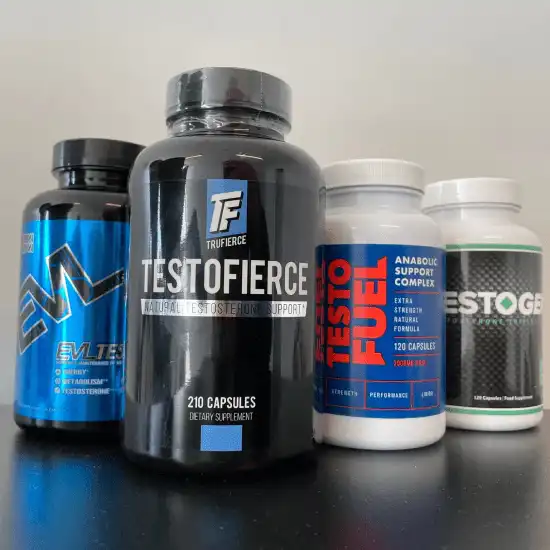 Age:                                       35.
Date of birth:                        10th June 1985.
Height:                                  5 feet 10 inches (177.8 cm).
Weight:                                  245-255 pounds (111-115 kg).
Nationality:                           American.
Profession:                          Powerlifter, bodybuilder and entrepreneur.
About Brad Castleberry
Bradly Scott Castleberry was born in San Diego in 1985.
Growing up with his father and grandfather, both keen fitness enthusiasts, he was introduced to bodybuilding at a young age. He explains he was just eight years old when he became obsessed with muscles and flexing.
In 1997, aged 12 years, he received his first workout bench as a Christmas present. Three years later and his mom purchased him a membership to the local LA Fitness center.
His enthusiasm for bodybuilding never waned, entering his first competition in 2004. Just two more years and Brad Castleberry would win the Musclemania Junior Championships and receive his Pro card.
Best Testosterone Booster For Men
While still lifting—he concentrated on football for two seasons. Although successful, this Brad Castleberry football career was short-lived. The allure of working out was too great, and so he began to concentrate all his efforts on the gym.
This time, he focused on the really heavy iron, working hard on his powerlifting technique.
It's these incredible and massive lifts that have enabled him to become both an Instagram sensation and brand ambassador today.1
Yet, as you'll soon discover, this isn't without controversy.
Fake Weights – What's That All About?
There's no doubt that Brad Castleberry is a strong guy. But, it's the Instagram videos of him completing unbelievable lifts that's the issue.
Briefly, he claims to push out an 800 pound squat, 750 deadlift and 700 bench—all of which would be world records—if they are real (for someone weighing 240 pounds).
Here are some examples:
The problem is, these lifts are never independently verified, often include his own "special" plates and are not achieved in competition. On numerous occasions, professional powerlifters have called him out—asking him to try and outlift them.
The most famous of which is probably the Brad Castleberry Brian Shaw saga. The four-time World's Strongest Man challenged Brad to a competition—even offering to pay for his flight to Shaw's home.
Incredibly, Brad Castleberry agreed.
Unfortunately, that was back in 2017. Two years later and Shaw is still waiting.
Here's a video of their exchange:
The guys disparaging Brad Castleberry explain that, in his videos, he uses fake plates—and many of his images are photoshopped to include additional weight.
Here's Kenny KO, a well-known critic of the so-called "Manimal" claiming proof of Castleberry's shenanigans.
Brad Castleberry Workout Routine
Brad Castleberry is an enigma—the physique of a bodybuilder but the ability of a strongman.
Here's a possible Brad Castleberry workout targeting the seriously heavy iron:
Monday
Sets                   Reps               RM                  1st Set RPE
Barbell back squat                        3                      7-9                 N/A                   7
Wide-grip bench press                 3                      7-9                 67-73%             7
Wide-grip pull-down                    3                      8-10               N/A                   8
Here's Brad Castleberry completing a 675-pound bench press.
Tuesday
Rest and moderate-intensity cardio for 30 minutes.
Wednesday
Sets                Reps                RM              1st Set RPE
Barbell back squat               3                      1-3                  80-85%          5
Deadlift                                3                      1-3                  80-85%          5
Wide-grip bench press        3                      1-3                  80-85%          5
Overhead barbell press       3                      1-3                  80-85%          5
Thursday
Rest and moderate-intensity cardio for 30 minutes.
Friday
Sets                  Reps                   RM           1st Set RPE
Barbell squat                        3                      3-5                  82-87%          8
Wide-grip bench press        3                      3-5                  82-87%          8
Dumbbell rows                    3                      4-6                  N/A                 8
Leg curl                                3                      12                   N/A                 8
Take a look at Brad Castleberry showing the correct form for a squat.
Saturday
Rest and moderate-intensity cardio for 30 minutes.
Sunday
Sets                Reps               RM                  1st Set RPE
Close-grip bench press      3                      6-8                  N/A                 8
Deadlift                                  3                      3-5                  82-87%          8
TRX row                                 3                      8-12                N/A                 8
RM—Rep Max—the total weight you can lift on an exercise for just one rep.
RPE—Rate of Perceived Exertion—the effort required to lift according to a prescribed table.
Brad Castleberry Diet and Nutrition
Brad Castleberry believes it's essential to stick to healthy foods—but to supplement with protein to meet your macro goals.
He explains:
"My diet is very clean. I eat healthily, but not too strict. It's more about quality, well-rounded foods, and eating at a scheduled time. Everyone is different and requires different amounts."
Here's an example diet plan consisting of his favorite staples:
Meal #1
Two rounds wholemeal toast.
Five poached eggs.
Two medium bananas.
Three tablespoons peanut butter.
Two scoops whey protein isolate powder.
Meal #2
Ten ounces potatoes.
Six ounces tuna.
Meal #3
One cup brown rice with 6 ounces of steak.
Three tablespoons almonds.
Meal #4
One cup oatmeal.
Six ounces chicken.
Five ounces Brussels sprouts.
Meal #5
Leafy green salad.
Three ounces boiled potatoes.
Can of tinned tuna.
Meal #6
Whey protein isolate shake.
Here's Brad Castleberry cooking breakfast at home:
Does Brad Castleberry Take Steroids?
The Brad Castleberry steroids issue is controversial.
If he gets called out on Instagram, he denies it and then quickly deletes the exchange. His usual argument is that he competed in the Musclemania series—the natural bodybuilding arena where drug testing is compulsory.
However, as most bodybuilding aficionados know—their testing criteria is heavily criticized. Mainly because the invigilators only scrutinize the winners—and that's immediately after the competition.
The guys know when and where they will give their urine sample—and there are no random off-season tests.2
But, looking at his size—it does take a vast stretch of the imagination to believe he's a true natty.
Think of it like this.
Schwarzenegger, who admitted using steroids, was four inches taller than Brad Castleberry. Yet, Arnie was around 10 pounds lighter.
Come to your own conclusions.
Brad Castleberry: Before and After
When he won the junior section of Musclemania in 2006—he was big, but not hulk-like.
His later gains were simply incredible. Take a quick look at this video of Brad winning the 2006 Junior Musclemania Championship.
That was at the age of 21. Now, compare this to him as a 19-year-old, and more recently as a 33-year-old.
So, in two years, he made enormous leaps—and going forward, the results are well, unbelievable. There's also a suggestion that the latter image has been enhanced somewhat.
If that's natural—I want what that guy's eating.
Supplements
The only supplement that Brad Castleberry previously admitted using was whey protein.
That was until he started his supplement line called Castleberry Nutrition. Suddenly, he was taking every compound known to science (all from his own line, of course).
However, while these supps still sometimes appear on amazon—the Castleberry Nutrition website now redirects to his official Brad Castleberry page. And, here, the only merchandise it sells is his fitness programs and clothing.
Hence, one would assume this project didn't prove very profitable.
Today, the only product he is consistently associated with is Bang Energy pre-workouts—advertised non-stop on his Instagram account.
Brad Castleberry Quotes: Motivation and Inspiration
The Brad Castleberry Instagram account is packed with his self-proclaimed wisdom.
Here are a few examples:
"We cannot become what we want to be by remaining what we are."
 "Be the person you were meant to be."
"You're not always going to be able to do it. But don't be afraid to try it."
"Pain is temporary. Quitting lasts forever. Let's go focus up."
"If it doesn't challenge you it won't change you."
"I follow my path because it's the right one for me, never doubt yourself and stick to what makes you happy. People that say bad things are most likely unhappy with themselves."
FAQ
"Who Is Brad Castleberry"
Brad Castleberry is a former footballer turned bodybuilder, powerlifter, and entrepreneur. He has a large following on Instagram and courts controversy with his immense lifts.
"How Tall Is Brad Castleberry?"
The Brad Castleberry height is 5 feet 10 inches (177.8 centimeters).
"Did Brad Castleberry Play in the NFL?"
Google Brad Castleberry NFL and you'll discover contradictory results. Brad himself claims he did the NFL combines—but as yet, no one has found evidence of this.
"Why Is Brad Castleberry so Hated?"
This is due to the Brad Castleberry fake weights accusations.
Many people say that his claims of breaking world records (with no independent verification) are achieved with lighter plates than those stated.
Furthermore, people find him hypocritical—in that he continually boasts on his Instagram account about his greatness—but usually ends with the hashtag #behumble.
"What Brand of Plates Does Brad Castleberry Use?"
It varies, some guys state that he uses hex Styrofoam mock-weights in his alleged Brad Castleberry fake lifts.
However, many of his "true" lifts show he favors the round Eleiko weights.
"Where Does Brad Castleberry Live?"
Brad Castleberry currently lives in California.
Summary
With a hulk-like physique, positive attitude and a will to succeed—Brad is an astounding athlete.
Three-quarters of a million Instagram followers is impressive—if nothing else, he has to be admired for his self-promotion.
It's true—the controversies do cast a shadow on his career. But without them, would he be such an intriguing bodybuilder?
Sources
Legal SARMs Alternatives