Figuring out the perfect bodybuilding breakfast is one of the important components of functional nutrition, for the goal of muscle growth.
And as a matter of fact, there isn't really a unified bodybuilding breakfast for cutting that would be perfect for everyone.
Best For Bulking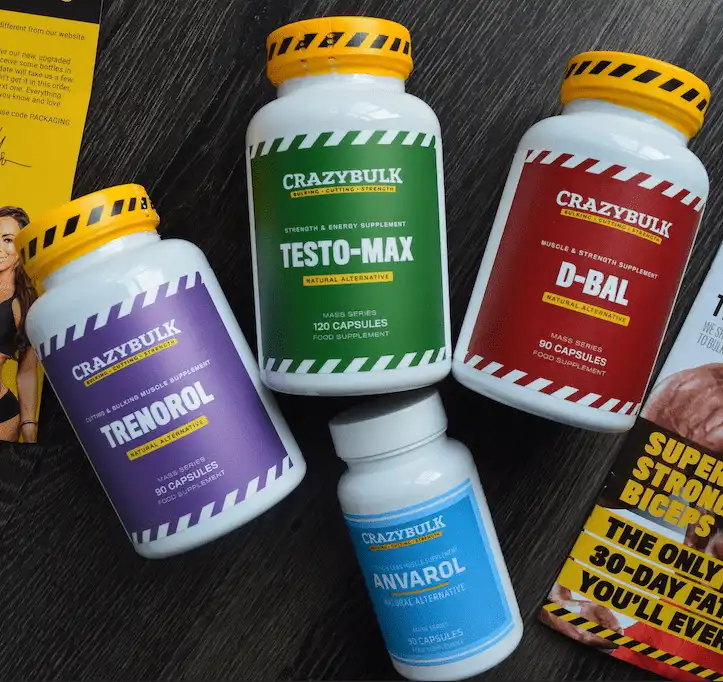 This is precisely why we have decided to dedicate an article to 10 tasty breakfast ideas for bodybuilders that would benefit your recovery and muscle protein synthesis.
Did you know? – During intense physical activity you break down muscle protein (muscle protein breakdown – MPB) and during recovery afterwards, you synthesize muscle protein (muscle protein synthesis – MPS).

Optimal muscle growth occurs when the MPS is greater than the MPB, which happens best at the presence of all essential amino acids, that come from food
Without further ado, let's get to the top 10 breakfast ideas for bodybuilders!
1. Tuna & Avocado Wholegrain Toast
Calories: 507 calories
Protein: 32
Fats: 26
Carbs: 36
This first recipe is quite simple and does not require all that many products.
Which makes it a top bodybuilding breakfast on the go.
We Recommend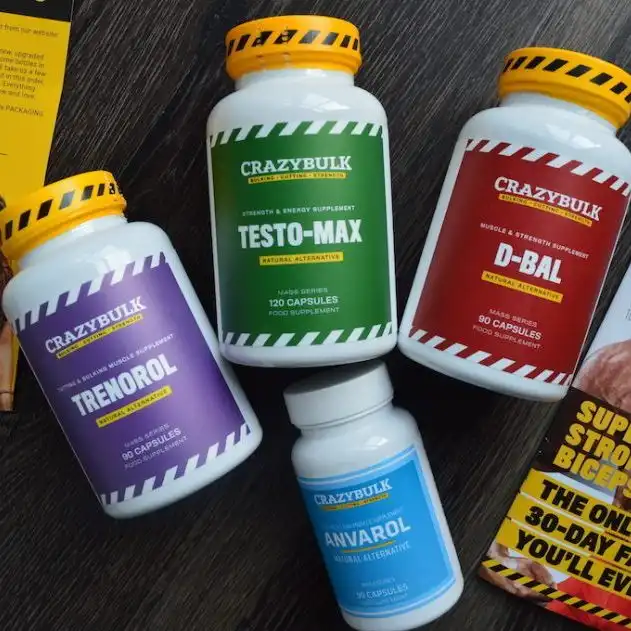 It is easy to prepare and abundant in essential proteins, fats and even some quality carbs!
To top this off, you have onion to taste, which also provides a flurry of health benefits.
What you need:
100g Canned tuna
1 avocado, soft
2 pcs wholegrain bread
How to prepare:
Take the wholegrain bread and put it in the toaster
Cut the avocado in half and take out the seed. Mash with a fork until you have a paste.
When the toasts are ready, take them out and spread the avocado paste on top, evenly.
Put the canned tuna on top, evenly
Season with salt & pepper to taste
Dice onion on top to taste
Enjoy!
2. Mushrooms & Cheese sandwich
Calories: 781
Protein: 35
Fats: 44
Carbs: 64
If you are the type of person who usually snacks on something light at breakfast and then goes all-in on their lunch, this breakfast is your best bet.
This is a one of the top breakfast ideas for bodybuilders who are cutting.
Packed with quality dairy protein & carbohydrates, this meal will keep you satiated until it's time for your lunch feast!
The sandwiches can be combined with a separate salad of leafy greens & cherry tomatoes to pack an extra punch on your micronutrition.
What you need:
200g mushrooms
4 slices of wholegrain bread
100g shredded yellow cheese
1 clove of garlic
Half an onion
50g butter
How to prepare:
Place a pan on the stove on medium temperature
While it's warming up, wash the mushrooms and cut them in thin slices
Smash the garlic clove with the sidewall of the knife & then fine dice it
Dice the onion
When the pan has heated, throw in the butter and let it melt
Throw in the mushrooms, garlic and onion and stir them
Shower them with the butter sauce and put a lid on top
After 2-3 minutes, take the pan off the stove
Take your wholegrain bread slices and top them off with the mushrooms
Top that off with the shredded yellow cheese
Bake in the oven until crispy
Enjoy!
3. Beef & Sweet potatoes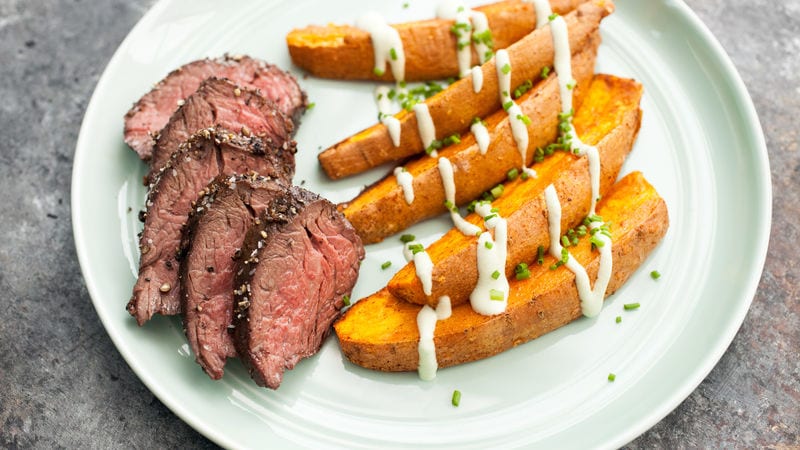 Calories: 1808
Protein: 118
Fats: 79
Carbs: 152
Best Cutting Stack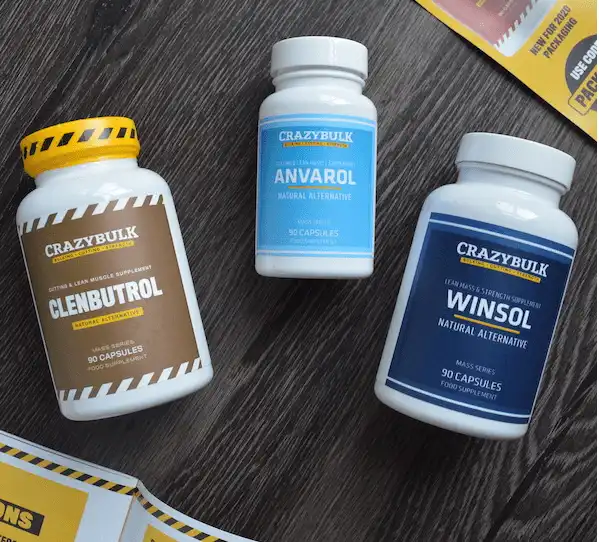 NOTE: This is the nutritional information for the entire quantity of food, which can be split in 3 meals.
If you're someone who likes to plan their nutrition ahead and would never mind a satiating meal upon a bodybuilding breakfast for muscle growth, this is your perfect choice.
This recipe yields 3 solid meals, which can be evenly distributed across your meals.
The meal offers an abundance of essential amino acids and a mouth-watering punch of flavors that the slow-cooked beef provides.
What you need:
400g of beef topside (Cooked weight, 400g is roughly 600 raw)
700g sweet potatoes
300g tomatoes
How to prepare:
Put your beef on the board and cut it in medium-sized bites
Place the bites in a bowl and spread soy sauce all over, evenly
Let it rest in the fridge for 12-24 hours
Take out the beef, put it in a baking pan and cut the tomatoes on top (spread evenly)
Let the meat rest at room temperature
Heat up the oven to 220 degrees
Put the beef in for 20 minutes
Lower the heat to 150 degrees and cook for 2 hours
Check on the meat periodically and reduce the temperature if needed
Take the sweet potatoes and cut them in long slices
Place the potatoes in a baking pan and oil them up
Season with salt & pepper
Place the baking pan in the oven, pre-heated to 170 degrees
Bake for 40-60 minutes, until the potatoes are soft
Voila! Once you've prepared both products, place them in boxes and store in the fridge.
4. Banana & Cinnamon protein shake
Calories: 373
Protein: 32
Fats: 9
Carbs: 40
Another one of those breakfast ideas for bodybuilders for those of you who find it hard to manage their time in the morning and don't have time to sit down and eat a solid meal, then the protein shake is a good alternative which you can even consume on the go.
What you need:
100g banana
200 ml whole fat milk
1 dose whey protein (40g)
Cinnamon
A blender
How to prepare:
Cut the banana in the blender cup
Pour the milk in
Put in a scoop of whey protein
Blend until smooth
Sprinkle cinnamon to taste
Enjoy!
5. Beef Caesar salad
Calories: 600
Protein: 42
Fats:43
Carbs: 10
Got some left over beef from the sweet potato & beef recipe?
You can always use that for a fresh and tasty beef salad bodybuilding breakfast for muscle growth, that will provide your body with important vitamins, minerals and quality protein!

What you need:
150g cooked beef (Check recipe #3)
Olive oil
150g cherry tomatoes
Iceberg salad 150g
Spinach to taste
Salt and pepper
How to prepare:
Fine cut the iceberg salad & spinach
Cut the cherries in half & mix with the salad and spinach
Sprinkle olive oil & mix
Add salt to taste & mix
Add the beef, sprinkle black pepper to taste
Enjoy!
6. Protein pancakes
Calories: 414
Protein: 41
Fats: 6
Carbs: 50
If you've been in the game for some time, you should know by now that it doesn't really get any better than a nutrient-dense treat!
Protein pancakes are perhaps the tastiest and healthiest bodybuilding breakfast ideas for bodybuilders one can utilize in their nutrition plan.
This recipe will allow you to take a psychological break from strict nutrition and enjoy a load of protein and carbs!
What you need:
1 scoop of whey protein
3 egg white
1/2 cup oats
1/2 banana
2 tsp baking powder
How to prepare:
Blend the oats to flour
Add the egg whites, banana, protein & baking powder
Mix well until you have a homogeneous mixture
In a slightly oiled pan, pre-heated to a medium temperature, put 1-2 spoons of the mixture
Cook for up to 45 seconds per side or until slightly brown
Prepare the pancakes in whatever size you like and enjoy!
7. Boiled eggs toast with avocado
Calories: 666
Protein: 69
Fats: 48
Carbs: 97
When it comes to the biological value (BV) of protein, it doesn't really get any better than whole, boiled eggs.
As a matter of fact, they are the standard for the BV of protein in foods and are a perfect choice for your bodybuilding breakfast for muscle growth.
We have a whole article about the biological value of proteins and you can have a look at it HERE.
Now let's move on to the actual recipe
What you need:
3 eggs
1 avocado

3 wholegrain

bread slices
How to prepare:
Put the eggs in a pot and cover with water
Put on the stove and let it boil
Once the water is boiling, reduce the heat slightly and boil for up to 10 minutes
When the eggs are ready, take them out, rest them for 5 minutes, then peel and cut in slices
Take the bread and toast it
While the bread is getting toasted, cut the avocado in half and mash with a fork until you have a smooth mixture
When the toasts are ready, spread the avocado mash evenly, place the egg slices and add salt & pepper to taste
Optionally, you can mix the avocado mash with some lime or lemon juice for extra taste
Enjoy!
8. Bacon & Cheese omelette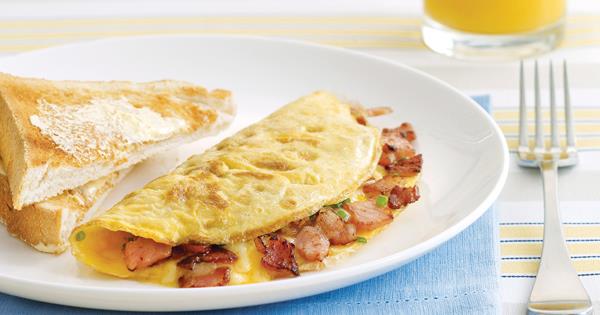 Calories: 513
Protein: 37
Fats: 36
Carbs: 6
Continuing with the classical egg breakfast, we give you the bacon and cheese omelette.
This recipe will satisfy any cravings and grant the body sufficient protein & fats to kickstart the day.
What you need:
4 whole eggs
50g shredded yellow cheese
2 strips of bacon
How to prepare:
Whisk the eggs in a bowl
Pre-heat a pan to medium heat
Oil the pan up slightly and evenly
Pour the eggs in the pan
When the bottom cooks a bit, add the bacon strips & yellow cheese in one end
Roll the omelette over and let it cook for another minute
Enjoy!
9. Apple & Peanut butter granola sandwich
Calories: 338
Protein: 10
Fats: 17
Carbs: 40
Looking for something to keep you satiated until it's lunch time? This is your bodybuilding breakfast recipe.
The apple peanut butter granola sandwich will give you a load of healthy calories in just a couple of bites.
Loaded with quality nutrients, this is one of those tasty bodybuilding breakfast ideas for bodybuilders to put in your menu
What you need:
1 Medium sized apple
2 tbsp peanut butter
20g granola or any other crunchy muesli
How to prepare:
Cut the apple in thick circles
Cut out the seeds of the middle piece
Spread peanut butter on one slice
Put the granola on top
Cover with another slice of apple
Enjoy!
10. Strawberry protein oats with yoghurt
Calories: 420
Protein: 36
Fats: 11
Carbs: 43
If you're looking for a tasty meal stacked with quality carbohydrates and protein, the strawberry protein oats recipe makes for the perfect bodybuilding breakfast for cutting!
As there is no cooking involved, this quick and easy recipe is the perfect choice if you're a busy person.
What you need:
80g strawberries
1 Scoop of whey protein
200g whole fat yoghurt
30g oats
How to prepare:
Wash and cut your strawberries
Put the oats in a bowl
Cover with milk and mix well
Add the protein and mix again
Put the strawberries on top
Let the oats rest in that mixture for 5-10 minutes
Enjoy!
Conclusion
A proper bodybuilding breakfast for muscle growth can help you feel more awake in the morning and also, stimulate the muscle-building processes.
Furthermore, a good bodybuilding breakfast for cutting will provide the body with enough energy for sustained mental and physical activity.
We advise you not to skip breakfast, which is exactly why we made sure to give you these 10 quality bodybuilding breakfast recipes.