Since the 1950s, the bodybuilding world had been waiting for someone to emulate the sculptured perfection of Steve Reeves. Thirty years later—it witnessed the second-coming in the form of Bob Paris.
Named as the most aesthetic bodybuilder in history by Flex magazine, and achieving the titles of Mr. America and Mr. Universe, he appeared to have it all.1
Best Testosterone Booster For Men
Then, he made a revelation that would shake the industry to its core—and the world of sports would never be the same again.
Bob Paris Wiki
Here are the Bob Paris stats:
Age: 61.
Best Testo Boosters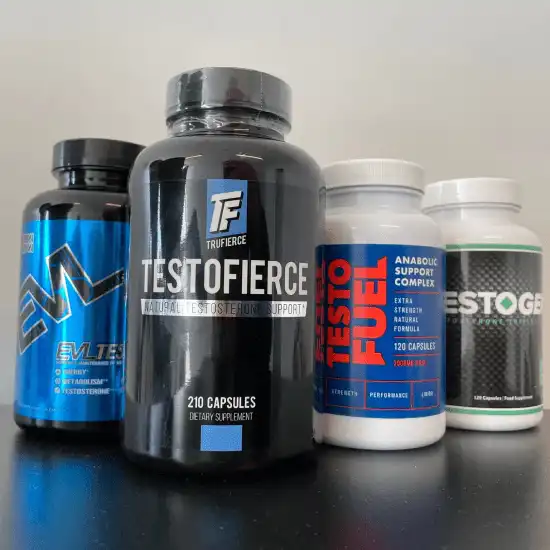 Date of birth: 14th December 1959.
Height: 5 feet 10 inches (177.8 cm).
Weight: 216-225 pounds (98-102 kg).
Profession: Ex-bodybuilder, writer, actor and civil rights activist.
Nationality: American by birth, took Canadian citizenship.
Nickname: Steve Reeves 2.0.
About Bob Paris
Robert Clark Paris was born in Indiana in 1959.
The discovery of an old and rusty weight-machine in his school's basketball gym sowed the seed for future success.
With his school years behind him, Bob spent a summer in the US Marine Corps and then enrolled at Indiana University. But, with the lure of bodybuilding becoming overwhelming, he decided in 1979 to move to California to start his lifting career.
Best Testosterone Booster For Men
For many months Bob Paris lived in his car. Yet, even during these difficult times, he remained committed to his bodybuilding dream—winning the NPC (National Physique Committee) Mr. Los Angeles competition.
However, while successful on the amateur circuit—the Bob Paris height of achievement in the professional ranks was third place.
Then, in 1989, he shocked the sporting world.
He admitted in the July edition of Ironman he was gay.2
He married Brian LeFurgey in 2003 and became a naturalized Canadian—living on a small island in British Columbia. While the exact Bob Paris net worth is unknown—commentators estimate it to be in the region of $5-$10 million.
Sadly, there's no official Bob Paris Instagram account, but you can follow him on facebook—or keep an eye on his intermittently updated blog.
Bob Paris Bodybuilding Career
Amateur achievements:
1981 1st place NPC Mr. Los Angeles.
1982 1s place NPC Mr. Southern California.
1982 1st place NPC California Muscle Classic.
1982 2nd place NPC Mr. California.
1982 3rd place NPC National Championships.
1983 1st place NPC National Championships.
1983 1st place Mr. Universe IFBB World Championships.
Professional achievements:
1984 7th place IFBB Mr. Olympia.
1985 9th place IFBB Mr. Olympia.
1988 10th place IFBB Mr. Olympia.
1988 3rd place IFBB Niagara Falls.
1988 3rd place IFBB Night of Champions.
1988 4th place IFBB Spanish Grand Prix.
1988 3rd place IFBB Italian Grand Prix.
1989 5th place IFBB Arnold Schwarzenegger Classic.
1989 3rd place IFBB World Professional Championship.
1989 14th place IFBB Mr. Olympia.
1991 3rd place IFBB Montreal Grand Prix.
1991 12th place IFBB Mr. Olympia.
Bob Paris Workout Program
Bob Paris felt that the ultimate workout consisted of two essential factors—perfect technique and visualization.
Here's a typical Bob Paris workout.
Monday—Chest, Triceps, Shoulders and Abdominals
Sets Reps
Incline bench press 4 6 to 8
Incline flyes 4 12 to 15
Flat dumbbell press 3 6 to 8
Cross bench pullover 3 15 to 20
Dumbbell side lateral raise 4 10 to 12
Cable kneeling crunch 4 12 to 15
Barbell presses 4 6 to 8
Bench dips 4 15 to 20
Tricep pushdown 4 6 to 8
Two-arm dumbbell kickback 3 10 to 12
Hanging leg raise 3 15 to 20
Lying leg raise 3 15 to 20
Crunches 3 15 to 20
Tuesday—Legs
Sets Reps
Leg extensions 4 15 to 20
Front squats 4 12 to 15
Lunges 4 10 to 12 (per leg)
Lying leg curl 4 to 5 12 to 15
Stiff-leg deadlifts 4 to 5 12 to 15
Standing calf raise 3 to 4 20 to 25
Seated calf raises 3 to 4 12 to 15
Tibia raises 3 to 4 20 to 25
Wednesday—Biceps, Back and Forearms
Sets Reps
Wide-grip pulldowns 4 12 to 15
Close-grip pulldowns 4 8 to 10
Single-arm dumbbell row 4 10 to 12
Shrugs 3 8 to 10
Hyperextensions 3 20 to 25
Incline dumbbell curls 4 10 to 12
Barbell curls 3 to 4 8 to 10
Single-arm cable curl 3 12 to 15
Pulley wrist curl 3 12 to 15
Here's a video from 1984 showing Bob Paris completing an arm workout:
Thursday—Rest and Cardio
Cardio 20 to 30 minutes
Friday—Chest, Triceps, Shoulders and Abdominals
Sets Reps
Cross bench pullovers 3 12 to 15
Incline dumbbell press 4 8 to 10
Cable crossovers 3 15 to 20
Bench press 4 6 to 8
Dumbbell press 4 6 to 8
Seated bent-over side raise 4 10 to 12
Lying single-arm side raise 4 10 to 12
Rope pushdown 4 6 to 8
Overhead pulley extension 4 12 to 15
Dumbbell French press 3 15 to 20
Hanging leg raises 3 12 to 15
Lying leg raises 3 12 to 15
Crunches 3 12 to 15
Here's Bob speaking about and demonstrating powerful chest exercises.
Saturday—Legs
Sets Reps
Hack squats 4 12 to 15
45-degree leg press 3 15 to 20
Leg extension 4 15 to 20
Standing leg curl 4 12 to 15
Lying leg curl 4 10 to 12
Leg press calf raise 4 20 to 25
Seated calf raise 3 10 to 12
Tibia raise 3 15 to 20
Sunday—Biceps, Back, and Forearms
Sets Reps
Wide-grip rear pulldown 5 15 to 20
Low-pulley rows 4 6 to 8
T-Bar Row 4 8 to 10
Dumbbell shrug 4 12 to 15
Hyperextensions 4 20 to 25
Concentration curl 4 to 5 10 to 15
Barbell preacher curl 4 6 to 8
Zottman curl 4 12 to 15
Barbell wrist curls 4 15 to 20
If you want to know more about his training philosophy, here's some guidance:
Bob Paris Diet
Bob Paris knew that serious muscle gain could only be achieved by carefully watching the macros and ensuring that he ate consistently throughout the day.
In Flawless, he stated:
"Eat 5 or 6 meals every day. The only real way you will make one hundred percent progress…is by eating these meals….If you work away from home—buy several resealable plastic containers—pack all your meals and take them with you."
Here's a typical 5-meal daily Bob Paris diet plan:
Meal #1
5 ounces beefsteak.
5 ounces lima beans.
4 ounces white rice.
3 ounces spinach.
Meal #2
One whole egg.
7 egg whites.
4 ounces oatmeal.
4 ounces nonfat milk.
Meal #3
5 ounces turkey breast.
5 ounces corn.
5 ounces peas.
5 ounces Brussels sprouts.
Meal #4
5 ounces scallops.
5 ounces flank steak.
5 ounces sweet potato.
3 ounces cauliflower.
5 ounces zucchini.
Meal #5
4 ounces cod.
10 ounces baked potato.
One whole egg.
2 ounces asparagus.
Here's a video of Bob Paris posing, showing what the correct nutrition and training can build:
Was Paris On Steroids?
Yes.
While he campaigned against their abuse throughout his career, he reluctantly used steroids to be able to compete at the highest level. However, his physique tends to indicate that his juicing was very conservative—and probably included little more than Primobolan and Deca-Durabolin.
Listen to Bob Paris explaining further:
Bob Paris Before and After
From taking up serious bodybuilding at twenty years old to becoming IFBB World Champion in 1983 took four years.
Later, while still remaining active and enjoying the outdoor life, images demonstrate how dropping the gym-lifestyle (and the steroids) dramatically reduced Paris' bulk. Here's a recent Bob Paris then and now comparison.
Bob Paris Now
Today, Bob Paris lives in a cottage on Pender Island, on Canada's Gulf of Georgia with his husband, Brian LeFurgey.
Currently, the Bob Paris 2019 daily regime includes writing, advocating gay rights, walking and being a muse for the fashion photographer Bruce Weber.
Bob Paris Supplements
To attain the incredible statuesque physique of Bob Paris—he had to be supplementing. Despite advocating eating constantly throughout the day, it would be remarkable if he met his enormous macro goals purely through staples.
However, he felt that primarily the bodybuilder should concentrate on whole foods first, before going down the supplement route.
Bob Paris Quotes: Motivation and Inspiration
"Vanity is not necessarily a bad thing…I'm talking about being interested enough in your own appearance to create positive change."
"When it comes right down to it, you are all you really have in life"
Bob Paris Summary
Bob Paris is a man driven by ambition, resolve and positivity.
Neither being homeless nor a gay man in an overtly-masculinized sport prevented him from achieving his dreams.
It's unfortunate that this guy, with possibly the most magnificent aesthetic bodybuilding physique of all time—competed when the industry descended into the often criticized "monster man" ethos.
Bob Paris represents what's best about bodybuilding—determination, dedication and tenacity.
Sources
Legal SARMs Alternatives