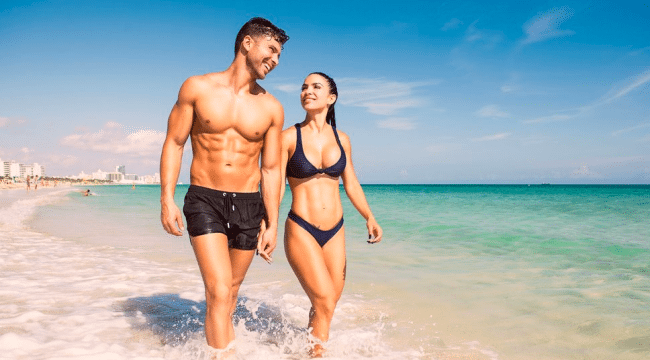 Looking to achieve that sexy beach body but unsure about the best weight loss program to achieve it?
Let us do the research for you so you don't have to!
By the end of this article you will know what are the top three best weight loss programs for women.
Want to know how to lose weight at home and looking for the best weight loss programs to help you achieve this?
Keep reading to get the answers!
We'll take a look at how other people are achieving that perfectly slim and toned body and we'll help you to achieve yours.
Is there really a quick fix to weight loss?
How is everyone else doing it?
What meal plans should I be using?
The weight loss industry is a multibillion dollar industry!
With so many weight loss programs out there, it's hard to decide which ones are designed to give us the results we're looking for and which ones are gimmicks that just want to take our cash!
We'll do the work to give you the information you need to achieve the super sexy goddess body you're looking for.
So keep reading to find the best weight loss program for you!
How do Weight Loss Programs Work?

All weight loss programs will generally include an exercise program and a diet plan.
So what does this mean?
If you have decided to join a weight loss program and want to achieve great results, you've got to be prepared to:
Change your eating habits
Follow meal plans
Follow an exercise program
Most of all, you've got to be committed to the program you've chosen in order to achieve the slim and toned body you're looking for. 1
So this means you want to make sure you're choosing the right program, one that is going to work for you!
That's why you want to discover what is the best weight loss program, right?
So whether it's a fast weight loss program for the summer bikini body or if you need a more intense weight loss program, you will find the answers below.
So let's take a look:
Can You Lose 10 Pounds in a Week?
So, you have an important event coming up and you need to drop those pounds quickly!
Is it possible?
Yes it is, but you will have to put a lot of effort into that week and follow a meal plan for extreme weight loss to achieve it.
So what do you need to do?
Restrict your diet to small portions of low calorie nutritious foods.
Eat fewer carbs and more lean proteins 2
Avoid snacks and all junk foods
Significantly increase aerobic training
Include high intensity interval training (HIIT) 3
Burn 3500 – 5000 more calories than you consume each day
Drink lots of water
Remain as active as possible outside the gym (e.g. walk or bike to work)
By doing all this it is possible for you to lose 10 pounds in a week. But it will not be pure body fat you are losing; some of the weight loss will just be excess water.
You also need to remember that, to maintain this weight loss after the week is over, you need to continue with some kind of weight loss maintenance program; otherwise you will likely just gain it all back again.
There are lots of fast weight loss programs out there, but be careful –  some can be quite dangerous to your health.
So it's important to know the facts about the best weight loss programs and what is the best fast weight loss program to make sure that you are getting the right program for you!
Best Weight Loss Programs: Top 3 Diet Plans That Work
We have trawled through many weight loss programs in order to see just how effective they really are.
We have looked to see:
What results real people are achieving
How fast they are achieving their goals
The price of weight loss programs
The best weight loss program for women over 50
So here are our top 3 recommendations for best weight loss programs:
This is a 15 day diet plan that helps you to lose 15 pounds in as many days – and people are seeing amazing results from this!
What makes this one of the best weight loss programs?
This plan comes with everything you need to achieve that perfect body you're looking for – and to maintain it!
Their video does a great job explaining how it works, so if you want to check it out just click to watch on their website:
You get information and advice on:
How to stay motivated
Strategies to help you overcome obstacles to weight loss
Comprehensive guide to foods that kickstart your metabolism
15 day meal plans for meat lovers, vegans and vegetarians
A workout guide giving you the power to achieve 2x the results in half the time
Detailed 15 day workout plan
How to enhance your results with the right supplements
Guide to maintaining your weight loss after the 15 day program is complete
So let's look more into what makes this one of the best weight loss programs.
The Good:
The main benefits of this weight loss plan are:
Lose 6-15 pounds of unwanted body fat in 15 days
Suitable meal plans for meat lovers, vegetarians and vegans
Gives you a complete workout program which helps you stay motivated and moving, even when traveling
Provides you with all the answers you need about supplements to support your weight loss
Includes a maintenance program to make sure you keep the weight off
But what else does it have to offer?
If you're not completely satisfied, they offer a 75 day money back guarantee!
So if you follow this diet as it's outlined and you don't lose 6-15 pounds, then you will get 100% of your money back.
Sounds great!
The Drawback:
There seems to be only one drawback to this and that is the price.
This diet plan costs $45
But it is available immediately through instant download, so no waiting for shipping and you can get right on it!
Summary:
Although this is premium priced at $45, it does contain all the information you need and offers a full money back guarantee if it doesn't work.
You don't have to wait for the plan to be shipped as you get it through instant download. So you can get started straight away.
It has meal plans suitable for different diets, such as vegan, vegetarian and meat lovers. Plus it gives you additional information about what supplements to take.
There are tips to keep you motivated and ideas on how to overcome obstacles to weight loss, as well as comprehensive workout guides to help you achieve 2x the results in half the time!
One more amazing thing is that it gives you information on how to maintain your weight loss. So although you have paid a premium price for it, you won't be putting the weight back on if you stick to their guidelines.
Where to Buy?
Only through: their official website
2. The 3 Week Diet:
This diet program called The 3 Week Diet promises to help you accomplish in just 21 days what most diets accomplish in 2-3 months.
If you stick to this program, by the end of the 21 days you will have lost at least 9 pounds of body fat.
So what will this give you?
Feeling healthier and looking more attractive
Improved cholesterol levels
Faster metabolism
Healthier hair and skin
Increased energy
Increased muscle tone
So just why is this in our top 3 best weight loss programs?
The Good:
The main benefits of this diet plan are:
Lose at least 9 pounds in 21 days
Suitable for people of all ages and body types
A rapid weight loss plan, specifically tailored to suit your body type
A guide to the foods you need to eat and those you must avoid
A plan to help you keep the weight off after you've lost it
A workout plan to help double your results
Mindset and motivational tips and advice
Suitable for vegans and vegetarians
Plus, if you're not completely satisfied it offers a 60 day money back guarantee; if you don't lose weight or even if you're just not satisfied with the plan, you can claim your money back.
Sounds great, doesn't it!
The Drawback:
This weight loss plan will set you back $47, but the price was previously $97, so it's more affordable now than before.
It's only available as a download, so those of you who like a hard copy will have to print it out from your PC.
Summary:
So how has this made our top 3 best weight loss programs?
The price is high, but it has been significantly reduced from $97 to $47.
The product is available worldwide and you receive it instantly by download once you have paid.
It provides you with all the information you need to achieve your weight loss goal, from nutrition and exercise to motivation and maintenance.
People who are using this weight loss plan are seeing amazing results!
If you buy and you're not happy then you just use the money back guarantee to claim back your money. So what's to lose, apart from the weight?
Where to Buy?
Only available on their official website
So, what else made it into our top 3 best weight loss programs?
3. Weight Watchers
Most people have heard of Weight Watchers, but what exactly is it and what puts it in our top 3 best weight loss programs?
This is a diet plan that aims to change your long term eating habits, to help you lose weight and then keep the weight off to maintain a healthier lifestyle.
So what are the main benefits to Weight Watchers?
Flexible food program
Thousands of recipes available
Plans which fit different lifestyles
What is so good about it and why has it been chosen as one of our top 3 best weight loss programs?
Keep reading:
The Good:
First let's take a look at what makes Weight Watchers so good:
Suitable for all ages and also has a specific group for over 50s
Is based on a points system rather than calorie counting
Has been around for years with proven success stories
Gives specific weight loss information for nursing mums.
Has 1000s of recipes available
Can be adapted to meet the needs of your own specific diet
There is also a mobile app, with tools to help you reach your goals.
The support you get with Weight Watchers can be tailored to meet your specific requirements with:
Meetings
onlinePlus
Personal coaching, with 1:1 phone calls
Mobile app to sync your fitness device to
Weight Watchers have also developed their own products, with a wide range of ready meals, snacks and desserts available in stores.
The Drawback
The price you pay is dependent on the program you choose, but you're looking at between $5 and $13 per week, which can work out quite costly.
Weight Watchers has been around for a long time; some people tend to feel it's a little outdated or only for older ladies as it's a slow process for weight loss.
Summary:
Weight Watchers has been around for years and continues to have great success but this does come at a price.
You need to keep paying the weekly or monthly subscriptions in order to get access to all Weight  Watchers offers, such as the recipes and onlinePlus.
You have to be committed to following the points system and you must keep logging your progress or attending meetings. Depending on the plan you have chosen.
There have been lots of proven successes over the years and it continues to be a favourite among many; but these days most people are looking for faster results
Some feel Weight Watchers has been around too long and has become outdated or that it's more suitable to older ladies wanting to lose weight.
But it is in our top 3 for best weight loss programs as it does have many proven success stories from real people achieving real results.
Where to buy
Visit Weight Watchers website
Overall Conclusion?
So there you have our top 3 best weight loss programs!
But which one is the BEST?
Now these are all great weight loss programs, but Di.et is by far the best weight loss program in 2018!
Why?
Because it's giving you the results you want in 15 days!
All you need to do is follow a simple meal plan to lose weight and a workout plan that will help you achieve 2x the results in half the time!
Plus, if you want to lose more after the 15 days, you just take a 7 day rest and then start the program again!
How much easier could it be?
This plan gives you it all!
It tells you how to lose the weight you want to lose and then helps you to keep it off.
It's more than just a weight loss plan; it's a change of lifestyle to help you become the slim sexy toned woman you want to be!
FAQ – Frequently Asked Questions About Weight Loss Programs
"What Kind of Exercise to do to Lose Weight?"
The best kind of exercise to do is high intensity cardio workout, which really makes you sweat.
"What is the Best Weight Loss App?"
MyFitnessPal is rated the top best weight loss app.
"How Can I Lose Weight Without Exercise?"
Burning more calories than you eat can help you lose weight without exercise; so can eating a low carb or no carb diet. You can also achieve weight loss without exercise by drinking more water and opting for a healthier diet. Make a few changes to your lifestyle, like walking or cycling to work instead of driving. 4
"Is Cardio Better for Losing Weight?"
A cardio workout is better for losing weight as it burns more calories than lifting weights. But a combined cardio and weight workout is better for body composition, as your metabolism may stay more elevated after a weights workout.5
"How Can I lose Weight Naturally?"
You will need to change your eating habits. Cut out junk food and sugars, drink lots of water and add more proteins to your diet.
"What is the Morning Banana Diet?"
This diet was a craze in Japan in 2008, where you eat one or more bananas for breakfast and then you take the remainder of your meals and snacks as normal. You only drink water, which must be at  room temperature, and you don't eat after 8pm.
"What is the Most Effective Weight Loss Program?"
Di.et is the most effective weight loss program because it gives you incredible results in just 15 days. Plus it gives you a maintenance plan to help you keep the weight off; as long as you take a 7 day break after the program, you can repeat the program to lose even more weight!
References: