Bigger. Faster. Stronger. When you want to take your workouts to the next level – the fastest way to do that is by taking one of the best pre workout supplements. It's quick, convenient, and if you've made the right choice – effective.
The top pre workout supplements can help you:
Break through plateaus – Lift more weight than you can do normally.
Train for longer – Maintain higher energy levels for longer, more intense sessions.
Concentrate more – Focus in on those final reps and have an awesome set.
Have intense muscle pumps – Have fuller and thicker muscles that look, perform and feel better while training.
Sculpt your body – Training harder and lifting heavier, forces your body to develop
And we've done the research, read the studies and crunched the numbers to find out which one is going to give the best results next time you walk into the gym.
So, let's get started.
Table of contents
So, what do the best pre workout supplements do?
We all know if you take it before a workout, it can help you perform better in the gym – but how exactly does that work?
There are so many ingredients out there that promote endless functions in your body. However, if you boil it down, there's 4 main types of nutrient that will improve your workout:
Stimulants – For energy and focus. These are nutrients like caffeine, which increase energy, focus and to some extent power output. Vital for any serious workouts.
Strength Enhancers – Nutrients included purely to increase overall strength levels, a good example of this would be compounds like creatine and Branch Chain Amino Acids.
Vasodilators – For blood flow and muscle pumps. These are ingredients that increase overall levels of nitric oxide in your – which in turn dilates your blood vessels. This allows more blood to be pushed to your muscles while training giving you more endurance and that fuller muscular look.
Cognitive Boosters – Improves focus and concentration. These are nutrients like Rhodiola Rosea, which sharpen your mind and give you that mental edge to keep focused and motivated to keep pressing on.
And there's only so many that actually do the job properly.
In this article, we're going to give you the industry secrets on what you need to know about pre workouts, how to identify a good one, and which ingredients you need for the best results.
Is it safe to use pre workout supplements? Are there any side effects?
Top rated pre workout supplements are 100% safe and natural supplements.
The products mentioned below have no side effects.
Broscience's Best Pre Workout Supplements: Top 5 Reviews
After countless weeks and hours of research, we've searched the market for your best possible options when it comes to the best pre workouts.
These are your best pre workout supplements when it comes to quality, safety, nutrient profile, and overall performance. This is what you need to know:
When I first tried this pre-workout I instantly thought to myself: "Okay, this is the stuff I've been looking for".
PreFIERCE by TruFIERCE is without a doubt the #1 pre-workout on the market right now.
It has 4 main benefits:
More Energy
Enhanced Power and Strength
Intense Muscle Pumps
Improved Focus 
Here's why it works
The good
By looking at the ingredients label you instantly notice that this pre-workout is something else.
Citrulline Malate (7,000 mg) – Super impressive dose of the #1 pump ingredient
Beta Alanaine (3,500 mg) – Finally a properly dosed beta alanine pre-workout to boost power and strength
Betaine Anhydrous (2,500 mg) – Added pump amplifies that also helps boost strength
L-Theanine (250mg) & Caffeine (250mg) – 'Smart Caffeine' combination for high energy and mental focus
VASO6 Green Tea Extract (150 mg) – Patented pump amplifier
Coconut Water Powder Complex (300 mg) – Keeps you hydrated and boosts electrolytes
And these are just a few of the ingredients to name a few.
Big pluses here for the super high dose of citrulline, and the caffeine/L-Theanine combo. It's a well researched blend, and we're big fans of the coconut water too – it's full of electrolytes and keeps you fully refreshed for your up coming session.
The drawback
Only one flavor available – with that said it's the best tasting pre-workout I've ever had.
Only available to buy from their official website – they offer fast shipping.
Premium priced. You get what you pay for. With that said if you go for their package deals you save money – and on top of that you can use the Coupon SAVE10 for additonal discount (please not that coupon expires today).
Conclusion
PreFIERCE by TruFIERCE is changing the game. They only include clinically effective ingredients in their proper doses.
Something you don't see very often.
Plus, it tastes amazing.
They have the best dose of Citrulline Malate we've ever seen, and the smart caffeine combination will make sure there are no post-workout crashes.
Learn more: https://trufierce.com/products/prefierce/
2. 4 Gauge
This eye-catching shotgun shell is the second best pre workout supplement we've found.
All the main things that you should be looking for in a pre workout – 4 Gauge is as close as you're going to get. It's all natural ingredients.
It's all produced is cGMP approved facilities in both the USA and UK.
This is the run down of why it works:
The Good
It's got to be the nutrient profile. No proprietary blends, and you know exactly how much you're getting in each serving.
Here's what 4 Gauge has as it's main ingredients:
Citrulline Malate (6000mg) – Helps with muscle pumps
Red Beet (300mg) – Endurance enhancer
Rhodiola Rosea (100mg) – Mood, motivation and energy enhancer
Coconut Water (300mg) – Electrolyte top ups
No Beta Alanine. Some people complain about this ingredient making their skin itch. It can be found in most pre workouts, 4 Gauge doesn't contain it.
No artificial sweeteners or colors . Most pre workouts and protein powders contain sucralose, which is an artificial substance. 4 Gauge contains a unique blend of natural plant and fruit sweeteners, don't worry about the sugar, it's only a tiny 5 calories per serving.
It's suitable for vegans and vegetarians. It doesn't contain any gluten, wheat or soy. This is the most natural pre workout that we have ever seen. Which makes it the best of the best pre workout supplements!
The Drawback
Only available in one flavor – Fruit Blast. It tastes great, it's sweet and sour.
Only available to buy on their official website – they offer fast shipping from their USA and UK depots.
Premium price, but you are paying for a higher quality product. We haven't come across any other pre workouts that use a cutting edge formula and don't contain artificial sweeteners.
Conclusion
4 Gauge is an exciting supplement.
The main thing we like about it when compared to other pre workouts is the smooth delivery of energy that you get. There's no spikes in energy, no jittery feeling and no crashes afterwards. Those of you that have been taking pre workouts for a while will really appreciate this advanced formula.
The increase in energy and mental focus really helps you to push through barriers, lift more weight and go for longer. The harder you can workout, the more your body is going to change.
If you're looking for a pre workout supplement that doesn't contain any nasties and you can take every workout, 4 Gauge is it.
To learn more about the product and to buy check out their official website here.
3. BULK Pre Workout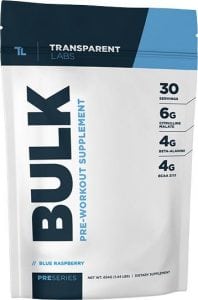 BULK sets itself from the rest by focusing on being the best pre workout supplement for lean muscle.
By adding a few testosterone boosting ingredients to their formula like Zinc and Vitamin D3.
The Good
Awesome ingredients inside in generous doses. I really like the muscle building / testosterone angle. It was a close call for the #1 top rated pre workout supplement spot.
My highlights:
L-Theanine
Citrulline Malate
Mucuna Pruriens
Transparent Labs have developed an excellent reputation in the $25 billion supplement industry.
The Drawback
Some users may experience side effects from the Beta Alanine.
It's only available from their official website.
For most people it might be weird to have testosterone boosting ingredients in a pre workout. Why not just buy a pre workout and test booster separately?
Conclusion
An excellent second choice product. Tastes really good and is an excellent choice for men that are bulking.
If you want to learn more about one of the best pre workout supplements simply visit their official website at: TransparentLabs.com
4. Pre JYM
Here's another good one on our list of the best pre workout supplements – from fitness expert Jim Stoppani, comes Pre JYM – again, a natural pre workout that contains no proprietary blends. All the ingredients are clearly shown and you know how much you're getting with each serving.
However, there are some reasons why it's not our number 1. Here's why it came in second:
The Good
The nutrient profile, again, in Pre JYM is solid – although there are one or two hang-ups which we'll get to.
Here's what we thought were the best in here:
Creatine
Citrulline
Red Beet
Caffeine
Not only that, Jim Stoppani's got a good reputation in the fitness industry too – which is a strong sign that you're getting good quality with his products.
The Drawback
The problem is with Pre JYM is some of the nutrients used may cause some side effects. The main problems that we've come acrossare:
The Beta Alanine could cause paresthesia – an itching in the hands and face, whereas you can build a tolerance to Huperzine A (which also has some side effects of its own). For some people this is not good, nevertheless a great product for those that don't mind this which is why it's one of the best pre workout supplements for sale on the market.
Conclusion
This is a good third choice product. We like the large serving that it provides and the transparency with the formula. However, there is a love or hate relationship with Beta Alanine, some people love the way that it makes them feel, others hate the itchy and tingling skin.
If you want to learn more about Pre JYM – you can find out more over on Jim's website: www.jymsupplementscience.com
5. Stim-Free Pre Workout
Here's another one from Transparent Labs that sets itself uniquely apart from the other top rated pre workouts.
It's the best stimulant free pre workout. A pre workout without caffeine in it.
The Good
An excellent choice for those that do not want stimulants or caffeine in their pre workout supplements.
All the ingredients are awesome and will help you boost your energy.
My highlights:
The Drawback
Well, it's stimulant free… I personally don't like that. But I understand some people may want that, which is why it made it onto this list.
It's only available from the official transparent labs website.
Conclusion
A good pre workout from a respected company.
No proprietary blends and no stimulants.
To learn more visit their official website at: TransparentLabs.com
6. Optimum Nutrition Gold Standard Pre Workout
One of the oldest supplement companies in the industry – if you've researched supplements before, you've probably come across Optimum Nutrition at one point or another.
And with good reason – they make quality products, and their Gold Standard Pre-Workout is a good example of that.
The Good
It's going in the right direction. There are plenty of good ingredients in this pre workout in the Gold Standard range, that makes it better than others out there on the market.
What we liked was:
Creatine Monohydrate
L-Citrulline
Caffeine
The creatine especially – 3g is a good solid amount for strength gains, and the 175mg of caffeine is a safe amount for effective results.
The Drawback
However, despite it containing some positive options – it's not as well balanced as it could be.
The Citrulline is a great addition – but at only 750mg it's pretty under-dosed. Also, liked Pre JYM, this product contains Beta Alanine which may cause paraesthesia – an itching in your face and hands.
Conclusion
A good product from a big brand. We all love Optimum Nutrition which almost automatically shoots it on best pre workout supplements list.
We like the inclusion of L-Citrulline and Creatine, these are two ingredients that should be in a pre workout. The caffeine amount is about right.
It also contains a small proprietary blend which stops you knowing how much you're getting of certain ingredients.
If you want to learn more about Optimum Nutrition's Gold Standard Pre Workout – can learn more on their website over on: www.optimumnutrition.com
What are the signs of top rated pre workout supplements?
When it comes to pre workouts, there are several questions you should be asking about your choice to make sure you're getting a good option.
This will guide you away from the poorer quality products and keep you in the right area for those better options. Questions like:
1. Are there any proprietary blends?
If a pre workout has a proprietary blend for all of their ingredients, it instantly disqualifies it to compete for a spot on the best pre workout supplements list.
Never mind this question, the first thing your probably asking yourself is – 'What the hell is a proprietary blend?' Don't worry, here's what you need to know:
A proprietary blend is when a combination of ingredients are pooled together to make up one big ingredient – or blend. It's usually on the back of the supplement label called something like 'Power Matrix' or 'Top Secret Formula' or whatever. Don't buy into it – it's a gimmick.
They don't do this because it's technical, they do it because they don't want you to know how much of each ingredient is being used.
Think about it. If they're allowed to hide how much of each ingredient they're using, how big do you think their temptation is to put in the more of the cheaper ingredients and use less of the more effective, more expensive ones?
Pretty damn big.
2. Where was it manufactured?
This is a great question that people forget about all the time.
All supplements aren't FDA approved, some of the facilities that they're prepared in are. If they're made in completely unregulated facilities – you can't be sure that you're actually getting what the product is claiming to give you.
Check their website – or the label. Look to see if it has been made in a cGMP (Current Goods Manufacturing Practice) approved facility – this can help ease your mind and ensure that you're that you're in safe hands.
3. Are there any dangerous ingredients in there?
After this article you'll know which ingredients to look for in a pre workout, and which ones to avoid.
There are plenty of good choices out there, but are a few regular occurring nutrients that have been seen to cause side effects – and some ineffective ones that are used time and time again purely through copying the mistakes of other supplement companies.
It can be a real headache finding out which ones are the best for you – but don't worry. We've done the research and prepared you the ultimate pre workout cheat sheet with all the answers you need.

4. Powders VS pills
The majority of pre workout supplements on the market are powders but there are some popular ones available that come in a capsule form.
We favour powders, for these reasons:
Faster absorbing – A capsule has to breakdown before it releases the powder
Larger serving amount – It's impossible to fit all the necessary ingredients, in the right amounts into a few capsules
Best Pre Workout Ingredients that work
We've done tireless research to find the best pre workout ingredients that will deliver the best results for your workouts.
These are a collection of:
Vasodilators – Nutrients that open your blood vessels more, in short your body can push more blood into your muscles and give you an enormous pump.
Stimulants – Self explanatory, ingredients that hype up your energy levels. This helps you produce more power during exercise, and also helps with energy and endurance.
Cognitive Enhancers/Nootropics – Nutrients for your brain. These help to focus your mind and promote concentration. They help to manage the 'rush' that some stimulants give you, and keep you in control throughout the whole experience.
And we've compiled a list of the best of them that will give you a workout to remember. Here's what you should be looking for in a pre workout:
Caffeine & L-Theanine
Originally we were going to give caffeine and L-Theanine their own individual points in this list – but after some research and experimentation, we're convinced that you should always have them together.
The combination of the two is what the internet calls 'smart-caffeine', and it's incredible.
We all know caffeine's a die-hard stimulant, but L-Theanine is a little more complex. It promotes the depressive hormones in your body like GABA – which improves overall calmness and focus. Which balances out the negative effects of caffeine.
It takes the rushing, stimulating effects of the caffeine, and harnesses it through the calm focus of the L-Theanine.
You're wide awake, with no jitters and are totally in control. The perfect conditions for crushing a workout.
Citrulline
This is your best bet when it comes to muscle pumps. Extracted from watermelons, L-Citrulline is great for dilating your blood vessels and giving you incredibly effective pumps.
It works like this. After ingesting Citrulline, your body converts it into L-Arginine – which promotes nitric oxide (NO). This is essential to muscle pumps as NO is a vasodilator that opens your blood vessels and allows more blood to push through them to your muscles.
If you're training hard – especially if you're doing high-rep work, you will experience an incredible pump.
Note: Although Citrulline is awesome – you need a lot of it to get these benefits (around 6 – 8g per serving, seriously). Make sure you always check the dosage on the option you're considering – you'll be surprised at how often this nutrient gets under dosed.
Rhodiola Rosea
Primarily for your mind and motivation – but there has been some evidence of it helping with energy levels too.
This herb has been seen to effectively reduce fatigue, which can perk you up before a big session, as well as boosting focus, subjective well-being and even fighting depression.
It definitely puts you in a more positive mood – which is exactly what you need some days when you just can't get into the right mindset for the gym.
Creatine
This is another good choice, and great for boosting strength.
The power of creatine all comes down to how it promotes the ATP in your body. That's Adenosine Triphosphate, the name doesn't matter – but the effects do.
ATP is where your body gets the most of it's energy – and creatine fuels it all. With more creatine in your system, the more ATP your body can produce, meaning the more stronger and more energetic you will be throughout a workout.
If you've used creatine before, you'll know what we're talking about. You carry more water in your muscles, you're noticeably bigger and you can beat the crap out of your previous workouts.
Red Beets
Also known as Beta Vulgaris, or Beetroot. This is perfect for walking into your session fully refreshed and ready to face the workout ahead.
This is all down to how the nutrient helps to promote nitrate in your blood.  Studies have shown that consumption of beetroot juice can lead to an increase in endurance. Athletes drinking 490ml of Beetroot juice have been seen to increase performance in 4.2% in comparison to a placebo.
As you can see, the evidence for these ingredients is compelling – and from our own personal experience, we can tell you, you're going to want as many of them as you can in your stack

Ingredients that should be avoided:
Some ingredients you'll come across when shopping for a pre workout do a lot more harm than good.
If you happen to find any of these in a product that your considering purchasing we highly recommend you rethink that decision.
The potential side effects could cause serious problems.
We've also included the more commonly used ingredients that have little to no effect – be sure to keep an eye out for these in proprietary blends.
Here's the top 5 worst offenders:
1. DMAA
Also known as: 1,3-dimethylamylamine, 4-methylhexan-2-amine, DMAA, Dimethylamylamine, 1, 3-DMAA, Geranamine, Methylhexaneamine, Forthane
Main Function: Energy and Power
DMAA is the devil. It's a powerful neurological stimulant that pre workout companies used to put in most of their products.
Why did they stop using it? Because it's structurally similar to amphetamines. This means two things; 1.) It's dangerous, 2.) It's an instant fail if you're competing in any competition.
This is arguably the most hardcore ingredient in pre workouts that made it into over-the-counter supplements. And not in a good way.
Due to it's intense stimulating properties, DMAA has been linked to increasing the risk of numerous side effects including:
Higher Blood Pressure
Heart Palpitations
Rapid Heartbeat
Mood Swings
Depression
Energy Crashes
We found a lot of talk on forums of guys saying they are never going to use it again. And we believe them – the cons definitely outweigh the pros.
2. L-Arginine
Also known as: Arginine
Main Function: Blood flow, Circulation and Muscle Pumps
This amino acid doesn't contain side effects – however, this is an overused supplement that you'll find in so many pre workouts.
So what's the problem? It has no effect.
"But didn't you say Citrulline is converted into L-Arginine?" – We'll get to that.
Seriously, although on paper L-Arginine boosts nitric oxide – which dilates blood vessels and brings you that awesome pump – in reality it just isn't absorbed properly from oral consumption.
This is where the citrulline comes in, by being converted into L-Arginine, Citrulline bypasses the problem and gives you all of the benefits with none of the issues.
3. Huperzine A
Also known as: (1R, 9S, 13E)-1-amino-13-ethylidene-11-methyl-6-azatricyclo- 7.3.1.0 2, 7 trideca-2(7), 3, 10-trien-5-on, Qian Ceng Ta (Huperzia Serrata)
Main Function: Cognitive Enhancer
You may have come across this nutrient in various brain boosting stacks, as well as pre workouts. It helps you focus – which is good for both supplements.
However studies have shown that these effects are short-lived. Although they'll give you a minor boost when you first start using the supplement – it needs to be cycled. It can't be used long-term for effective results.
Not only that, there's an issue with side effects. Huperzine A has been linked to causing:
Nausea
Diarrhea
Vomiting
Sweating
Blurred Vision
Restlessness
It's something we definitely wouldn't recommend for anyone trying to achieve a good workout.
Conclusion
As far as the basics go – those are all the main points you need to know about best pre workout supplements. What works, what doesn't work, and how to tell the difference between the two.
Stay away from the dangerous ingredients list. Stay away from products that contain large amounts of caffeine. You want supplement that you can take every workout and not have to worry about the side-effects.
We've already mentioned, the top rated pre workout on the market is PreFIERCE. It has a great balance of all the things you're looking for in a pre workout; it promotes power, focus, energy and muscle pumps.
It's a well rounded supplement, and definitely what you need if you want to hit your gym sessions at full force.
You can learn more about PreFIERCE, by visiting their website here: https://trufierce.com/products/prefierce/
FAQ
Is it safe to use pre workout supplements?
Yes, just make sure they don't contain any of the ingredients to avoid that I mentioned above.
---
What is the best tasting pre workout?
In my opinion it is PreFIERCE . Although taste can obviously vary between each person.
---
Is a pre workout worth it?
Yes, it's the only supplement I ALWAYS use.
---
What is a good pre workout drink?
Something that gives you energy and opens up your blood vessels.
---
Is pre workout bad for your health?
No, most pre workout supplements are 100% safe.
---
Best pre workout with creatine?
4Gauge contains 1,000 mg of Creatine per serving. Which makes it a top rated pre workout
---
Best pre workout supplements for energy
A pre workout that is good for energy boost, is the one that has the right amount of Caffeine in it. Our recommended pre workout has caffeine in it.
---
Best pre workout supplements for women
Women do not need any special pre workout supplements just for them. Which is why we recommend PreFIERCE also for women.
---
Where to buy the best pre workout supplement?
You can only purchase PreFIERCE through their official website here >
Recommended For You
5 EXTREME Muscle Growth Hacks (that work)
Finally! Start building muscle like the pro bodybuilders using these tricks:
Learn more
---
5 EXTREME Fat Loss Hacks (get ripped fast)
Now you can get ripped abs and shredded arms in 30 days:
Learn more
---
Best Testosterone Boosters (top 5 that ACTUALLY work)
After spending three months researching the market this is what actually works:
Learn more
---
Top 5 Pre-Workout Supplements
These give you raw POWER and supercharged energy:
Learn more