Out of all the supplements available, selecting the best multivitamin brands —whether for weight training or general health—is possibly the most challenging.
You're nodding in agreement, right?
Not only does it seem like every drug or grocery store aisle has so many of these popular pills, but also their ingredients are so numerous and complicated that it's difficult to know which is the best.
There's a scary fact too.
Insanely, some of these pills could be damaging to the health—possibly even containing ingredients which can be poisonous!
The truth is, the best multivitamin brands are safe, can vastly improve your health, and boost training results.
I'm going to put you on the right track.
This article doesn't just bring you the best multivitamin brands for both men and women. It also gives you an insight into what these pills contain, their benefits, and how they can improve your bodybuilding results.
So, before you randomly pick the first multivitamin tablet you see on the shelf—dive into this article to discover the truth.
What Are Multivitamins?
According to the Merriam-Webster dictionary, the multivitamin definition is a pill which contains—several vitamins and especially all known to be essential to health. 1
Sometimes known as vits, multis, multiples or just vitamins, these supplements—usually tablets but sometimes offered in a multivitamin syrup or powder—contain a formulation of vitamins, micronutrients, and minerals designed to improve well-being.
The typical multivitamin tablet is formulated to be taken once a day and includes ingredients either close to, or achieving, the recommended daily intake.
Sometimes they're targeted at achieving specific results—for example, to control weight, boost energy or enhance immunity.
Here's the key.
Each individual vitamin or mineral has a recommended daily allowance (RDA), suggested by the Food and Nutrition Board. Most multivitamins indicate on their labels how much of this RDA or daily value (DV) the supplement contains. 2
However, when using these supplements to complement a certain lifestyle—for example, bodybuilding—the DV content may be too great or insufficient for those needs.
Ingredients in Multivitamin
Although some of the best multivitamin brands often contain unusual ingredients to achieve specific goals—in general, there are a few elements which are found across the most popular supplements.
These are all contained in the best multivitamin and include:
Vitamins:
Minerals:
Do Multivitamins Work?
The answer is—it depends.
Let's start with the good news.
Numerous studies have proven that multivitamin supplements are beneficial for improving mood and memory, and the prevention of heart disease, cancer, and eye degeneration. 37 38 39 40
Now the not so good.
Many of the other purported benefits depend mainly on two factors—the user's current state of health and the quality of the vitamin.
Depending on the diet of the consumer—many of the included vitamins may be unnecessary.
If adequate amounts are entering the body through food—the vitamin "overkill" is often passed out through urine.
Alternatively, the use of the term "multivitamin" simply means it contains more than one vitamin. This is irrespective of the quality or quantity of the specific vitamins or minerals.
This is why it's always important to ensure you are buying one of the best multivitamin brands.
Benefits of Using the best Multivitamin brands
Taking the best multivitamin brands will provide you with numerous benefits, these include:
Reducing the chance of cancer, eye issues, and heart disease.
Improving the absorption of other important compounds or supplements.
Boosting energy production.
Preventing the signs of aging.41
Assisting with diet deficiencies—for example, in bodybuilders, vegans or vegetarians.
Simple and easy to take.
Alleviating the need to consume a multitude of different pills.
Generally safe.
Side Effects of Using Multivitamin
Taking the best multivitamin brands—and as directed on the label—should result in little, or no, harmful side effects.
Just a couple of warnings.
Firstly, not following dosage instructions can lead to a vitamin overdose. This depends on the type of vitamins being consumed. Generally, they fall into two categories—water-soluble and fat-soluble.
Water-soluble vitamins (such as the B-vitamins and vitamin C) do not present much of an issue. This is because excess amounts can be expelled through urine.
However, overdosing on fat-soluble vitamins (i.e. A, D, E, and K) can lead to the body building up large stores—which can become poisonous.
Side effects of too much of these vitamins can include defective births, anorexia, diarrhea, and vomiting. 42 43
Secondly, be wary of "cheap" multivitamins. Some of these can actually include poisons, such as heavy metals. Leading to the side effects of kidney and liver disease, dementia and depression. 44 45
The bottom line.
Always use one of the best multivitamin brands, as listed here, and follow the instructions on the label.
Best Multivitamin Brands for Men
In many cases, most of the ingredients in the best multivitamin for men are the same as that as for women.
We're talking about the B-vitamins for a healthy immune system, lowering cholesterol and reducing the chance of cancers, together with the all-round powerful vitamin C.
However, there are some specific factors to take into account when selecting the best multivitamin brands for men.
Let me share them with you.
Firstly, multivitamins that are designed for men can often include lower doses of iron than those designed for women—the requirement is not usually as high, since guys don't lose valuable stores through menstruation.
However, that's not always applicable to all. For example, bodybuilders, vegans, and vegetarians may need a higher dose than others. Consider this when choosing your supplement.
Secondly, the best multivitamin for men will contain specific ingredients, or standard ingredients in higher doses, to target the issues of male health. Such as:
Vitamin B3—helps to prevent the risk of heart disease, of which men suffer more than women. 46
Biotin—to help prevent hair loss.
Thiamine—reduces stress, to which men are more prone than women. 47
Vitamin E—protects against prostate cancer.
Zinc—promotes testosterone production.
Selenium—improves semen quality. 48
The main purpose of the best multivitamin brands for men is to ensure every specific aspect of male health is catered for.
1. Battle Ready Fuel Multivitamin
– only available from BattleReadyFuel.com –
Truly the best multivitamin for men on the market. This supplement includes all of the essential vitamins required both for male health listed above and for improved bodybuilding results.
It has 12 high-dosed vitamins for essential body nutrition. In addition, there are 13 minerals—including the unusual vanadium—perfect for training enhancement.
Furthermore, it contains the awesome testosterone boosting power of zinc and is packed full of muscle building iron.
All the key ingredients are quantified—no proprietary blends here! The ideal supplement for male bodybuilders and athletes. In short, the best multivitamin 2018.
How to Take Battle Ready Fuel Multivitamin
Take one capsule every day with food or drink.
Where to Buy Battle Ready Fuel Multivitamin
This supplement is only available on the Battle Ready Fuel website. It's priced at $44.99 for 30 tablets (1 month supply).
2. Opti Men by Optimum Nutrition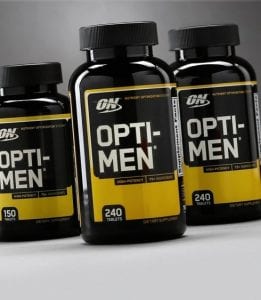 A multivitamin formula packed with 25 vitamins and minerals. In addition, this supplement also includes:
Amino blend—to help build muscle.
Viri-blend—to increase libido.
Enzyme blend—assists with fat burning.
Phyto blend—containing fruit and vegetable concentrates.
The supplement supplies over 75 different ingredients. While designed for the active person—it's slightly let down by the proprietary blends which are not quantified.
Therefore, it just misses out on being the best multivitamin for men 2018.
How to Take Opti-Men
Consume 3 tablets daily, alongside food.
Where to Buy Opti-Men
This supplement is available in 90, 150 and 240 bottle sizes. It retails at $17.99 for 90 pills (one month supply) and is available from the official Optimum Nutrition website, iHerb, Amazon, and eBay.
3. Vita Jym by Jym Supplements
Designed more for the male athlete than the bodybuilder. It's ideal for those who struggle with recovery and muscle repair. The 24 active ingredients in the formulation boost the body's natural healing process.
Each ingredient is broken down, with no fillers or proprietary blends. One of the best multivitamins brands, although not ideal as the best multivitamin bodybuilding supplement.
How to Take Vita Jym
Take two tablets every day with both water and food—breakfast time is recommended.
Where to Buy Vita Jym
To get your hands on this multivitamin, you can obtain it from GNC, Amazon, and eBay. One bottle of 60 tablets (1 months' supply) currently costs $17.49.
4. Animal Pak by Universal Nutrition
Having been around for more than 30 years, this is probably one of the oldest multivitamin supplements for bodybuilders on the market.
In fact, it's more than that—it's a complete complex, including ingredients to aid digestion, improve performance, build muscle and cleanse the body.
It contains over 75 ingredients, none of which are in proprietary blends—although the efficacy of some is debatable. Not the best multivitamin for men.
In powder form, this supplement is available in three flavors.
How to Take Animal Pak
Consume one or two packs per day. The first one to be taken with water at breakfast time, the other 4–12 hours later.
Where to Buy Animal Pak
This multivitamin can be purchased from Amazon, GNC, iHerb, and the VitaminShoppe. It's priced at $28.95 for 44 packets (22/44 days' supply, dependent on usage).
5. VitaMode by Evlution Nutrition
With a focus on eye, immune system, heart, and bone health, this could be considered the best multivitamin for seniors.
It contains 19 quantified active ingredients, together with two proprietary blends—a Phyto Nutrient Complex and an Enzyme Blend. Neither of which
state individual constituent measurements.
Manufactured in the USA, this multivitamin supplement is gluten-free and vegetarian-friendly. Easy-to-swallow capsules.
How to Take VitaMode
Two capsules should be taken daily in conjunction with food.
Where to Buy VitaMode
This multivitamin for men can be obtained from the Evlution Nutrition website, Amazon, iHerb, and Walmart.
It's available in both 60 and 120 capsule counts (one and two months' supply)—priced at $14.99 and $19.99 respectively.
Best Multivitamin for Women
As mentioned earlier, many of the important ingredients in the best multivitamin brands for women are the same as that for the guys.
However, there are some specific compounds that many of these supplements include which are important for the female body.
1. Battle Ready Fuel Multivitamin
With its formulation of 25 ingredients, including all the powerful female-centric elements listed above, this has to be the best multivitamin for women.
There's more.
Don't just assume that this is a product designed for the female athlete or bodybuilder—although its potency will yield impressive training results.
For the more sedentary woman, this supplement is ideal—improving energy reserves, boosting iron, strengthening bones and increasing mood. This is due to the excellent B-vitamin formulation and iron content.
How to Take Battle Ready Fuel Multivitamin
One capsule should be taken every day with food.
Where to Buy Battle Ready Fuel Multivitamin
Priced at $44.99, this supplement can only be purchased from the Battle Ready Fuel website. It includes 30 tablets (1 month supply).
2. Opti Women by Optimum Nutrition
Designed for more mature women, this multivitamin contains some excellent compounds angled at female well-being and energy. Unfortunately, it just misses out on being the best multivitamin for women.
Its 23-ingredient formulation includes 17 that are specifically aimed at the female body. Some of which are:
Soy isoflavones—improves bone health and alleviates menopausal symptoms. 54
Ostivone—used to prevent osteoporosis in postmenopausal women. 55
Uva ursi—assists in alleviating urinary tract symptoms. 56
How to Take Opti-Women
Consume two capsules per day with food.
Where to Buy Opti-Women
This female multivitamin is available from the Optimum Nutrition website, Amazon, iHerb, and GNC. It costs $14.99 for 60 capsules (one month supply).
3. Vita Jym by Jym Supplements
Not just a supplement for the guys, this multivitamin is equally impressive for the girls—making it one of the best multivitamin for women.
Included in its 24-ingredient complex are some of the most essential vitamins for the female athlete—who demand to be on top of their game.
Including a potent dosage of folic acid, this supplement not only benefits athletes, but also helps women during pregnancy.
A 2010 study indicated that folic acid can improve vascular function—and therefore recovery and oxygen delivery—in runners suffering from amenorrhea. 57
How to Take Vita Jym
Two tablets should be taken every day with both water and food—breakfast being the ideal time.
Where to Buy Vita Jym
This multivitamin is available from Amazon, GNC, and eBay. A bottle of 60 pills (1 month supply) costs $17.49.
4. Rainbow Lights Women's Multivitamin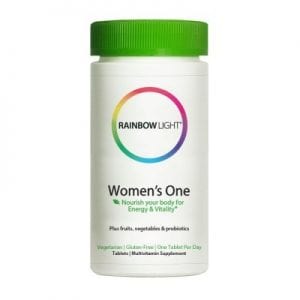 A total of 24 active ingredients are combined with three proprietary blends making it one of the best multivitamins for women of all ages—whether active or more sedentary.
Some of the key ingredients include:
Vitamin D—for both its bone and breast health benefits.
Iron—to replace what's lost through menstruation.
Vitamin B12—to boost energy and protect nerve cells.
Ginger and bacillus coagulans—to deal with troublesome female digestion.
In addition, the inclusion of organic spirulina, dong quai, and red clover, help to alleviate stress symptoms and redress hormonal imbalances.
How to Take Rainbow Light Women's Multivitamin
Consume one tablet per day with food.
Where to Buy Rainbow Light Women's Multivitamin
This supplement is available from the Rainbow Light website, Amazon, Walgreens, iHerb, and Target. It costs $17.99 for 30 capsules (1 month supply).
5. VitaMode by Evlution Nutrition
An impressive formulation for ladies of a more mature age. The 19-ingredient formulation is supplemented with two bespoke blends, giving the older person more energy, vitality, and lust for life.
They include:
Boron—to increase estrogen levels to offset the menopause. 58
Wild Yam—thought to reduce cramps, vaginal dryness and boost libido.
Hesperidin—to reduce hot flashes.
This is in addition to the B-vitamin complex, which raises energy while improving eye, bone and heart health.
How to Take VitaMode
Consume 2 tablets per day with food.
Where to Buy VitaMode
This multivitamin can be purchased from the Evlution Nutrition website, iHerb, Walmart and Amazon.
Available in 60 and 120 tablet bottles (one and two months' supply). It's priced at $14.99 and $19.99.
Multivitamin for Bodybuilding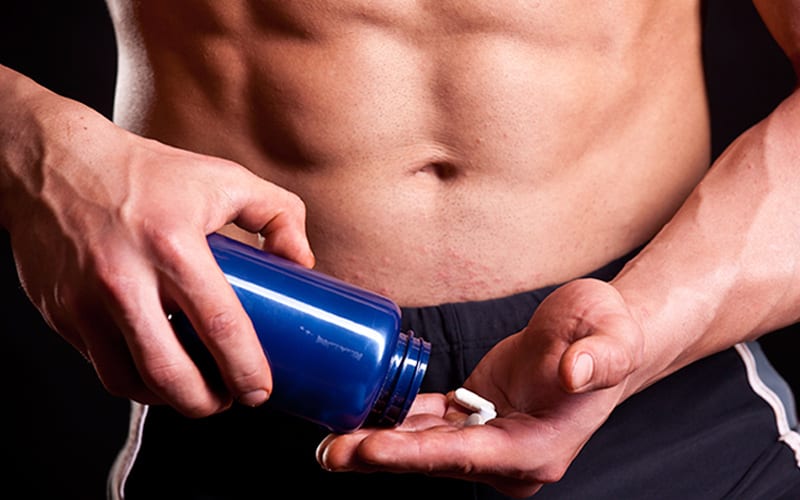 First and foremost, multivitamins were designed to ensure that guys and girls receive all the nutrients they need for a healthy body.
As a bodybuilder, in addition to being an absolute beast in the gym, you watch your diet. Fat, calorie, carb, and protein intake are all carefully monitored.
So, I know what you're thinking.
I eat healthily! Why the hell do I need multivitamin bodybuilding supplements?
Well, as a bodybuilder, you're probably in more need of multivitamins than most. Firstly, this is because your muscle mass-centric diet often omits key nutrients found in the foods you are avoiding.
Secondly, you're putting more strain on the body than the average Joe. This includes pressures on the:
Cardiovascular system.
Brain.
Skeleton.
Pulmonary system.
Thirdly, many of the B-vitamins promote absorption of other nutrients—especially amino acids. So, if you're already supplementing with whey protein or BCAAs—their efficacy will be heightened by consuming one of the best multivitamin brands.
Multivitamin Dosage
For starters, always take the vitamin supplement as per the manufacturer's label instructions. This will prevent any chance of overdosing.
Multivitamins should, in general, be taken daily, with food, and at the same time each day. This means your nutrient levels will remain high, with the food helping to increase absorption rates.
Finally, try to ensure that you reach, with a combination of both diet and supplementation, at least the recommended daily allowance of each vitamin or mineral. 59
Summary
The best multivitamin brands are not only essential for everyday health, but can also make an important contribution to increase your training returns.
All the above supplements, both for men and women, target specific aspects of the body's requirements, while boosting results.
Always ensure you choose a reputable brand, to eliminate the risk of underdosing, overdose or poisoning.
The best way to do this is to select the overall best multi for men and women—the Battle Ready Fuel multivitamin.
FAQ
"What Does a Multivitamin Do for You?"
Multivitamins ensure that you have all the essential vitamins and nutrients your body requires, which may not be supplied through diet alone.
This leads to numerous multivitamin benefits including incredible all-around health improvement as well as raising bodybuilding and athletic training results.
"When to Take Multivitamin?"
As many vitamins are fat soluble, it's best to take them with meals, once a day—every day.
"How Long Does It Take for a Multivitamin to Work?"
The actual vitamins will be absorbed by the intestine within two to four hours. How fast they act depends on the current level of vitamins and nutrients in the body.
Generally, it takes between one and two weeks to see and feel results.
"Is Taking Multivitamin Dangerous?"
As long as you select one of the best multivitamin brands, and follow the directions for use on the label, there's little chance of developing any multivitamin side effects.
"Do You Need to Take Multivitamins Every Day?"
Always follow the instructions for use as outlined on the product label. Usually, most multivitamins are designed to be taken every day.
References
1. https://www.merriam-webster.com/dictionary/multivitamin
2. https://ods.od.nih.gov/Health_Information/Dietary_Reference_Intakes.aspx
3. https://www.ncbi.nlm.nih.gov/pmc/articles/PMC1375232/
4. https://www.ncbi.nlm.nih.gov/pubmed/24460461
5. https://pubchem.ncbi.nlm.nih.gov/compound/thiamine
6. https://www.ncbi.nlm.nih.gov/books/NBK470460/
7. https://www.ncbi.nlm.nih.gov/pmc/articles/PMC5517396/
8. https://www.ncbi.nlm.nih.gov/pubmed/27029320
9. https://www.ncbi.nlm.nih.gov/pubmed/18375237
10. https://www.ncbi.nlm.nih.gov/pubmed/15132730
11. https://www.ncbi.nlm.nih.gov/pubmed/2507696
12. https://www.ncbi.nlm.nih.gov/pubmed/10468649
13. https://ods.od.nih.gov/factsheets/VitaminB6-HealthProfessional/
14. https://www.ncbi.nlm.nih.gov/pubmed/24667649
15. https://www.ncbi.nlm.nih.gov/pubmed/24328495
16. https://www.ncbi.nlm.nih.gov/pmc/articles/PMC4326479/
17. https://www.ncbi.nlm.nih.gov/pmc/articles/PMC4439950/
18. https://www.ncbi.nlm.nih.gov/pubmed/19151987
19. https://www.ncbi.nlm.nih.gov/pmc/articles/PMC3884093/
20. https://www.ncbi.nlm.nih.gov/pubmed/29099763
21. https://www.ncbi.nlm.nih.gov/pmc/articles/PMC3997530/
22. https://www.ncbi.nlm.nih.gov/pubmed/23558164
23. https://www.ncbi.nlm.nih.gov/pubmed/10617959
24. https://www.ncbi.nlm.nih.gov/pubmed/9428447
25. https://www.ncbi.nlm.nih.gov/pubmed/8875519
26. https://www.ncbi.nlm.nih.gov/pmc/articles/PMC4413488/
27. https://www.ncbi.nlm.nih.gov/pubmed/28515951
28. https://www.ncbi.nlm.nih.gov/books/NBK279023/
29. https://www.ncbi.nlm.nih.gov/pubmed/15018485
30. https://www.ncbi.nlm.nih.gov/pubmed/17172008
31. https://www.ncbi.nlm.nih.gov/pubmed/23950577
32. https://www.ncbi.nlm.nih.gov/pubmed/21199787
33. https://www.ncbi.nlm.nih.gov/pubmed/15117065
34. https://www.ncbi.nlm.nih.gov/pubmed/10966840
35. https://www.ncbi.nlm.nih.gov/pmc/articles/PMC3942707/
36. https://www.ncbi.nlm.nih.gov/pmc/articles/PMC4757853/
37. https://www.ncbi.nlm.nih.gov/pubmed/20110592
38. https://www.ncbi.nlm.nih.gov/pubmed/10909952
39. https://www.ncbi.nlm.nih.gov/pubmed/16880453
40. https://www.ncbi.nlm.nih.gov/pubmed/23152201
41. https://www.ncbi.nlm.nih.gov/pmc/articles/PMC2682456/
42. https://www.ncbi.nlm.nih.gov/pubmed/7477116
43. https://www.ncbi.nlm.nih.gov/pmc/articles/PMC3798924/
44. https://www.ncbi.nlm.nih.gov/pmc/articles/PMC5978005/
45. https://www.ncbi.nlm.nih.gov/pmc/articles/PMC4691126/
46. https://www.ncbi.nlm.nih.gov/pubmed/10863872
47. https://www.ncbi.nlm.nih.gov/pmc/articles/PMC5120613/
48. https://www.ncbi.nlm.nih.gov/pubmed/3558756
49. https://www.ncbi.nlm.nih.gov/pubmed/16197581
50. https://www.ncbi.nlm.nih.gov/pmc/articles/PMC4478054/
51. https://www.ncbi.nlm.nih.gov/pubmed/16542786
52. https://www.ncbi.nlm.nih.gov/pmc/articles/PMC3510352/
53. https://www.ncbi.nlm.nih.gov/pubmed/17591574
54. https://www.ncbi.nlm.nih.gov/pmc/articles/PMC4386944/
55. https://pubchem.ncbi.nlm.nih.gov/compound/ipriflavone#section=MeSH-Entry-Terms
56. https://www.ncbi.nlm.nih.gov/pmc/articles/PMC5591533/
57. https://www.ncbi.nlm.nih.gov/pubmed/20445362
58. https://www.ncbi.nlm.nih.gov/pubmed/3678698
59. https://www.ncbi.nlm.nih.gov/books/NBK56068/table/summarytables.t2/?report=objectonly