You don't have to look far to find what is professed as the best fish oil supplements being advertised. They're one of the most common health products, they seem to be everywhere—on TV, magazines and online.
You're probably thinking, "Why do I need them?"
I mean, you watch the food intake, knock back the protein and work out every day. You're not like the average Joe who needs pills to supplement his sedentary lifestyle and poor diet.
You're with me on that, right?
Well, it turns out that not only does fish oil have benefits for the man on the street—these supplements can provide amazing benefits for bodybuilders too.
They help to boost muscle, shed fat and reduce recovery time.
Read on to find the best fish oil bodybuilding supplements to take your training results to the limit. I'll also throw in some helpful detail on the incredible effects they provide.
Table Of Contents
Best Fish Oil Supplements
1. Battle Ready Fuel Fish Oil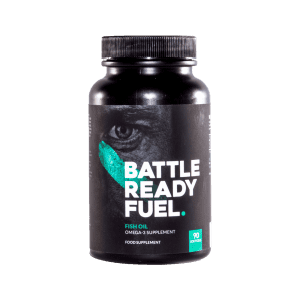 – visit BattleReadyFuel.com to buy –
Designed and formulated by SAS professionals, this product has to be ranked top of the best fish oil supplements list. That's down to its clean and pure formula, with no fillers.
It contains the perfect balance of EPA and DHA fatty acids (540 mg and 360 mg respectively) providing the optimum amount of inflammation reduction and muscle-building properties.
There's more.
The only other ingredient is vitamin E. This is essential to increase the bioavailability of the fatty acids, improve their function and sustain their effectiveness. 1
This supplement includes 90 capsules (one serving of 3 capsules per day—1 month's supply).
Pros
 Excellent ratio of EPA to DHA.
Created by guys who know how to take their bodies to the limit.
 No fillers or ineffective ingredients.
 Boosts muscle growth and fat loss while reducing inflammation.
 Includes vitamin E to increase the potency of the fish oil omega 3.
Cons
2. Omega Jym
Just missing out on the #1 spot in the best fish oil supplements review is this product from Omega Jym.
Although it lacks the formula boosting vitamin E of Battle Ready Fuel, it does contain a supplemental ingredient.
On top of the 750 mg of both EPA and DHA per serving (2 capsules), this fish oil includes 150 mg of docosapentaenoic acid (DPA).
It turns out.
This fatty acid gained attention due to low cardiovascular disease occurring in the Inuits of Greenland—being found in high doses in their seal meat diet. 2
Although understudied, it may, therefore, have benefits for the heart, yet there is no indication DPA aids bodybuilding.
The bottle includes 120 capsules (two capsules twice daily—one month supply).
Pros
Contains EPA and DHA.
Includes DPA.
Easy to swallow.
Two months' supply in one bottle.
Cons
Many users found belching as a side effect.
Exceeds the two-gram limit of recommended EPA and DHA daily supplementation.
3. NOW ULTRA Omega 3
Some fish oil products can give the unwelcome side effects of nausea or gastric reflux. However, these softgels have been given an enteric coating to make them easier on the stomach.
But that's not all.
For peace of mind, these fish oil capsules have been independently tested to ensure that they are free from contaminants such as heavy metals or polychlorinated biphenyls (PCBs)—a common issue in fish oils. 3
This supplement provides 500 mg EPA and 250 mg DHA per serving and is available in 90 or 180 softgel bottles (1-2 softgels per day).
Pros
Reasonably priced.
Odor controlled formulation.
Large six-month supply option.
Gluten and sugar-free.
Cons
Includes 250 mg of fish oil concentrate.
4. Optimum Nutrition Fish Oil
This pure supplement has fish oil taken from mackerel, anchovy, and sardine—but has been treated to prevent fishy breath or belching.
With just 10 calories per serving, it's ideal for people who are watching their weight or entering a cutting phase.
A supplement which contains 1000 mg of fish oil. This includes 300 mg (combined) of EPA and DHA per serving (1 softgel).
The bottle contains 200 softgels (1-2 softgels taken up to three times per day).
Pros
10 calories per serving.
Designed for protection against fish-breath and belching.
Cons
Can mean taking 6 softgels per day.
5. Evlution Nutrition Fish Oil
For those who consider provenance important in their supplements, this supplement has oil sourced from 100% Nordic fish and is manufactured in the USA.
The cool thing is:
Flavored with citrus, it's a good choice for guys who really dislike the slight fish taste that some fish oil supplements can provide. It's designed to enhance brain function, improve mood and support the heart.
It includes 1250 mg of fish oil, plus 450 mg of EPA and 300 mg of DHA per serving (one softgel). The manufacturers recommend that one softgel is taken twice daily.
This supplement can be purchased in 60 or 120 count bottles.
Pros
Made in the USA.
Citrus flavored.
100% Nordic sourced fish.
Cons
Larger capsules than many supplements—may be difficult to swallow.
6. NOW Omega 3
Designed mainly to support the cardiovascular system, this fish oil has been molecularly distilled to ensure on the purest fish oil.
To further increase the efficacy, the supplement includes vitamin E to prolong the life and bioavailability of the fish oil.
What's inside the tub?
Each serving (2 softgels) includes 360 mg of EPA and 240 mg of DHA. Two softgels should be taken twice daily.
This supplement is available in 30, 100, 200 and 500 softgel bottles.
Pros
Includes vitamin E.
Distilled for a cleaner hit.
Large choice of bottle sizes.
Cons
Hard shell on the capsules.
7. Animal Omega
Technically, this isn't a "pure" fish oil supplement, as it includes omega-3s from fish, but also omega-6s from plants. The idea being it will provide the perfect balance of both forms.
The servings are in handy individual packets, containing six capsules which need to be taken once daily with food.
In a nutshell:
Each serving contains 350 mg of DHA and 450 mg of EPA, together with 2500 mg of omega-6 fatty acids. What's more, it includes vitamins A, D, and E.
Thirty packs are included, allowing for a one-month supply.
Pros
Individual packets for convenience.
Includes vitamins A, D, and E.
Cons
A large number of capsules to swallow.
Many people do not require additional omega-6.
8. Platinum 100% Fish Oil
As the name suggests, this fish oil supplement contains nothing but 100% fish oil, sourced from anchovies.
You could say.
It's formulated for guys who think they are getting enough omega-3s from tuna, unaware that it's not high in these important fatty acids.
Each serving (one softgel) includes 180 mg of EPA and 120 mg of DHA, taken once daily—meaning it has one of the lowest dosages of all the supplements reviewed here.
The bottle contains 100 softgels allowing for over three months' supply.
Pros
100% fish oil.
No filler ingredients.
Enteric coated softgels.
Cons
9. BSN Fish Oil DNA
BSN has been making nutritional supplements since 2001. These fish oil softgels are designed to deliver 100% fish oil, and nothing more.
Made from sardines, mackerel, and anchovy—it provides one gram of fish oil per serving (one softgel), which includes 300 mg of EPA and DHA combined.
Needless to say.
Unfortunately, these aren't quantified, so each individual quantity can't be ascertained.
One softgel can be taken from 1-3 times daily, depending on preference.
Pros
100% fish oil.
Established nutrition supplement manufacturers.
Made in the USA.
Cons
EPA and DHA contents are not quantified individually.
10. MusclePharm Fish Oil
Designed to boost the metabolic rate and boost weight loss, this supplement is guaranteed to contain zero banned substances. Useful if you are taking this before a competition.
The natural citrus flavor makes consumption easy and negates the unwanted fish burps.
Each serving (one softgel) delivers 400 mg of EPA and 300 mg of DHA, taken three times daily. The bottle contains 90 softgels.
Pros
Citrus flavored.
Independently tested for banned substances.
Cons
Benefits of Fish Oil
Fish oil is extracted from either the flesh of oily fish, such as mackerel or herring, or from certain fish livers—for example, in cod liver oil.
The importance of this naturally occurring supplement is that it's high in omega-3 fatty acids. These acids are essential for human health and cannot be manufactured by the body itself.
While plants can provide the fatty acid alpha-linolenic acid (ALA), they cannot supply the essential eicosapentaenoic acid (EPA) and docosahexaenoic acid (DHA). These are mainly found in marine oils. 4
Here's the key.
There's some evidence to suggest that EPA and DHA provide greater health benefits than those provided by ALA. Having to consume high levels of oily fish to enjoy the rewards of these fatty acids may not be convenient. 5
Hence, supplementation with fish oil is the most efficient way to reap the gains from these awesome compounds. Here are the main fish oil benefits for men:
Lowers blood pressure.8
Can prevent hardening of arteries. 9
Reduces the likelihood of a heart attack. 10
Lowers inflammation.11
Taken alongside exercise, it can increase the rate of fat loss. 12
Alleviates depression.13
Improves asthma symptoms. 14
Promotes bone health. 15
Fish oil benefits skin by boosting hydration.
Obviously, these are all excellent benefits for any person, whether someone addicted to exercise or those leading a more sedentary lifestyle.
Here's the kicker.
Some of these proven effects are priceless for the bodybuilder. For guys hitting the gym like beasts, it helps to:
Reduce recovery time—it lowers inflammation and oxidative stress—the more unpleasant side effects of bodybuilding.
Build muscle—fish oil can increase the rate of muscle protein synthesis.16
Increase definition—by helping to shed fat, it improves the muscle to fat ratio.
Reduce blood pressure—known to increase during heavy lifting.17
Strengthen bones—when lifting the seriously heavy weights, you want to ensure that those arms will not fail.
Boost testosterone—essential for building muscle.18
Fish Oil Side Effects
Unless you are allergic to marine animals, the side effects from taking fish oil are minimal and more of an inconvenience than a health risk. Reported reactions include:
Fishy breath—although some supplements are designed to prevent this.
Belching.
Nausea.
Heartburn.
Diarrhea.
These symptoms only occur in a minority of cases, with most people exhibiting no side effects at all.
But, a word of caution.
The US Food and Drug Administration (FDA) advises not to consume any more than three grams of EPA and DHA combined per day—with no more than two grams via supplementation. Exceeding this dose can lead to reduced clotting ability and an increased risk of bleeding. 19 20
Furthermore, overdosing can make the fish oil act as an immunosuppressant, increasing the likelihood of disease. 21 22
How to Use Fish Oil
If you're simply looking to just achieve the benefits of a healthy cardiovascular system, a dosage of 500 mg per day is recommended. 23
However, when looking to lose fat, boost muscle mass and improve recovery time, take around 900 mg per day of EPA and DHA combined.
While you can take more, never ever exceed the dosage of three grams per day.
The fish oil supplement should be taken with food, every day. This improves absorption into the body and reduces the chance of stomach upsets.
Summary
Not only having powerful general health benefits, the best fish oil supplements are also invaluable for the bodybuilder.
With their ability to improve muscle gain, reduce recovery time, and shed fat—they are a powerful weapon in your arsenal.
One of the best fish oil supplements has to be that from Battle Ready Fuel. With its combined 900 mg dosage of EPA and DHA plus vitamin E, it is the most effective fish oil available.
FAQ
"Why Do We Need Fish Oil?"
Many Western diets provide us with an imbalance of omega-3 to omega-6 fatty acids. If the omega-6 is higher than the omega-3, this can lead to inflammatory problems and increase the risk of illness. 24
Consuming the best fish oil supplements, which are high in omega-3s, restores this balance, negates the omega-6s and provides additional health benefits.
"How Much Fish Oil Should You Have in One Day?"
For cardiovascular benefits, consuming 500 mg per day is sufficient. But, to achieve impressive muscle gains, increased definition and enhanced recovery time, take a dosage of 900 mg.
Never exceed supplementing with more than two grams per day—this can lead to health issues.
"What's the Best Fish Oil?"
The best fish oil is Battle Ready Fuel because of its perfect balance of 900 mg EPA and DHA—supported by the inclusion of vitamin E to increase absorption and protect the integrity of the fatty acids.
"Is Fish Oil Dangerous?"
If taken sensibly, at a dosage lower than two grams per day of EPA and DHA, fish oil is safe.
However, if this fish oil dosage is exceeded, it can lead to complications. Too much omega-3 side effects include suppressing the immune system and increasing the chance of bleeding.
"How Long Does It Take for Fish Oil to Work?"
Some studies have indicated that the positive benefits from fish oil can become apparent after just two weeks of supplementation. 25
However, if you are currently severely low in omega-3s, it could take a little longer to restore the balance. The key is to take them long-term every day to achieve the best results.
"Is Fish Oil Good for Bodybuilding?"
The best fish oil supplements are an invaluable supplement for the serious bodybuilder.
Its effects include: reducing recovery time, enhancing muscle protein synthesis, shedding fat, lowering blood pressure and raising testosterone.
References
1. https://www.ncbi.nlm.nih.gov/pmc/articles/PMC4594047/
2. https://www.ncbi.nlm.nih.gov/pmc/articles/PMC4162505/
3. https://www.ncbi.nlm.nih.gov/pubmed/2718527
4. https://www.ncbi.nlm.nih.gov/pmc/articles/PMC4350958/
5. https://www.ncbi.nlm.nih.gov/pubmed/16825676
6. https://www.ncbi.nlm.nih.gov/pubmed/17398308/
7. https://www.ncbi.nlm.nih.gov/pubmed/7769501
8. https://www.ncbi.nlm.nih.gov/pubmed/8339414
9. https://www.ncbi.nlm.nih.gov/pubmed/23184014
10. https://www.ncbi.nlm.nih.gov/pubmed/16267249
11. https://www.ncbi.nlm.nih.gov/pubmed/26340264
12. https://www.ncbi.nlm.nih.gov/pubmed/17490962
13. https://www.ncbi.nlm.nih.gov/pubmed/18485485
14. https://www.ncbi.nlm.nih.gov/pubmed/16424411
15. https://www.ncbi.nlm.nih.gov/pmc/articles/PMC3238146/
16. https://www.ncbi.nlm.nih.gov/pmc/articles/PMC5425117/
17. https://www.ncbi.nlm.nih.gov/pubmed/2632751
18. https://www.ncbi.nlm.nih.gov/pubmed/21722693
19. https://pdfs.semanticscholar.org/5c90/42de155b3c273a5d70c7ed88acb7bb39b2b7.pdf
20. https://ods.od.nih.gov/factsheets/Omega3FattyAcids-HealthProfessional/#en176
21. https://www.ncbi.nlm.nih.gov/pmc/articles/PMC4421441/
22. https://www.ncbi.nlm.nih.gov/pubmed/1833105
23. https://www.ncbi.nlm.nih.gov/pubmed/21603485/
24. https://www.ncbi.nlm.nih.gov/pubmed/16387724
25. https://www.ncbi.nlm.nih.gov/pmc/articles/PMC3168413/