Are you struggling with gynecomastia and looking for the best options to help manage it?
If so, then a compression vest may be something worth considering.
Compression vests are designed to reduce excess chest tissue by providing gentle compression while also offering support and comfort.
In this blog post, we'll provide an overview of gynecomastia, discuss the benefits of using a compression vest, and review the top five manboobs vests on the market today to help you decide which one is right for you.
We'll take a look at features such as fit and material composition so that you can make an informed decision based on your own needs.
So if you're looking for ways to manage your gynecomastia in style and comfort, read on!
How to lose manboobs naturally
Surgical options are available to treat gynecomastia, but some men prefer to take a natural approach.
To reduce manboobs without surgery, you need to shed excess body fat through diet and exercise.
Plus there are a few high-quality supplements that can help.
A healthy, low-calorie diet combined with cardio exercises can help you trim overall body fat and reduce the visibility of man-boobs.
In addition, chest exercises that focus on the pectoral muscles can be beneficial for improving definition and lifting the chest.
Wearing a compression vest designed specifically for manboobs can also help achieve desired results.
Through diet and exercise, paired with a quality compression vest, you should be able to achieve a more toned chest and decrease the appearance of your manboobs naturally.
Also, don't sleep on this manboobs destroying supplement I love.
What are compressions vests for gynecomastia and what do they do?
Compression vests for gynecomastia are specifically designed garments that provide comfort, support, and coverage to men suffering from this condition.
They work by providing compression across the chest area, promoting a smoother contour and improved circulation to help reduce swelling associated with the disorder.
Made from lightweight fabrics and adjustable straps, these vests are designed to be comfortable while offering maximum effectiveness.
When selecting a compression vest for gynecomastia, it's important to find one tailored to your size and body type in order to ensure optimal results.
With proper use, these vests can help increase confidence and improve the quality of life for those living with gynecomastia.
The Benefits of Wearing a Compression Vest for Gynecomastia
A gynecomastia compression vest offers a variety of benefits to those suffering from gynecomastia.
Most notably, it helps flatten the appearance of stubborn chest fat and skin excess due to gynecomastia.
It also helps with gynecomastia recovery post-surgery by providing adequate support and reducing swelling while still allowing freedom of movement.
Many compression vests come with adjustable closures so you can ensure proper fit and comfort at all times, making them ideal for long-term wear even during active periods.
With features like breathable fabrics, antibacterial properties, and moisture management capabilities, using the best gynecomastia compression vest gives you peace of mind with the promise of secure protection and comfort.
Top 3 Compression Vests for Gynecomastia
If you're looking for the best compression vests to help manage gynecomastia, then you've come to the right place.
We have carefully selected and reviewed three of the highest-quality options currently available on the market.
Featuring superior fabric quality, excellent fit, and comfortable design, these compression vests offer effective support and make managing gynecomastia a breeze – all without sacrificing your style or comfort in the process.
With our reviews at your disposal, it's never been easier to find a compression vest that is perfect for your body type and lifestyle.
1. Gynecomastia Compress Tank Top from TIMESS.
The Manboobs Vest from TIMESS is an ideal choice for those looking for a compression garment to reduce the appearance of Gynecomastia.
Made from premium fabric and possessing a breathable design for all-day comfort, this vest provides an instant flat abdomen effect.
Its spandex composition ensures the elasticity and longevity of this product.
However, it does come with one limitation in its design: the color black is the only available color.
Nevertheless, at $17.99 USD, this compression vest is an affordable and convenient choice for treating visible signs of gynecomastia without breaking your budget.
2. Men's Chest Compression Shirt to Hide Gynecomastia from Esteem Apparel.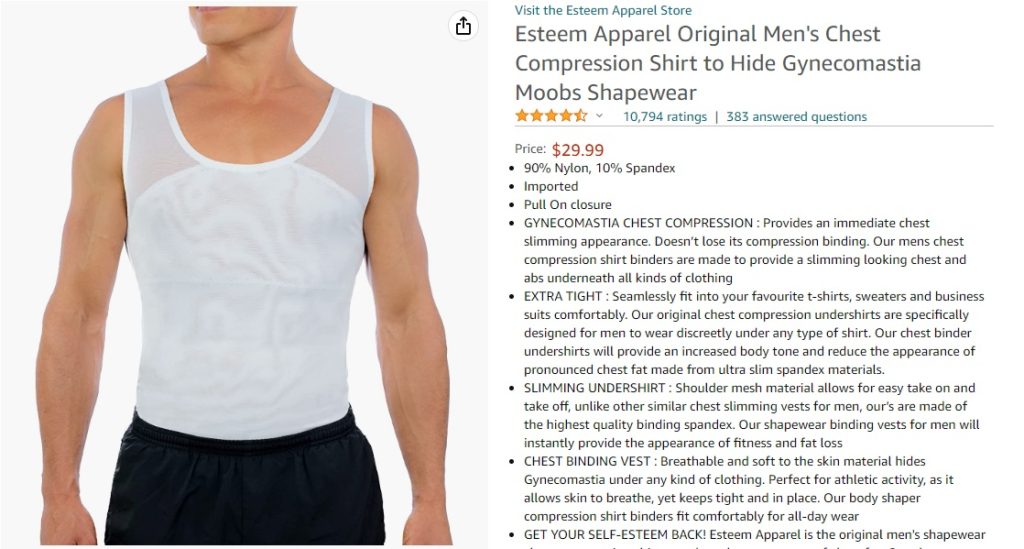 For those looking for a compression vest specifically designed to hide "moobs" and reduce the appearance of chest fat, Esteem Apparel's Compression Shirt might be the perfect solution.
This shirt is extra tight yet comfortable to wear underneath any kind of clothing and helps provide an immediate chest-slimming appearance.
Not only that but it is specifically designed for post-surgery compression and won't lose its elasticity while wearing.
Available in black and white and costing just $29.99 USD, this Compression Vest for Gynecomastia from Esteem Apparel may be the answer for those seeking relief from man boobs.
3. Men's Compression Shirt from KOCLES.
Finding the right vest for suppressing gynecomastia can be tricky.
But with our 3rd best manboobs vest from KOCLES, you don't need to worry.
This vest is designed to specifically target back fat with its crisscross panels and provide essential posture support.
It's lightweight and highly elastic, so you can move freely knowing that it won't show through whatever clothes you're wearing – from suits to t-shirts.
Crafted from high-end nylon and spandex with reinforced seams, this vest offers comfort, support, and lasting quality, making it a great long-term investment for $25.99 in both Black and White colors.
Additional Tips on Choosing a Compression Vest for Gynecomastia
When choosing the best gynecomastia compression vest, it's important to consider some additional tips that can further help you find the most suitable option.
Firstly, check for a compression vest with adjustable straps so it can securely hold in place and support gynecomastia without slipping or moving around.
Also, look for breathable materials like cotton, as this will help keep your skin dry and comfortable during workouts.
Finally, make sure that your chosen compression vest provides a snug yet stretchy fit to maximize compression on the gynecomastia area and ensure proper movement.
By following these tips during your search, you should have no trouble finding the ideal gynecomastia compression vest that best suits your needs.
My final thoughts
Best For Man Boobs
In conclusion, finding the best compression vest for gynecomastia can seem daunting, but with a little research and some helpful guidelines, you'll have no trouble finding the perfect product.
Knowing what features to look for and being aware of the benefits they offer is key to making an informed decision.
In addition, consider your individual needs and preferences when choosing a product that fits you best.
From TIMESS' Gynecomastia Compress Tank Top to Esteem Apparel's Men's Chest Compression Shirt to Hide Gynecomastia to KOCLES' Men's Compression Shirt, each can be a good overall option for you depending on your specific situation.
Lastly, consider following this 3-step program to actually lose your moobs so you won't have to buy compression shirts all the time.
With all this in mind, hopefully, you now feel more confident about taking action against manboobs and finding the best compression vest for gynecomastia!