Battle Ready Fuel Whey Protein
$44.99
Pros
Contains the fast absorbing Whey protein isolate
Contains no whey protein concentrate
High quality protein
Tastes very good
Not expensive for a whey isolate protein
Cons
Only available on their official website
I just had to do my own Battle Ready Fuel Whey Protein review and share it with you guys. I have some pretty interesting facts to share on this.
How many protein supplements have you bought that are very expensive and don't taste great? Or they are made with inferior types of protein?
I have come across too many of those in my training life, if it's not one thing, it's another.
Mixability and digestion are two more common problems I often see with whey protein powders.
But Battle Ready Fuel Whey Protein looks like it could be up there among the elite.
What do I mean by that?
Well, the ingredients look promising, so I plan to delve deeper once again and give you the answers that you deserve.
By the end of this review, you will know exactly what this protein supplement is all about, inside and out.
Yes, you did read that right.
It's my duty to be your main trusted source on supplement reviews and you can be assured that I will back up all of my research.
If it's worth having then you will hear it from me, first and foremost.
Battle Ready Fuel Whey Protein Review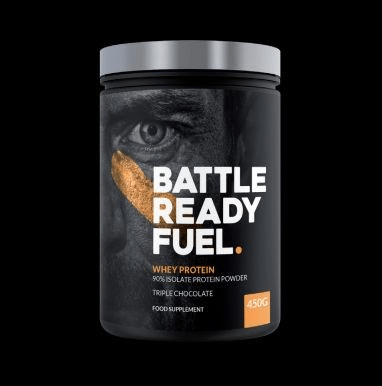 The products of Battle Ready Fuel come from a team of SAS soldiers. So, if you are looking for something hardcore, then this series could be the boost you need.
What makes this so special?
An SAS team are not going to pussy foot around with supplements, let's be honest about that.
Battle Ready Fuel Whey Protein is made from 90% whey isolate! That is a major selling point to me and beats the fluff out of other ingredients, such as whey concentrates.
Whey protein is often referred to as a supplement, but in all honesty, it is a food source and a good one at that.
However, to keep things simple, I will carry on in my usual fashion.
Whey protein isolate is a great component for a serious trainer or bodybuilder who needs a lot of protein throughout the day.
It is a very easy protein to absorb and contains all the essential amino acids.
Do you see where we are going with this?
It's a complete protein!
A complete protein source is something we all need in our diet, whether we train or not. So, let's answer some of the big questions.
Who Should Use Battle Ready Fuel Whey Protein?
That is a good question and the answer is simple.
BRF Whey Protein is suitable for any athlete, trainer, cross fitter, gym bro or bodybuilder. Anyone looking for good support to keep their system anabolic and preserve lean muscle mass when cutting will benefit from this.
The cool thing about whey isolate is that it is assimilated into the bloodstream very quickly, which makes it the perfect recovery drink.
After a workout, you have just put your muscles to the test. In order to grow back bigger and stronger, they need protein.
BRF Whey protein can quickly assist in that.
You don't have to be the elite level athlete to deserve quality protein, so don't let the SAS label create a mindset that this might not be for you.
Do you train hard, eat right and rest well?
Then Battle Ready Fuel Whey Protein will work for you.
Who Should Not Use Battle Ready Fuel Whey Protein?
This is an honest Battle Ready Fuel Whey Protein review.
It's pretty obvious once you think about it, even if you don't think I can spell it out.
If you don't really train or push yourself to the limits whenever you can, then this protein is not for you bro.
Just walk away.
I would love to say this product is for everybody but that would be far from the truth. I have nothing to gain by not being straight with you.
If you don't need extra protein, don't care about making gainz and looking good, then you don't need to buy this product.
How Does Battle Ready Fuel Whey Protein Work?
Let's go into more detail about whey isolate. 1
This is the most important part of the Battle Ready Fuel Whey Protein review.
You guys need to know how it works to appreciate what it can do for you.
Whey protein isolate goes through a more intensive filtering process than whey concentrates.
By doing so, there are even less carbs and fat in the formula, making the protein percentage higher than a typical whey concentrate.
I don't hate whey concentrates, but it is good to understand the difference between the two.
It sounds simple and it is.
The whey isolate has a lower lactose content, which is basically the carbs, sugar or whatever else you want to call it.
This is a major plus for people who have an intolerance for dairy products.
When people have trouble digesting dairy, the problem is usually because they are lactose intolerant.
Battle Ready Fuel Whey Protein Ingredients
Whey Isolate
The sole active ingredient here is pure whey isolate 97, which comes to 112 calories, 29.3 grams of protein per serving.
Add to this zero carbs and almost trace fat content at 0.09 grams, for you carb and fat phobes.
That makes BRF one of the best whey protein powders you can find.
Let's look at a further example of greatness.
Another thing to keep in mind is that whey isolate will trigger more of an insulin response than whey concentrate. 2
BCAAs
You will see BCAAs mentioned a lot in the supplement world and they are an essential part of muscle building. Why?
Here is the thing.
When you are training hard, your muscles are depleted of glycogen stores, after that your body will use BCAAs as its fuel source.
The BCAAs are leucine, isoleucine and valine, which your body will not produce by itself. 3
You know what that means:
You need to get them from your diet or supplements. Battle Ready Fuel Whey Protein has a good supply of them for your convenience.
BCAAs help keep you in an anabolic state (muscle growth), meaning you will recover better after a workout and your muscles repair much faster.
Leucine has another added benefit to it. This amino acid can help you feel full for longer. So, whey protein isolate is great for a cutting diet too.
It blocks a hunger hormone and also helps regulate blood sugar levels. An imbalance of blood sugar can lead to fat gain. Which is totally the opposite of what we are looking for.
Battle Ready Fuel Whey Protein Side Effects
The answer to this might surprise you.
I can't think of any reason why this product would trouble anyone with unwanted side effects.
It is very rare to come across a person who can't stomach high quality protein, such as a whey isolate.
I am not promising that nobody in the world will suffer with any side effects from this as everybody is different.
You should always be aware of that before adding anything new into your diet, particularly if you are prone to allergies. If in doubt, consult a doctor before beginning to take any new supplements.
Battle Ready Fuel Whey Protein Before After Results
There aren't any reviews from people who have tried this product as of yet. However, this is only because it is still very new to the market.
Look at it this whey.
Pun intended.
It is a high quality protein source that can assist you in your quest for new muscle and strength.
A realistic approach to this will bring you realistic gains. If you put the work in, then you can expect decent results from this.
It wouldn't be a complete Battle Ready Fuel Whey Protein review if I didn't share that part with you.
Where to Buy Battle Ready Fuel Whey Protein?
Battle Ready Fuel Whey Protein is only available on their official website, BattleReadyFuel.com
You may soon be able to find it other places, but the company website has literally just launched.
I expect big things from them very soon so keep your eyes peeled.
Battle Ready Fuel Review Conclusion
Time for my concluding thoughts.
There is a lot to like here and they kept it simple; there's nothing in the product that doesn't need to be in there.
Plus, it is a grass-fed whey protein.
I don't mean the protein eats that. I mean that the cows this is sourced from are fed a proper diet, so their milk production is of a much higher quality.
The BCAA content is legit and we all know by now how important that is for your hard earned muscle – whether cutting or bulking.
To sum up:
I think the price is mid-range for a product of this quality, so that makes it competitive among other whey isolate proteins on the market.
The protein content is also really high per 100 grams and it isn't going to break the bank if you want to take it on a regular basis.
You should check out some of the stacks on offer if you like a good bargain. It will be interesting to see how the consumer market of brofessors receive this product range and whether or not the company will stand the test of time.
I, for one, think they will.
Battle Ready Fuel Whey Protein FAQ
"How to Take Battle Ready Fuel Whey Protein?"
As I see this as a food and not just a supplement, you can take it at any time of day.
But for best results, you should take it post-workout to refeed your muscles as quickly as possible.
Just use one scoop and add it to 300 – 400 ml of water or milk and shake it up, then drink.
Pretty simple.
"How Much Does Battle Ready Fuel Whey Protein Cost?"
Right now, the product is selling for £29.99 for a 450 gram tub directly from their website. The company has literally just launched, so the product is being offered with a £10 discount on the normal RRP.
Did somebody say bargain?
"Is Battle Ready Fuel Whey Protein Safe?"
That's just like asking whether beef or chicken is safe to eat.
It really is.
As long as the product is in date and you store it correctly, then you should have no problems using it.
If you are really in doubt about this Battle Ready Fuel Whey Protein review. I recommend contacting the company or seeking medical advice.
"Where Can You Buy Battle Ready Fuel Whey Protein?"
It is available to buy directly from BattleReadyFuel.com
They have some other cool products that you may want to have a look at while you are there.
"Does Battle Ready Fuel Whey Protein Really Work?"
Yes, but it depends what you expect from it.
Battle Ready Fuel Whey Protein will certainly assist your diet and training if you put the work in.
It's a high quality complete protein source, essential for muscle building and maintenance.
"Is There a Money Back Guarantee?"
Yes, there is a money back guarantee.
The company offers an impressive 60-day money back guarantee, but actually gives you 67 days to return it.
They take into account shipping back and forth also.
That's really cool to see and a lot longer than the usual 30 days we see other companies offering.
You can get a full refund if you return the unused amounts of the product to them within the given time period.
"How Long Do You Have to Take Battle Ready Fuel Whey Protein Before Seeing Results?"
This varies greatly on your training age.
You are going to see a lot more gains if you have just started training than if you are an intermediate or veteran.
Genetics and lifestyle choices also play a big part in any results you should expect from this.
"Do They Ship Worldwide?"
Battle Ready Fuel Supplements do ship worldwide. While they don't ship to every country on the globe, the list of countries is pretty extensive.
Too many to list here!
References