Animal Stak from Universal Nutrition is a supplement that contains 30 different ingredients made for bodybuilders to increase anabolic hormone production naturally.
In this Animal Stak review, we will discuss what this supplement can do for you.
Here's the kicker:
The company claim that it is not only a testosterone booster but so much more than that:
Animal Stak has long been built on being a complete anabolic hormone stack. It's not just a testosterone booster. It's also a GH booster.* Stak also contains specialized hormone amplifiers and ingredients to optimize ones internal anabolic environment. It is extreme and all-encompassing
Look:
Universal Nutrition has been manufacturing supplements and products from 1977 and is definitely a trusted brand in the industry.
In this Animal Stak review, we will discuss how well it works and what you can expect from using this supplement.
Now:
Are you wondering if Animal Stak is worth the price?
Find out this in-depth Animal Stak review if this product will work for you.
Animal Stak Does It Work?
You are probably reading this Animal Stak review because you are looking for a supplement that will help you to build muscle faster.
Manufacturers of Animal Stak claim that you will increase your growth hormone and testosterone levels using this product.
That sounds all very good, right?
Now:
We can all agree that: building muscle takes a long time and requires hard work and consistency.
Will Animal Stak make this process faster and easier?
Animal Stak has been available for almost 10 years and they have changed the formula a few times since then.
As they state on their official website "many new compounds have come onto the scene"
What may be the downfall of Animal Stak is the number of ingredients listed in proprietary blends, which means they do not reveal exact dosage of ingredients.
It's hard to determine if you are getting a sufficient dose of the proven ingredients in the formula.
Also there are a lot of questionable ingredients in the formula that may not work.
In my opinion they should limit the formula to a fewer ingredients with a larger dose of each individual ingredient.
As the formula sits right now It is questionable if it actually works because they do not reveal dosage of every ingredient.
Animal Stak Ingredients
Animal Stak contains a variety of ingredients like:
Vitamin B6
Magnesium
Zinc
Vitamin D-3
Tribulus Terrestris
Fenugreek
L-Carnitine
Arginine
Super serum
Sustamine
Some people would think just because it contains so many ingredients it's without a doubt a crazy good product
That's not necessarily true and here's why:
First of all, they don't list the exact dosages of most of the ingredients
Secondly, It contains a variety of ingredients that are lacking in clinical studies.
Let's take a look at the checklist of ingredients to have in a testosterone booster and see how many Animal Stak contains:
D-Aspartic Acid
Zinc
Vitamin B6
Vitamin D-3
Magnesium
Fenugreek
Ashwagandha
Boron
Vitamin K-1
Ginseng
It contains 6 out of the top 10 testosterone boosting ingredients which is decent.
Look:
Animal Stak does in fact contain some clinically tested ingredient but it is uncertain if you will experience some kind of enhancement from all the ingredients listed in the formula.
We are concerned about the effectiveness of Animal Stak and if it can give you the enhancement that it promises.
One user reported:
I had baseline blood work done prior to taking this product. I went through three cans, then reevaluated where by testosterone levels were a few months later. My total testosterone actually decreased by 23% and Sex Hormone Binding Globulin (SHBG) increased by a few points. This product was taking in conjunction with a solid well rounded nutritional plan, decrease in longer distance running, and increase in weight training.
Animal Stak Ingredients – How Do They Work?
I can see some positive things in the Animal Stak ingredients.
The best part is:
They actually tell you exactly how much of Zinc, Magnesium, Vitamin b6 and Vitamin D-3 is in the formula.
These are all very important for testosterone support and Animal Stak contains great dosages of those ingredients.
ZMA blend (Zinc, Magnesium & Vitamin b6) will help you to support natural testosterone production
Vitamin B6 will boost energy levels
Vitamin D-3 is very important especially if you are deficient in it, may raise testosterone production.
L-Carnitine is helpful for reducing fatigue
Tribulus Terrestris and Fenugreek are helpful for increasing sexual drive.
Want to know the worst part?
They don't list the exact dosages of all the ingredients.
When looking at the ingredients I can clearly see that most of the ingredients have some kind of purpose
The research I did on the ingredients suggests that the ingredients may be effective to build muscle building, increase performance, and support testosterone as this product promises.
However it is questionable if the doses are big enough to make an impact.
Something to think about:
There is also a concern if it will be more effective simply selecting the very best ingredients in large doses rather than taking 30 different ingredients where you don't know the exact doses.
This is up for debate.
Animal Stak Ingredients breakdown:
Animal Stak will support natural testosterone production with the ZMA blend, Vitamin D-3 is also very important.
This is what I think:
Results from using this product are individual-based.
Someone who is deficient in some of the minerals and vitamins this product contains will definitely get better results using it.
However, users give the product mixed reviews.
One user reported: "Took the can 21 days in a row while eating and lifting heavy did not notice anything different"
While another said: "Excellent product and a fair price. I have noticed strength gains and better energy!"
There is no telling how this product will affect you as most Animal Stak reviews are very different from each other.
What I noticed is that people either hate it or love it.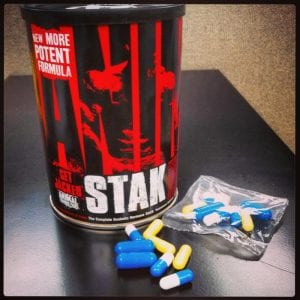 Animal Stak Reviews From Users
According to Animal Stak reviews from customers, people get different results using this supplement.
Here are some reviews from Animal Stak users.
These reviews are on both sides of the debate.
"The first and last Universal product I will ever use. I bought 2 cans, but haven't seen no gains, no cuts, no energy, no strength."

"I'm just finished my second cycle of Stak, and I am very pleased with my results. While I can't claim to have gained any muscle weight, I can say for certain that my strength in the gym has improved"

"After taking the 21 packs, I did not notice any increase in testosterone levels, it suggested to stak it with other products. If you you have to stak it, then the price is not reasonable."

"I am only on the first week of my cycle, but I must say, I am seeing some awesome results. more gains in strength than in size."
There are both negative and positive reviews for Animal Stak.
The bottom line:
Many people claim they have gotten good results using the product while others see no change at all.
The biggest Animal Stak benefit is that a variety of users report having gotten stronger while using it.
The Bottom Line
So will Animal Stak help you to raise testosterone, increase strength, and build lean muscle?
Their website describes the product as "complete all-around anabolic hormone booster". However, we were unable to find clinical studies supporting these claims.
Here's what we know:
Universal Nutrition is a well-known supplement company and has a good reputation.
However we have a concern about this product because it contains proprietary blends and there is not enough evidence available to support their claims.
Also, there is a concern about users giving negative feedback using this product and seeing no results while using it.
We know that Animal Stak does contain a few effective ingredients and minerals that work very well individually.
In particular, the ZMA blend and Vitamin D-3 that stand out.
This is important to consider:
It is also a concern if this product is more of a testosterone supporter than ever a testosterone booster because it is missing some very important ingredients.
Animal Stak Benefits:
Will support natural testosterone production
Increases libido
May help building muscle mass if you are deficient in some of the minerals it contains.
Contains the ZMA blend
Contains some good ingredients (ZMA blend, fenugreek, Ashwagandha, and vitamin D-3)
Animal Stak Drawbacks:
Don't reveal the exact dosage of ingredients
Missing many vital testosterone boosting ingredients
Many reports of seeing no chance after using it
Many of the ingredients have no scientific evidence
You have to take 8 pills each time you use it
Reports of side effects like severe acne
FAQ:
Animal Stak Before After results : What To expect?
From a scientific standpoint, you should get some ingredients that support natural testosterone levels.
As well as ingredients that help with performance.
It is definitely individually based on the results this supplement will deliver.
So it's hard to tell what you should expect before and after the use of Animal Stak.
According to Animal stak reviews:
Some people claim to have gained 10 lbs of lean muscle while using it for a couple of months.
Some people say they increased only their strength in the deadlift, squat, and bench press max.
While others got no results at all.
One thing is for sure:
This product will work best if you are training(lifting weights) and eating accordingly.
---
Is there a supplement better than Animal Stak?
Our team of experts has carefully gone over the best supplements in this field.
In particular, supplements that raise testosterone and anabolic hormones in the body.
Animal Stak did not make it to our top 10 list of the best testosterone boosters on the market.
---
How To Take Animal Stak?
For best results take one stak daily for 3 consecutive weeks and cycle off for 1 week.
On training, days take one stak 30 minutes before exercise. On days you are not training take it on an empty stomach between meals.
---
Where To Buy Animal Stak?
Animal Stak is available in a variety of vitamin shops.
It is available in GNC, Amazon, bodybuilding.com and IHerb.
As for right now the best price on Animal Stak is at bodybuilding.com
---
How Long Does Animal Stak Last?
They usually sell Animal Stak in a 3 week supply for about $35.
This includes 21 stak's with 8 pills in each stak.
---
Animal Stak Side effects
There have been reported a few side effects with the use of Animal Stak.
Diarrhea
Acne
Pimples on the back
Long-lasting erections
Difficulty sleeping at night.
One user reported: "I've noticed this always causing severe acne"
---
Can you stack Animal Stak with other products?
Universal Nutrition recommends that you stack Animal Stak with other products in their supplement line.
Their recommendation is to stack Animal Stak with Animal Pak.
Animal Pak is a multivitamin supplement that is supposed to work in harmony with Animal Stak.
They also have a number of other popular supplements for sale:
These include Animal Cuts a fat burner they sell, Animal M-Pak which is a supplement to increase nitrogen retention and protein synthesis, and also Animal Stak 2.
References:
https://www.ncbi.nlm.nih.gov/pmc/articles/PMC2129161/
https://pubmed.ncbi.nlm.nih.gov/26609282/
https://www.ncbi.nlm.nih.gov/pmc/articles/PMC5278660/